GROUSE CREEK — Improving the lives of people in Utah's small towns will require investment in education, market freedom and infrastructure improvement, Gov. Gary Herbert said during the first day of a tour of the state's rural areas.
Governor talks education, jobs
Herbert kicked off a four-day rural jobs tour Tuesday at Grouse Creek School — one of the only remaining one-room schoolhouses in the state. The school currently has 17 students from kindergarten through tenth grade.
---
The unemployment rate in Box Elder County was at 9.2 percent in September compared to 7.6 percent overall for Utah.
---
He said rural communities like Grouse Creek are facing the same economic hardships as the rest of the state, but are fairing worse in some ways. The unemployment rate in Box Elder County was at 9.2 percent in September compared to 7.6 percent overall for Utah. 
Other rural counties register similar rates, according to data from the state Department or Workforce Services. Herbert said for that to change, it will require creativity, determination and education.
Duane Runyan, one of three teachers at the Grouse Creek schoolhouse, said he knows there aren't too many left like his. "I think we provide a service for these kids that can't happen in any other way," he said.
"We're not perfect by any means," Runyan added. "We don't provide a perfect learning opportunity, but we're the best they have."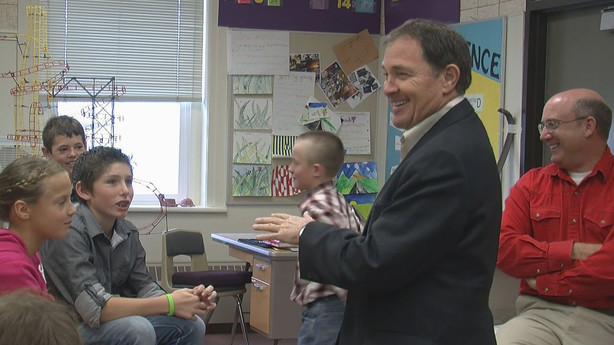 In this rural part of Box Elder County, you're either a rancher or you move. "They're having challenges that are unique to rural Utah, when it comes to development and economic growth," Herbert said.
The governor's toughest questions came from students. Fifth-grader Abi Tanner wanted to know what he could do to bring different jobs to the area.
"If we don't get more numbers soon, it will only be a couple people out here, and then the school will shut down and we'll have to go an hour away to get to school," Abi said.
That also means she might not be able to live in Grouse Creek when she's older, and be a veterinarian. "I love it out here. But if you think reasonably, there is not a lot of things you can do," Abi said.
Fifth graders like Abi shouldn't have to wonder if they can live in their hometown one day, the governor says.
"(The people of rural Utah) want to have jobs and have opportunity for their children … just like the rest of us on the Wasatch Front," he said. "We need to find ways to help them grow and help themselves."
Governor speaks with local ranchers
Prior speaking at the school, Herbert met with local community members at the Box C Ranch, including some business owners. The community of about 100 people is made up mostly of farmers and ranchers.
Herbert said for rural communities to improve their local economic fortunes, they will have to embrace technology.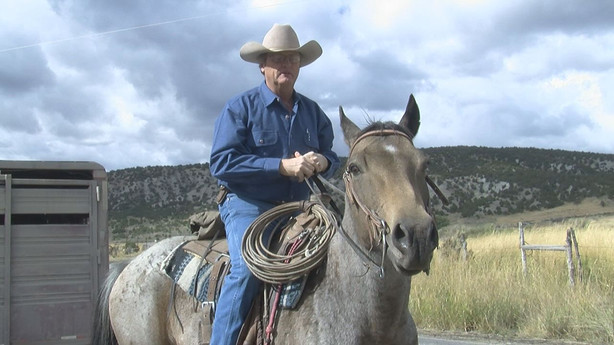 He noted the ingenuity of one resident, Heather Warr, who launched an e-commerce business to supplement her family's income. Warr said her family's main business has been cattle ranching, but they needed a little help so she started a web-based venture selling western apparel and footwear because, "I know a lot about that."
"(Through the website), we ranchers can support each other and also (fellow ranchers) are buying the products online for their lifestyle," she explained. "The website is focused on country people and we provide jobs for five rancher moms/wives who work out of their homes."
Herbert said such online ventures are an example that others can follow. Other local entrepreneurs called on state leaders to address other issues that have profoundly impacted many rural communities.
Box C Ranch owner, Jay Tanner, said he would like to see the state develop a plan that would allow immigrants to work on ranches and farms legally in addition to figuring out a way to provide affordable health coverage to farm and ranch workers. He said doing so would offer more incentive to prospective employees to settle in rural communities — which have seen populations dwindle in recent years.
While Herbert conceded that government has a vital role to play in the survival and long-term viability of rural communities, he said the role of government should be limited.
"In some ways, government needs to get out of the way and let the free market do its work," Herbert said during a media teleconference conducted using a video uplink from the Grouse Creek School. He noted that the technology used in the video conference highlighted the need for rural students to get a quality education and learn how to utilize any and all available technology.
---
"I'm here to listen and learn … and determine the things government can do — or not do — to insure local economic success and opportunity." -Gov. Gary Herbert
---
He said technology could play a key role in increasing the diversity of job opportunities in rural areas. However, doing so would require an extensive investigation into the growing possibilities for new jobs that could be created in small towns, he added.
One of the issues brought up by a number of residents was the need for improved cellular telephone service. The governor said he would reach out to county and state leaders to work on improving communication access in rural Utah.
"Having broadband capability and high-tech capability is important for the economic future (of rural Utah), he said. 
Herbert said the primary focus of the tour is job creation, though he has not yet developed a specific plan to grow jobs in rural communities. Instead, he said would ask local business leaders residents and elected officials what needs to be done to improve small town economies.
"I'm here to listen and learn … and determine the things government can do — or not do — to insure local economic success and opportunity," Herbert said.
On Wednesday, the governor will join San Juan County high school students for a discussion that will be broadcast statewide. Rich in natural resources, the county is located in the southeastern corner of the state with oil, gas and uranium comprising a large part of the local economy.
Other stops on the nearly week-long tour that concludes Friday will include agricultural hubs in central and southern Utah.
"It's a continuous effort, and it doesn't have a beginning or an end," Herbert said. "We need to evolve to face the changing marketplace, which is now global." 
----
Written by Jasen Lee and Alex Cabrero.
Photos
0 Pending Comments
Sorry, we are not accepting new comments on this story, but if you have more to contribute please email
newstip@ksl.com
Showing of 11 comments
Sorry, we are not accepting new comments on this story, but if you have more to contribute please email
newstip@ksl.com