SALT LAKE CITY — It's not yet on the skyline of the Wasatch Front, but one billboard concept is already turning heads.
Utah Jazz fan Garrett Jones created a GoFundMe project where fans can donate money for a billboard asking Jazz All-Star and upcoming free agent Gordon Hayward to stay in Utah and sign a new contract with the Jazz.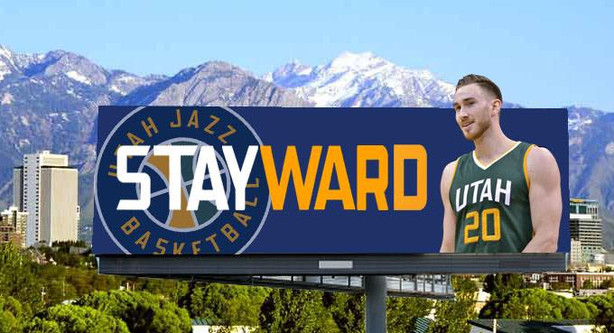 "With this group that we have right now, it's been fun to watch them grow together," Jones said in an interview with KSL Wednesday. "Gordon Hayward especially is one of those players that can transform a franchise."
The billboard would be along northbound I-15, located between the Zions Bank Basketball Center at approximately 1500 South and Vivint Arena at South Temple. Jones is asking for $5,000, the cost he says YESCO Outdoor Media is charging for the billboard for the month of May.
The fund was started Tuesday night at about 7 p.m., Jones says, and has earned about $1500 in the hours since. If the $5,000 target isn't reached, Jones says he'll refund donators' money.
The design above isn't final, thanks to potential licensing issues regarding Hayward's likeness. But Jones envisions "Stayward" being the focal point of the project, no matter the end result.
"I don't think a billboard is going to convince him one way or the other," Jones said, "but what can it hurt to show him how much the fans really appreciate what he does for this team and this community?"
Of course, this isn't the first time Hayward will see himself on a billboard. Back in January, the Jazz ran billboards across Utah to encourage votes for Hayward in the All-Star game. Back then he was asked about what it's like to see himself as he drives down the freeway to Jazz practices and games.
"Yeah, it is weird, but I really appreciate what the Jazz have done to try to get me into the All-Star game," Hayward said then. "I remember the first time seeing a picture of me, just the team picture, the first time I got here. It's definitely weird seeing yourself."
And while it might be a little strange, Jones says he just wants to show his support.
"He's just an easy guy to cheer for, you know? On the court, he's got it. He can lead the team to a win. Off the court, he's everything you would want an athlete to be, if you've got kids looking up to athletes," Jones said.
"It'll help Gordon understand how much we love watching him play here."
Contributing: Mary Richards, KSL Newsradio
0 Pending Comments
Sorry, we are not accepting new comments on this story, but if you have more to contribute please email
newstip@ksl.com
Showing of 22 comments
Sorry, we are not accepting new comments on this story, but if you have more to contribute please email
newstip@ksl.com