SALT LAKE CITY — For three-straight clashes, the Utah and BYU softball teams played one-run ballgames prior to Saturday afternoon's NCAA regional final.
The Utes weren't going to have that again.
Utah scored eight runs while batting around in the sixth inning, and advanced to its second-consecutive NCAA Super Regional with a 14-0 win over rival BYU in six innings Saturday afternoon at Dumke Family Field.
Hannah Flippen and Anissa Urtez each went 3-for-4 to lead the Utes (36-14), who will likely face Washington in next week's Super Regional. The sixth-seeded Huskies topped Michigan, 12-4 to move into the title game of the Seattle regional Sunday at 5 p.m. MDT.
"It's a great feeling. I love winning, I love winning with my teams, and I love winning on this field," said Flippen, who became Utah's all-time hitting leader in the win.
"I just went up and did my thing. I don't pay attention to (records)."
Utah starter Miranda Viramontes (14-3) spun a five-hitter through 5 1/3 innings to clinch the shutout victory. Her teammates give her plenty of run support, too, pounding out 17 hits and not allowing a BYU base runner past second.
"Viramontes was very good," said BYU coach Gordon Eakin, whose team lost in the NCAA regional round for the seventh-straight season. "You've got to give her credit."
Leadoff batter BreOnna Castaneda opened the game with a hit-by-pitch, then made it around the diamond to score on a wild pitch. Flippen drove in the second run of the game with a sacrifice fly, and the Utes took a 2-0 lead out of the first inning that proved to be all they would need.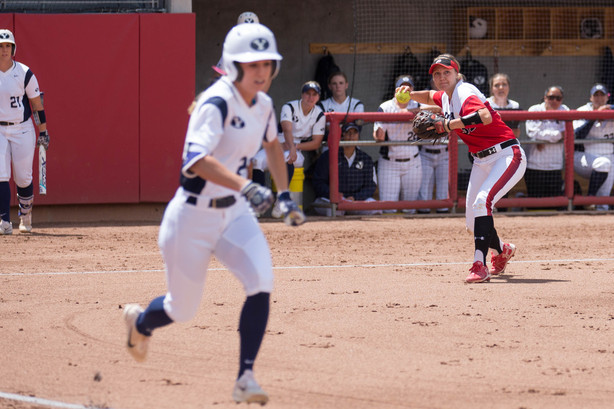 Utah scored five runs in the first four innings, and BYU pulled all-time wins leader McKenna Bull by the fourth in favor of freshman pitcher Arissa Paulson. Bull finished her career with a program-record 107-38 mark for BYU, which has lost in the NCAA regional round every year since 2010.
"At the end of the day, it's who you go on the field with," Eakin said in a moment of introspection after the game. "I want to win the College World Series, and so do these girls. But I want to win the right way, with the type of players like the ones I have."
Urtez added a two-run single that caromed off the left-field wall in the top of the sixth that gave Utah an 8-0 lead.
"You don't want to know my dreams; I do think about those kinds of games sometimes," Utah coach Amy Hoge said. "But that was a lofty goal."
BYU brought in three pitchers for just the 12th time this season, but Arianna Paulson's first pitch in the top of the sixth inning was driven to left field during Utah's seven-run sixth inning that put the game away, 13-0.
By the time freshman pitcher Kerisa Viramontes made her 11th appearance of the season for BYU, the rout was on.
"We ran into a buzz saw today, and we brought the gas in the first inning," Eakin said. "Utah played very, very good today. That was like playing the Golden State Warriors when they are hitting all their threes."
Lauren Bell had three of the Cougars' six hits to lead BYU (46-13).
Utah allowed just two runs and outscored their opponents 27-2 in three games of their first NCAA Regional host bid in program history. Both runs were scored by BYU in the first six innings of the two teams' first meeting, which Utah won in walk-off fashion Friday afternoon.
Photos
Related Stories
0 Pending Comments
Sorry, we are not accepting new comments on this story, but if you have more to contribute please email
newstip@ksl.com
Showing of 34 comments
Sorry, we are not accepting new comments on this story, but if you have more to contribute please email
newstip@ksl.com