LAS VEGAS — In a season of disappointments, the BYU football team has only been able to celebrate a win twice in 2017 — both times in Provo.
Friday night was finally a chance to shout in a visiting locker room, in a place where the Cougars have never lost to the home team.
Squally Canada more than doubled his career high with 213 yards and a touchdown, and freshman Joe Critchlow threw for 160 yards and a touchdown in his first career start at quarterback to lead BYU in a 31-21 win at UNLV for the Cougars' first road win of the season Friday night at Sam Boyd Stadium in Las Vegas.
"I ran the same as last week; I just happened to get double the carris," said Canada, who ran the ball 25 times. "I ran the same, the O-line blocked the same, but I got more carries. It paid off.
"I'm more confident, and I'm finally getting to mesh with my O-line. I finally figured what Jamaal (Williams, former BYU star tailback) was talking about in going out there and being yourself. My O-line got a good push up front, and that was the result."
Aleva Hifo caught six passes for 58 yards and a touchdown for BYU (3-8), and Austin Kafentzis ran for 58 yards and his first career touchdown. Matt Bushman added another 52 yards on five receptions.
Johnny Stanton threw for 325 yards, two touchdowns and two interceptions to lead UNLV (4-6), which got 83 rushing yards and a score from Lexington Thomas.
"There a lot of things we did really well tonight," BYU coach Kalani Sitake said. "Joe Critchlow did a lot of things well for his first time starting; he showed a lot of poise, so I'm really excited about his progress he's made since coming home from a mission not long ago."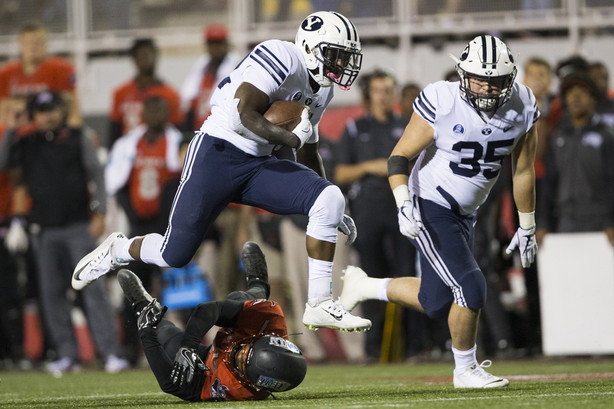 Neither team could finish drives early, and BYU's offense was stagnant as it started the third quarterback of the season, and fifth to play the position, in freshman Critchlow.
But BYU took advantage of the first big defensive play of the game.
Zayne Anderson clutched his second interception of the season on Johnny Stanton's mistimed throw into the end zone on the Rebels' first drive of the second quarter.
Critchlow hit a Micah Simon in double-coverage over the middle for a 30-yard gain, then added a 19-yard strike to Aleva Hifo on third down to set up Brayden El-Bakri's 1-yard TD dive with 9:06 left in the first half and a 7-0 lead from the visitors.
BYU never trailed, and UNLV only tied the game once.
"The whole mentality is different when you can play with a lead, and when you get a break on the sideline as the offenses converts third downs," said BYU safety Micah Hannemann, who had a team-high nine tackles. "Now that we played like that, we wonder why we haven't played like that the whole season, right? There are some things we need to do better, but we feel better."
Lexington Thomas, the 16th-rated running back in the FBS in yards per game, tied the game on a 1-yard touchdown dive with 4:04 left in the half. The junior set it up with a 16-yard pass down the east sideline from Stanton to the 1-yard line, and forced his way into the end zone after three-straight run attempts to punch it in.
Canada opened the second half with a 54-yard run for the Cougars, punching in a 2-yard touchdown moments later to give BYU a 21-7 lead in the third quarter.
But the Rebels wouldn't go quietly into the desert night.
Stanton, who was celebrating senior night in his final home game after beginning his college career at Nebraska, found Brandon Pressley for an 18-yard touchdown with 4:23 left in the third quarter that pulled UNLV within a score, 21-14.
BYU responded. Canada powered the rejuvenated Cougar offense down the field on the next drive, and Austin Kafentzis finished it off with an 11-yard touchdown run out of the Wildcat package to take a 28-14 edge into the fourth quarter.
After Stanton capped a 93-yard drive with a 14-yard touchdown strike to Devonte Boyd on the opening series of the fourth quarter, Rhett Almond's 28-yard field goal gave the Cougars a two-possession lead with 5:39 left and Fred Warner's interception with just over a minute to go iced the Cougars' third win of 2017.
"It felt good to get our first road win," Canada said. "But we've still got two more games. I'm just trying to enjoy the last two games with the seniors. After this year, I probably will never play with Tejan or Tuni or Keyan, and all the other seniors. I'm just trying to enjoy these last two games with them."
Next up
BYU returns home for its home finale against UMass on Saturday, looking to end a string of disappointments at home on a high note.
UNLV finishes the season needing two road wins — at New Mexico and Nevada — to clinch its first bowl-eligible season since 2013.
0 Pending Comments
Sorry, we are not accepting new comments on this story, but if you have more to contribute please email
newstip@ksl.com
Showing of 36 comments
Sorry, we are not accepting new comments on this story, but if you have more to contribute please email
newstip@ksl.com