PROVO — It isn't hard to see BYU tight ends coach Steve Clark is unlike any other coach in Division I football.
And no, that isn't a joke about his short stature.
The Provo native has been coaching football for nearly two decades, and he's been a Division I coach at both the FCS and FBS levels since Saint Mary's College cut its program in 2003.
But the former Provo High offensive coordinator never thought he would find his way back to BYU where he graduated with a degree in communications in 1992.
"I never in a million years thought I would be on a coaching staff at BYU," Clark said. "Those guys from LaVell to Norm Chow to Lance Reynolds, they were all so far out there from me that I never thought a young guy from Provo who never played in college would ever be here.
"I still don't think it's real sometimes. But here I am. And it's been great, with Ty Detmer and Kalani Sitake. It's unbelievable."
It's not that Clark wasn't a good coach. After spending four seasons as the offensive coordinator at his alma mater, Clark took a job as director of operations at Utah in 2002. He knew fellow Provo native Kyle Whittingham from the old neighborhood where he grew up and attributes much of his start to the current Ute coach — the longest tenured in the Pac-12 by overall years.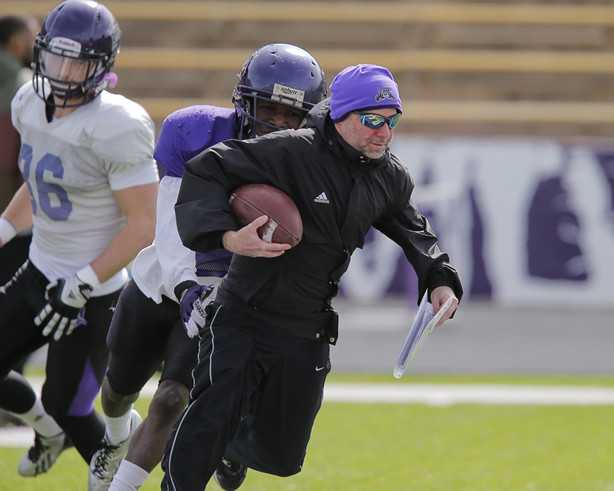 But that wasn't the end of his journey, even though Clark admits his height hasn't done him any favors as far as getting into a high-level football program.
"Let's be honest: First impressions mean something," he said. "But if I get a chance, I can coach. It's always been that way — I've heard them all."
So Clark went about the long road in college football coaching. After one season as the passing game coordinator in Moraga, California, Saint Mary's cut its program. That prompted a move back to Salt Lake City for a one-year stint as a volunteer assistant, then he returned to BYU as a graduate assistant from 2005-07.
Even that work didn't always sit, though. Initially an offensive assistant, Clark was moved to handle significant portions of the special teams unit because coaches saw a little more in him than the average revolving door of grad help.
That's when fellow BYU alumnus Ed Lamb saw him, at the strong recommendation of former BYU defensive coach Barry Lamb (no relation). Lamb tapped Clark as the quarterbacks coach and offensive coordinator at Southern Utah University in 2008, adding a first-time OC to his staff as a first-time head coach.
The Thunderbirds won four games in the duo's first season together, but you would've thought they won a Great West Conference championship from the reception in Cedar City. And for Lamb, it was worth it.
"I didn't have a lot of big breaks in coaching," Lamb said. "I just enjoyed every job I had, working in small colleges and the high school level. I looked at Steve's resume and saw a guy who wasn't in coaching just to do it at the FBS level. He was in coaching for the opportunity."
While at SUU, Clark mentored quarterback Brad Sorensen, a former BYU cast-off who went on to set records for the Thunderbirds and was drafted into the NFL by the San Diego Chargers. He also helped set receiver Tysson Poots, a two-time FCS All-American and the school's all-time leader in receptions, yards and touchdowns by a receiver.
---
Ty is adamant about using the tight end. It's not just talk. Now, we need to put our best players on the field, so if they're holding us back, then we'll move on.
–BYU tight ends coach Steve Clark
---
During Clark's six seasons with Southern Utah, the Thunderbirds went from winning four games to claiming the Great West championship in 2010 — and moving to the Big Sky Conference in 2012.
His program didn't just beat FCS opponents either. Under the tutelage of Lamb, Clark and the rest of the staff, the Thunderbirds put up wins over FBS opponents UNLV and South Alabama, and nearly toppled Washington State in a rare Pac-12 vs. Big Sky faceoff.
"I've got a lot of respect for him and the way he's paid his dues in coaching," Lamb said of Clark.
With the Thunderbirds' move to the Big Sky, a conference rival also came calling for Clark. When Weber State hired former Utah assistant Jay Hill as the head coach of its program, the 13-year Ute assistant made a quick phone call to Southern Utah. Clark had done well enough in his first-ever job as an offensive coordinator that Hill was offering a chance to move to Ogden, which he did for three seasons until Detmer gave him a call during last spring's all-state banquet.
The chance to return home to BYU proved too good to pass up, it seemed.
"We used to walk to games every week growing up," Clark recalled. "I honestly thought (Detmer's phone call) was about some of the coaches on our staff at Weber. So I called him back, and we set a time to meet and talk."
Under Clark and Detmer, BYU plans to revive the use of the tight end. A staple in the offense that became a national power under LaVell Edwards, the position had recently fizzled. No BYU tight end caught a pass in 2015, though inside receivers like recent graduate Terenn Houk, unofficially filled a similar role.
That leaves a pretty barren cupboard for Clark — a challenge he is embracing as he works with current starters Tanner Balderee and Nate Sampson, and Snow College tight end Hunter Marshall, who played receiver at Georgia Tech.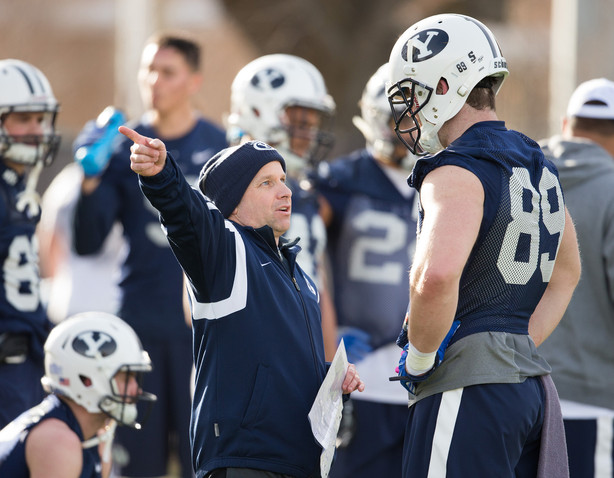 "Ty is adamant about using the tight end. It's not just talk," Clark said. "Now, we need to put our best players on the field, so if they're holding us back, then we'll move on."
The Cougars received an immediate intriguing prospect on Clark's first day when Sitake pulled him aside and told him a tight end was coming to Provo from the islands. Former BYU-Hawaii basketball player Solomone Wolfgramm will transfer to the Division I sister school with hopes of playing football.
The 6-foot-6, 260-pound forward averaged 2.5 points in 9.4 minutes as a sophomore with the Seasiders, but he's never played a down of football in his life. When BYU-Hawaii announced it was phasing out its athletic department, Wolfgramm's people found Sitake during a recruiting trip in Hawaii to talk about potentially becoming the next Antonio Gates.
"The body type that he had is perfect," Clark said of Wolfgramm. "But he's never worn a helmet. He never played in high school. I don't want to put too much on Solo right now, but there is some potential there."
Clark is also hopeful he can convince BYU basketball post Corbin Kaufusi to make the move to tight end as well. But the 6-10, 255-pound center has been working with his father Steve Kaufusi and the defensive line since joining the football team in spring.
"I've got to fight Steve for him. That's not good for me," Clark joked. "He'll start out as a defensive lineman, and we'll go from there, but I'd take him."
There are a lot of challenges to Clark's job in his first full-time FBS position since 2004, but that's part of the fun.
"That's why you coach," he said. "The most fun you have coaching is to see your players excel. That's why you do it."
Photos
Related Stories
0 Pending Comments
Sorry, we are not accepting new comments on this story, but if you have more to contribute please email
newstip@ksl.com
Showing of 24 comments
Sorry, we are not accepting new comments on this story, but if you have more to contribute please email
newstip@ksl.com