PROVO — Former BYU quarterback Ty Detmer will be named the next offensive coordinator at BYU, a source with knowledge of the situation confirmed to KSL Sports on Wednesday.
The source spoke to KSL on the condition of anonymity because a contract has not been signed, but is expected to be completed.
In addition to his coordinator duties, Detmer is expected to coach and mentor BYU's quarterbacks, including freshman starter Tanner Mangum.
In 1990, Detmer threw for 5,188 yards and 41 touchdowns as a junior when he became the first player from the Western Athletic Conference to win the Heisman Trophy.
He set NCAA records in 63 categories, and still holds three of them. He is currently BYU's all-time record holder with 1,795 plays, 1,530 pass attempts and 958 pass completions.
After graduating from BYU, Detmer was selected by the Green Bay Packers in the 1992 NFL draft, and went on to be featured in 14 seasons in the NFL with stops in Philadelphia, San Francisco, Cleveland, Detroit and Atlanta.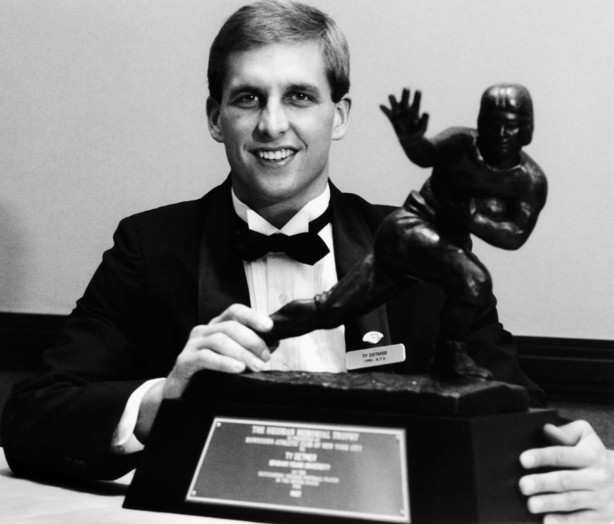 BYU inducted Detmer into the school's athletic hall of fame in 2000. He is still the only player from BYU or the state of Utah to claim college football's top individual honor.
BYU will be Detmer's first collegiate coaching opportunity. The 48-year-old from San Antonio has been the head football coach at St. Andrew's Episcopal School in Austin, Texas since December 2009. His nephew, Koy Detmer, Jr., is a freshman at BYU, where he was the primary scout team quarterback in practice.
Detmer's father Sonny is a high school coaching legend in the state of Texas as a former All-American wide receiver at Wharton College who went on to play basketball and baseball at Florida State.
Contributing: Sean Walker
Photos
Related Stories
0 Pending Comments
Sorry, we are not accepting new comments on this story, but if you have more to contribute please email
newstip@ksl.com
Showing of 146 comments
Sorry, we are not accepting new comments on this story, but if you have more to contribute please email
newstip@ksl.com