LEHI — Tiny Sadie Christensen might be the 3 millionth resident of Utah.
The Beehive State hit that population milestone sometime in October, and officials chose Monday to recognize the event.
Born last Saturday, the daughter of Vaughn and Elyse Christensen lay cradled in her mother's arms Monday as Gov. Gary Herbert and his wife Jeanette visited with them and the parents of other newborns at Mountain Point Medical Center.
"We'll try to raise some good citizens," the proud father — an Idaho transplant — said while holding the couple's other daughter, 18-month-old Juliet.
The Christensens just bought a house in Lehi, a burgeoning residential and business community in the third fastest growing state in the nation. Utah now ranks as the country's 32nd largest state.
"Three million Utahns. Wow," said Pam Perlich, director of demographic research at the University of Utah Kem G. Policy Institute. State analysts calculated the number based on estimates of births, deaths and net migration.
Perlich called it a "stunning achievement" for a geographically isolated Intermountain state that 65 years ago had only 500,000 residents who came and went based the ebbs and flows of agriculture and mining.
Utah hit the 1 million mark in 1966, celebrated with a 60-piece band when Morris M. Arnold, aka "Mr. Million," moved to the state from Kentucky. The population reached 2 million only 29 years later.
About two-thirds of Utah's growth since 1995 can be attributed to natural increase (births minus deaths), which helps the state remain the youngest in the nation with a median age of 30. People moving to Utah account for the other third.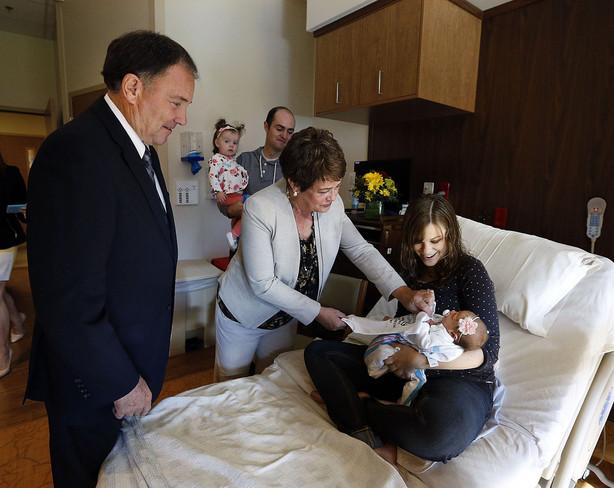 State officials project Utah will have 4 million residents in 2031.
"Utah, to the surprise of so many, has become a net in-migration place," Perlich said.
She listed economic opportunity, education and equality of life among the reasons people come to Utah. Perlich also said the state has become a gateway for immigrants, noting its global connection through the LDS Church missionary program.
"Looking forward into the future, we do see a long runway of optimism and growth for the state," adding northern Utah County and southern Salt Lake County are the epicenters for economic and population expansion.
Herbert also used the occasion to tout Utah's economy, and said the state needs to plan for the future to keep it healthy and accommodate a continued population increase.
"We are equipped now but we won't be equipped in the next 40 years unless we do something," he said.
Maintaining roads, investing in education and conserving water are among the challenges, the governor said.
Contributing: Nkoyo Iyamba
Related Story
Photos
0 Pending Comments
Sorry, we are not accepting new comments on this story, but if you have more to contribute please email
newstip@ksl.com
Showing of 34 comments
Sorry, we are not accepting new comments on this story, but if you have more to contribute please email
newstip@ksl.com