SPRINGVILLE — Autopsies conducted on five members of a Springville family who were found dead Saturday showed no signs of any trauma, police said Sunday.
"Preliminary autopsy results for the family of five who were found dead in their home have ruled out any sort of violent assault," Springville police said in a prepared statement. "The next step is to continue the investigation through analysis of blood samples to determine what may have caused the deaths."
The bodies of the Benjamin Strack, 37, his wife Kristi Strack, 36, and three of their children, Benson, 14, Emery, 12, and Zion, 11, were discovered by the Stracks' oldest son, believed to be 18 according to neighbors, and their grandmother about 8 p.m. Saturday.
The son returned home to 954 E. 900 South and knew something was wrong because of how quiet the house was, said Springville Police Chief J. Scott Finlayson.
The son went to his grandparents' house, who live nearby, to say he didn't know where the family was. That's when the grandmother and the son went back to the house and found all five bodies in the parents' bedroom, said Springville Police Lt. Dave Caron.
The fire department checked the carbon monoxide levels inside the home and the levels were safe, Finlayson said. But by the time emergency crews arrived, several doors had been opened. Caron said an adult cat and a ferret lived in the house and were free to go in and out. Another kitten was found locked in a separate room from where the bodies were found. All three animals were not injured.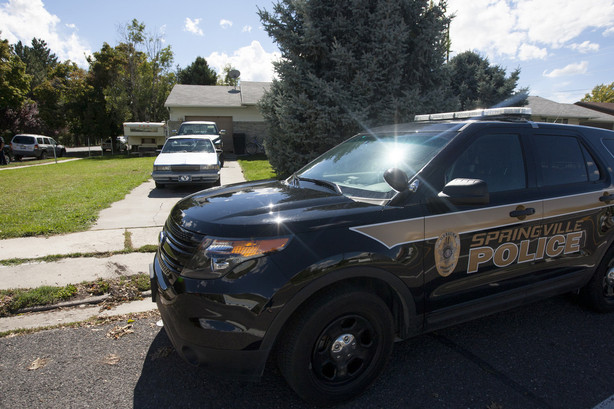 Residents who live in the other half of the duplex said fire crews also checked the carbon monoxide levels in their home and likewise found them to be safe.
Reilly Strecker, who lives in the other half of the duplex, said he met Benson last fall and immediately hit it off with the 14-year-old. He said Benson had been playing in the backyard with Zion.
"So I went up and talked to them. That started the whole thing of me meeting them. And for the first three weeks we hung out everyday, except for Sundays. And we had a sleepover every Friday for those first three weeks as well," he said.
The children were home schooled, according to neighbors and police. Reilly said the boys were shy and family members mostly kept to themselves. Recently, he said he had encouraged Benson to go with him to a teen night at the local library and got him more accustomed to being around others.
"I kind of helped him get used to people," Reilly said.
The teenager said he was shocked when he learned his friend Benson and the family were gone.
"I just couldn't believe it. I mean, he's my best friend," he said. "They're really good people. His dad was so nice. Their mom was nice. They were just fun to be around. Me and Zion just really loved animals."
Relatives of the Strack family took to social media on Sunday to console each other and share memories.
A Facebook page titled "Ben and Kristi Strack Family — In Memoriam" was started Sunday, apparently by relatives.
"My heart is broken right now," wrote Issac Strack in one post.
Related:
"I feel a part of me has been lost. My brother Ben was my best friend. We did everything together. He always made me happy when he was around. Emery, Benson and Zion it seems like yesterday I was helping them with homework and taking them camping. I remember Benson caught his first fish with us on the trip," wrote Anna Strack Jensen in another post.
Another post by Zion Nathaniel Strack states: "There has always been beauty with Ben and the calm way he was with his sweet spirit. He taught me how to love and taught me how to see the beauty in all the simple things. I will always remember my brother Benny and his amazing family. Kristi, Benson, Emery and Zion, I will always carry a part of you with me. Be at peace and know there are many who love you."
"Ben was one of the most beautiful people I have ever known. His family is a big part of who I am. Ben taught me how to live and see the world in a loving and cheerful way," wrote Ellie Elinor Strack.
Police continued to keep watch over the Stracks' residence for much of Sunday while the autopsies were being conducted in the event they were asked by the medical examiner to serve a search warrant and collect more evidence. Officers planned on releasing the scene back to relatives after the medical examiner said it was OK.
It could now be another six weeks before toxicology tests are completed and a cause of death determined.


Photos
Related Links
0 Pending Comments
Sorry, we are not accepting new comments on this story, but if you have more to contribute please email
newstip@ksl.com
Showing of 66 comments
Sorry, we are not accepting new comments on this story, but if you have more to contribute please email
newstip@ksl.com