PROVO -- As BYU makes the familiar trek down I-15 this week, the Cougars are looking to change their Las Vegas fortunes and rewrite WCC tournament history in the process.
A change of venue certainly won't hurt. In BYU's 12-year stint in the Mountain West Conference, nine conference tournaments were played in the Thomas & Mack Center. BYU made five championship game appearances during that stretch and came away with just one tournament title. In contrast, UNLV's three MWC tournament victories came while playing on its home court against BYU.
It's little wonder then, that the Cougars are more than happy to be taking their game to the nearby Orleans Arena. BYU senior Noah Hartsock said, "I think it's pretty exciting. We don't have to play on UNLV's home court, which is a bonus for us," adding, "I've played in the Orleans Arena before, and it was a fun place to play."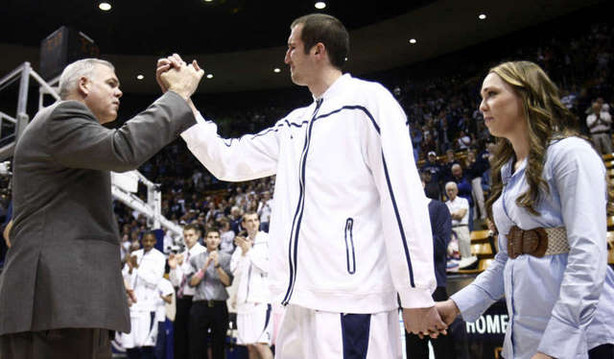 Better still, BYU boasts a 3-1 record in the Orleans Arena. That record includes wins over No. 6 Louisville in 2007 and victories against Nevada and Nebraska the same weekend BYU's football brethren played in (and won) the 2009 Las Vegas Bowl. BYU's lone blemish came in 2007 against No. 1 North Carolina.
A change of scenery may be good for the Cougars, but WCC history is not on BYU's side. Since 2000, only two No. 3 seeds have ever advanced to the title game of the WCC tournament. Santa Clara did it in 2001 and San Diego repeated the feat and actually won the tournament in 2008. Both times the tournament was played on San Diego's court.
For 10 of the past 12 years, the WCC title game has been a No. 1 vs. No. 2 tilt. In fact, the last time the No. 1 seed wasn't in the championship game was back in 1997 when No. 2 Saint Mary's played No. 3 San Francisco. That's also the only tournament in the last 17 years where Gonzaga hasn't made the title game. As luck would have it, those Zags stand squarely in BYU's path if the Cougars want a rematch against No. 1 seed Saint Mary's.
Still, Hartsock and the rest of the Cougars are confident as they gear up for a trip to Sin City. "We've had a good, solid year and we're playing really well right now," said Hartsock, who is nursing an ankle injury but hopes to be back in the lineup come tourney time. "I think we're going to have a good run here in this tournament. We've just got to make sure we take care of business and play the right way."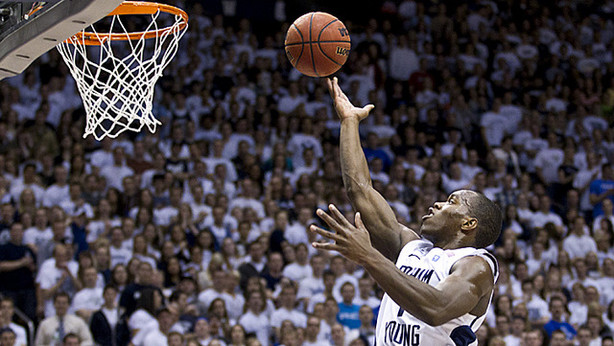 Senior Charles Abouo echoed Hartsock's sentiment, saying, "When you win your conference tournament, you control you own destiny. That's one way you can guarantee your team a bid in the tournament. That's what we want to do. But we also know there's a bunch of other teams that are thinking the same thing. It's going to be a tough tournament down there, but we're confident in our ability to win it."
Here's a quick look at what those "other" teams are playing for in Las Vegas.
No. 1 Saint Mary's 25-5 (14-2 WCC)
The Gaels locked up the WCC automatic NIT bid by winning the regular season conference crown but are looking for much more. Saint Mary's was riding high a few weeks ago and being bandied about as a possible four or five seed in the NCAA tournament. The Gaels have stumbled several times down the stretch and may need a tournament title to avoid the dreaded 8/9 seeding. Saint Mary's won't suit up until the semifinals on Saturday. All that extra rest could be a blessing or a curse if their opponent finds a strong groove in Las Vegas. While historically the No. 1 seed has enjoyed good success in the WCC tournament, the Gaels will certainly be tested.
No. 2 Gonzaga 23-5 (13-3 WCC)
Gonzaga's 11-year run as conference kingpin may be over, but the Zags still have plenty to play for. Like Saint Mary's, Gonzaga will benefit from first and second round byes. With 11 tournament titles in the last 17 years, Gonzaga is looking to reassert itself in the conference and bolster already strong NCAA tournament credentials. The Bulldogs are playing some of their best basketball right now and could very well add one more tournament title to an impressive trophy shelf.
No. 3 BYU 24-7 (12-4 WCC)
Though BYU won't say it, the Cougars' NCAA tournament hopes likely rest on their ability to pick up a win or two in the tournament. Especially if Hartsock is healthy, BYU could very well be the No. 3 seed that breaks through to the title game. In the WCC's current tournament format, the No. 3 seed is 9-0 in the quarterfinals, and a rematch with Gonzaga is expected.
No. 4 Loyola Marymount 19-11 (11-5 WCC)
Loyola Marymount has won seven of its last nine games and could pose a serious challenge for Saint Mary's if it survives that long. The Lions just knocked off Horizon League champion Valparaiso in a Bracketbuster game, adding to an impressive collection of victories over top teams, including then No. 25 St Louis, No. 20 UCLA and No. 16 Saint Mary's, along with a win over BYU in Provo. LMU will likely need a tournament title to secure a trip to the big dance, but advancing deep could earn it an NIT bid.
No. 5 San Francisco 18-12 (8-8 WCC)
The Dons had the unenviable task of closing out the regular season with home games against BYU, Gonzaga and Saint Mary's. BYU escaped with a 1-point win, Gonzaga lost by 1 point, and Saint Mary's got all it could wish for before pulling away late. The Dons have won six of their last nine games and, like LMU, enter the tournament red hot. The Dons are likely hunting for an NIT bid at this point, but they're only a few upsets away from being tournament champions.
No. 6 San Diego 12-17 (7-9 WCC)
The Toreros have been the epitome of the middle-of-the- road team this year. They've won the games they were supposed to and largely been blown out by the conference's heavy hitters. With nine freshmen on its roster, San Diego is likely hunting for experience and hoping for a quarterfinal upset against BYU.
No. 7 Pepperdine 10-18 (4-12 WCC)
Pepperdine never did recover after losing senior guard Lorne Jackson before the season started. The Waves started with a semi-decent 7-5 record but have collapsed down the stretch, losing 13 of their last 16 games. They may push San Diego in the second round but would struggle to upset even a Hartsock-less BYU.
No. 8 Portland 6-23 (3-13 WCC)
Portland has had two winning seasons since 2000 and enjoyed a 20+ win season in 2010. However, these are lean times for a squad that dropped a nonconference game to reeling Utah earlier in the season. The Pilots couldn't avoid the dreaded first round "play- in" game on Wednesday and may not have enough left to beat even Santa Clara three times in one year.
No. 9 Santa Clara 8-21 (0-16 WCC)
Santa Clara started the season with a bang, going 8-5 with an overtime win against New Mexico and a victory against Villanova. Sixteen straight losses later, the Broncos are still hunting for elusive win No. 9.
Still, as Abouo said, "In the postseason, it's do-or-die. You have to get ready for that mindset and be ready to leave it all on the line in every game." That's exactly the attitude BYU needs to have to find lady luck in the desert. "If we do that, we'll have a good shot at winning this thing in Vegas."
David Gale is a BYU graduate and former television news producer and lifelong BYU fan. See more of his thoughts at planetbyu.com or follow him on Twitter @planetbyu.
Related Stories
0 Pending Comments
Sorry, we are not accepting new comments on this story, but if you have more to contribute please email
newstip@ksl.com
Showing of 0 comments