PROVO — Breaking from its usual routine last Saturday, BYU held a special program on the court before tipoff for its two seniors.
Charles Abouo and Noah Hartsock took center stage — or court — before BYU's contest against Portland.
With their families standing by them as they were recognized and head coach Dave Rose looking at them like a proud father, the real story to Saturday night at the Marriott Center won't be found on any box score (which read "BYU 76, Portland 66").
Rose's emotions that night had nothing to do with the Cougs' last home game of the season against the seventh-place West Coast Conference team.
Still worked up after the last buzzer of the game sounded, Rose's deep relationship with his players was clearly displayed in his post-game press conference.
"Every year going in I say, 'OK we're just going to take this (Senior Day) like another game,' but it never works that way," Rose said. "You know these guys — they give you so much and ... I'm proud of them. I'm proud of what they represent. I'm proud of how they play. I'm proud of what they do for the next group that comes in because they teach these guys how to come in and be good teammates."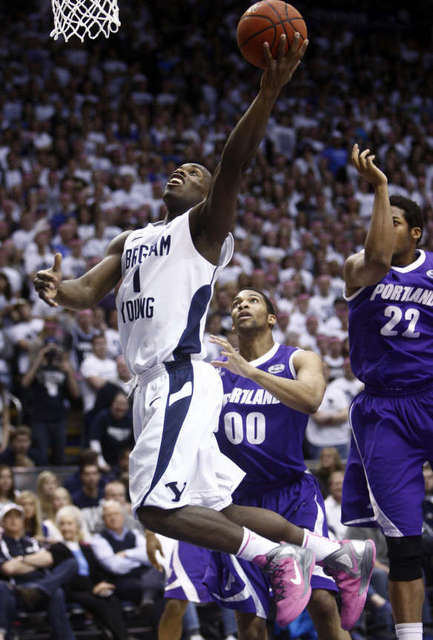 Abouo ultimately hit 4.5 points above his average points per game (putting in 16 points) on Saturday. But really at the end of the night Rose's pride flowed from four years of dedication, and not from this one game that, according to Abouo, was high in emotions and somewhat mediocre in athleticism.
"I got emotional," Abouo said. "I never thought I would cry. I was telling everybody it wasn't a big deal, but (then) I was bawling. And then I came out with a lot of energy; I've never air-balled so many shots in my life."
And while Abouo had to deal with controlling his emotions on the court, senior Hartsock was left — due to a recent knee injury — maintaining composure from the bench on his Senior Day.
"It was tough (not being able to play) especially since my family flew in … but sometimes things happen like that," Hartsock said. "I feel like if I was out there I wouldn't have been very productive. I know the other players were able to do more than I could have out there. … Luckily I played a lot of games here (in the Marriott Center) and had a lot of fun."
According to Rose, the discussion of "Should he or shouldn't?" never occurred within the context of whether he should play, but simply on whether or not he should suit up (due to it being Senior Night) — a decision that Rose left up to Hartsock.
Hartsock did choose to suit up, bet Rose understood that simply wearing the jersey wasn't completely fulfilling at the end of the day.
"(He'll) always remember his last home game as a game where he didn't get to play," Rose said. "My heart will kind of always hurt for Noah, because he meant so much to us and didn't get a chance to finish like he wanted to."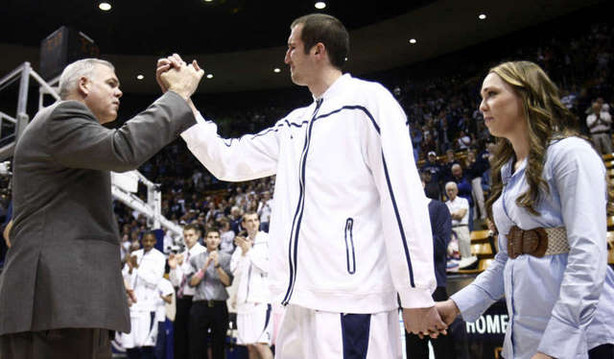 And while the pain of Hartsock's absence was more out of respect on Saturday, the presence of their leading scorer (averaging 16.8 points per game) will be more of a necessity to the Cougars in the increasingly tight WCC Tournament.
"We're probably twice as good with (Hartsock) in the lineup," Abouo said. "I don't want to admit that but we're that much better with him."
This isn't the first year that BYU has had to deal with the crumbling of solidified positions right around conference-tournament time.
"(Hartsock's injury has) kind of got us in a situation like we were late last year —where we're trying to find a way to make up for a position that we kind of had locked up and counted on," Rose said.
Rose is referencing the suspension that Brandon Davies was given late last seasondue to a violation of the BYU honor code, which left BYU without its valuable forward in its last two conference games, as well as in the MWC and NCAA Tournaments.
And then the year before that — two years ago — Brock Zylstra reminded the press, "Tyler Haws got hurt towards the end of the year."
Cougar Tracks:
And while the situation with end-of-season challenges is common for the Cougars, BYU is also facing completely new discomforts.
Having not been able to reach their "goal to finish first in the conference," according to Abouo, the Cougs are walking into a brand-new tournament without even having the security blanket of their familiar first-seed position.
But BYU hopes to deliver a message in its first ever WCC Tournament.
"We're excited at the chance to make things right at the West Coast Conference Tournament," Abouo said. "We want to go there and win."
The first game that BYU will need to "make things right" in will be on Friday against San Diego or Pepperdine (dependent upon the victor of Thursday's game between the two schools).
Despite going undefeated against both teams in the regular season, Rose is not taking the first matchup lightly.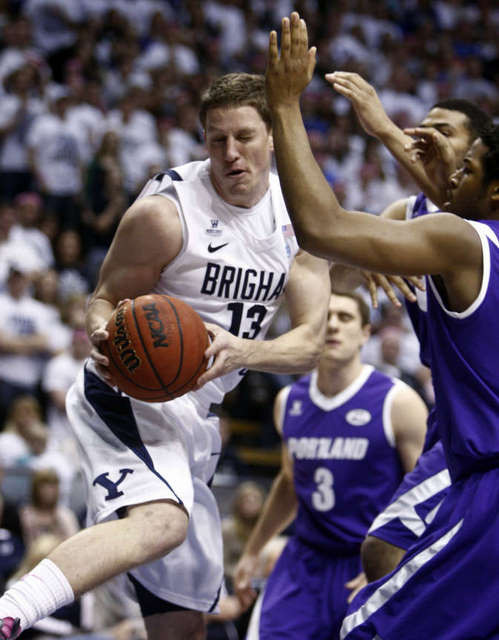 "Right now all of the preparation goes into one game — and that's whoever our opponent is on Friday," Rose said.
While the coaching staff is fully focused on Friday's game, the players can't help but look forward to potential matchups against two of the three teams that beat them during the regular season.
If BYU wins Friday's game, the Cougars are given a guaranteed matchup against Gonzaga in the semifinals Saturday.
If BYU found a way to win that game, it would possibly have another shot against the one team it failed to beat during the WCC regular season — St. Mary's.
"It's awesome (to have another shot at St. Mary's)," Zylstra said. "You lose twice to a team, and not like (they were) close games, (they were) pretty big beatings. … We know that we can play with them. We can beat them and so it's something that we're looking forward to."
More than anything, the Cougars want to hear their name announced on Selection Sunday.
While a conference-tournament title would force a pen into the selection committee's hands, BYU is confident that its performance in the regular season alone has been sharp enough for it to be penciled into March Madness.
"I don't think we actually have to win (the WCC Tournament) to get in," Abouo said. "I think we're actually good enough to get in (the NCAA Tournament) regardless. But when you win your conference tournament you … guarantee your team a bid in the tournament. So that's what we want to do, but we know there's going to be a bunch of other teams thinking the same thing. So it's going to be a tough tournament down there."
Karissa Urry is a Brigham Young University student majoring in Public Relations and minoring in Business Management. Follow her on Twitter @KarissaEUrry
Related Stories
0 Pending Comments
Sorry, we are not accepting new comments on this story, but if you have more to contribute please email
newstip@ksl.com
Showing of 0 comments