PROVO -- It's close to seven o'clock at night on New Years Eve and while a little early to be completely enthralled in ringing in the New Year, most are starting to get close. They're getting ready for their night with their friends and their family to celebrate their new year of their lives. Then there's Charles Abouo.
On December 31, 2011 Abouo was finishing up his interview on Greg Wrubell's Cougar Postgame Show. Having just defeated San Diego many young fans – years away from being eligible to apply for the Y, or even drive a car – were anxiously waiting by the tunnel to congratulate their sports idol on his recent win.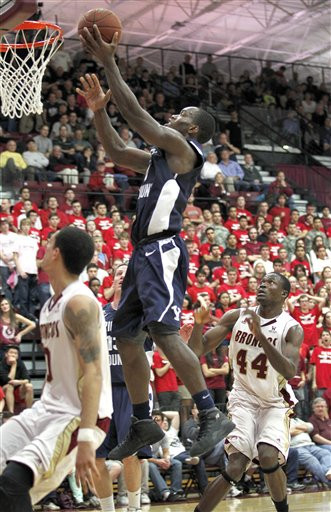 A smile and a wave, maybe even a quick high five, would be enough to leave such young fans elated for months.
But Abouo has never been about meeting the bare-minimum requirements. Hosting the kids onto his shoulders and talking to them as if they wore the same jersey – which he had spent years painstakingly pursuing, including not even make his school's team one year – that he wore.
That's just who Abouo is. And Noah Hartsock doesn't seem to be too different.
Known for his easygoing nature and simple likability Hartsock seemed to be the ideal leader for the Cougs after a historical season for the school.
After loosing in their first away game of the season in the hostile environment of the Spectrum, Hartsock stood up against a hard brick wall with media lights in his eyes and a potential broken nose, maintaining his ever constant slightly turned up of the lips smile.
"It's just a broken nose," Hartsock said. "I'm married now so, it is what it is. It really doesn't matter that much."
With good hearts and maturity continually being shown in these seniors through their interactions with the coaches, their fellow teammates and the local community – every heart in the Marriott Center will, strangely, be hoping to never see them play in that building again, after Saturday's matchup against Portland.
After making it into the Sweet Sixteen, as a three seed, in the NCAA Tournament the Cougs are now looking at a possibility of getting a NIT bid this year instead – putting them back in the Marriott Center.
A strange position for a player such as Abouo who stands second in BYU history for being a part of 110 wins, and Hartsock who was named to the preseason All-WCC Second Team by Lindy's Sports.
Next weekend's WCC Tournament will be the final chance for BYU to make their last pleas at a spot on the bracket that they confidentially entered for the last five consecutive seasons.
Despite the unique end of season position for these two successful college athletes the sold-out Marriott Center is ready to show their appreciation for the athleticism and example of Abouo and Hartsock.
Karissa Urry is a Brigham Young University student majoring in Public Relations and minoring in Business Management. Follow her on Twitter @KarissaEUrry
Related Links
0 Pending Comments
Sorry, we are not accepting new comments on this story, but if you have more to contribute please email
newstip@ksl.com
Showing of 0 comments