SPOKANE – Coming off a loss and playing in an arena occupied by infamously passionate fans, Gonzaga seems to be holding the, unofficial, mandatory home court bio with their Thursday matchup against BYU.
At the beginning of February BYU was just coming off a loss against St. Mary's when they welcomed the Zags onto their home court and walked off with the 83-72 win.
Though a team would never actively seek for a loss, Gonzaga seems to be breathing the same fire of revenge with a fresh loss against San Francisco and a home court game against BYU this Thursday.
Being thrown into the hostility of The Kennel would have been enough of a challenge for the Cougs.
The Bulldog's recent loss (putting them at 11-3, the same WCC record as BYU) just may be a complete release from the chains that previously held back the Bulldog's in their loss against BYU.
Cougar Tracks:
"It's hard to play a good team after they've lost," BYU's shooting guard Brock Zylstra said. "No good team likes to lose two in a row."
And if the home court pattern continues, they won't.
So why would the pattern stop? How can BYU walk away with the win?
It probably won't be from to their leading scorer. Averaging 17.3 points per game, senior forward Noah Hartsock, who recently injured his left knee, is a game- time decision.
It may not come from oozing confidence of BYU's young lineup – including regular starters freshmen guards Anson Winder and Matt Carlino.
It definitely won't come from the barking fans that have sold-out every game in the McCarthey Athletic Center since it opened in 2004.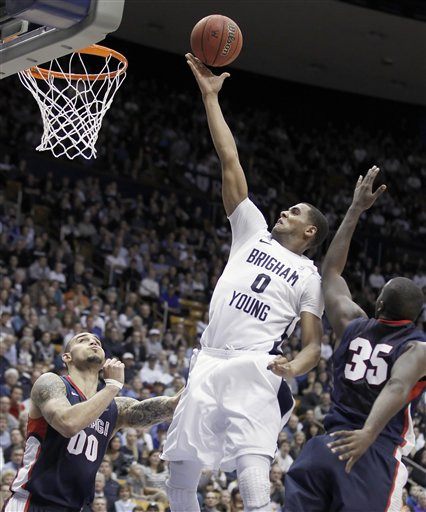 And to claim some correlation between Thursday's turnout and both teams' one-point game against USF, with BYU coming out with a win and Gonzaga not, would simply be flirting with the line of absurd.
However, it could come from Zylstra's versatility, BYU's familiarity with hostility, Brandon Davies's postman agility or Carlino's leadership abilities – none guarantees, all just possibilities.
After spending the beginning of the season having to fill in the point guard position – being one of the few returning guards on the team and having two months before Carlino's availability – it would seem only fitting for head coach Dave Rose to suggest plate juggler Zylstra as one of the possible fill-ins for Hartsock, noting that he's "played that position a little before."
And of course BYU's second leading scorer Davies (averaging 14.3 points per game) is ready to perform in the paint with or without his sidekick Hartsock.
"We definitely love (the challenge of going up against other bigs); we know that they love it too," Davies said. "It's an opportunity to go up against a bunch of top rated post players."
In addition to strength from under, Rose's confidence in his starting point guard Carlino is ever increasing.
"We need him to run our team and I think that's where he's really gotten better," Rose said.
With Rose's open acknowledgement of Gonzaga's ability to "shoot the ball a lot better at home" and noting that their last matchup against the Zags truly wasn't the Bulldogs' best play, Carlino has to be ready to adapt to the unknown.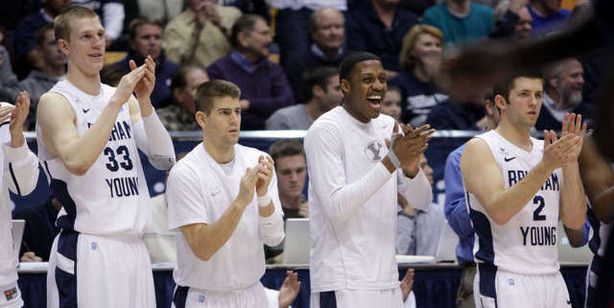 In addition to the potential of playing against a whole new team, Carlino will be leading his own teammates with a game plan, that according to Rose, will be "adjusted depending on the different players (availability)" – Stephen Rogers may also play, all decisions to be finalized only minutes before tipoff.
With such a chaotic mix of familiar patterns and unknown variables, at the end of the day BYU simply wants to partake of the sweet Madness a few weeks from now – an entrée that is much more likely to be served through snatching a second win against the Zags.
"All we care about is going out there and getting the win," Davies said. "That's the only thing that we can control – is giving it our all and getting the win. Everything after that will fall into place."
Karissa Urry is a Brigham Young University student majoring in Public Relations and minoring in Business Management. Follow her on Twitter @KarissaEUrry
Related Links
Related Stories
0 Pending Comments
Sorry, we are not accepting new comments on this story, but if you have more to contribute please email
newstip@ksl.com
Showing of 0 comments