SANTA CLARA, Calif. -- Following a game where BYU was led by their point guard into the last seconds of a game, in which they had lost the lead until the final seconds, the Cougs are hoping to continue the remainder of the season with equal stamina.
Contrasting BYU's ultimate win on Thursday against the University of San Francisco – grabbed by one point on point guard Matt Carlino's layup with only 23 seconds remaining – the, previously undefeated St. Mary's Gaels were taken down, 75-60, by Loyola Marymount on Wednesday.
Carlino said that hearing about the dethroning of the undefeated Gaels reinforced the Cougs' aggressive end of season goal.
"It energized us a lot," Carlino said. "It made us (view) every game (as) a can't lose game now. We gotta win. We're really looking forward to this final stretch of games, and we're excited for it. We're going to be playing our best basketball by the end of the year."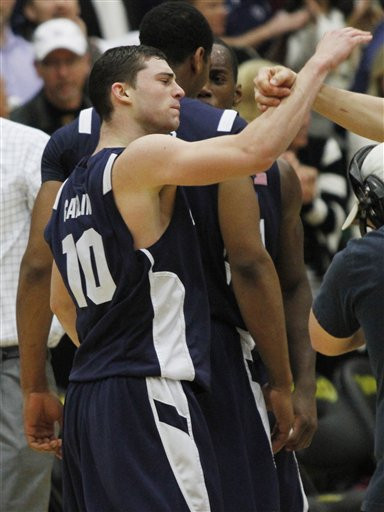 So while less-than-desirable season end outcomes loom for the Cougars, BYU's play recently seems to show a complete unwillingness to even fully acknowledge the chance of going from a NCAA three seed to a NIT team.
Before residence was casually made on the fence, BYU players were clearly stating that just because the days of having "the best scorer in the world" at point were over, didn't mean that the Cougs couldn't find success in other ways. Interestingly, the possible tale to be told at the end of this season may be one that doesn't even begin until the end is in sight.
BYU will need to remember that fight rather than flight methodology as they go up against a desperate Santa Clara team, which has lost its best player, Kevin Foster, to a suspension for the remainder of the season following a DUI arrest.
BYU head coach Dave Rose noted that the situation of both teams could feed for a rather intense game on Saturday.
"Santa Clara is a really good offensive team, one of the better offensive teams in our league," Rose said. "They're having a hard time closing their games. It's amazing how many games they play to the eight- or four-minute timeout where the game is still in question. It's going to be a real challenge for us because we left a lot on the floor (against USF)."
What's done is done, and what's left on the court is left on the court, but Carlino is ready to help BYU set the rest of their season right with an end of year undefeated streak – something that the Gaels just lost and the Broncos stand 180 degrees of.
"We just got to keep playing hard," Carlino said. "We realize at the end of the season that this is crunch time and we're ready."
Related Links
Related Stories
0 Pending Comments
Sorry, we are not accepting new comments on this story, but if you have more to contribute please email
newstip@ksl.com
Showing of 2 comments
Sorry, we are not accepting new comments on this story, but if you have more to contribute please email
newstip@ksl.com