PROVO — Going for their second conference matchup against the University of San Francisco this season, BYU Cougars are taking on a drastically different, and much improved, team this time around.
After loosing their first two conference games, the USF Dons took their next conference loss against BYU back on January 7. Since then, USF has snatched up seven wins in their last nine games.
BYU head coach Dave Rose said that USF's improvement has been so great that the there's a significant threat that this new game may be the Don's time of victory.
"I think they're a completely different team than what we saw when we played (the team in the Marriott Center) — as far as their confidence level (and) their execution offensively," Rose said. "They've gotten really comfortable with how they're playing. They remind me a lot of how they were playing last year at the end of the season when I watched them a couple of times."
Cougar Tracks:
In addition to their climbing conference standing (only two below BYU, one below LMU whom BYU loss against), the Dons have an aggressive home record —bragging rights that the Cougars are more used to giving than receiving.
"San Francisco is a tough team," BYU forward Noah Hartsock said. "They've only lost two home games in the past two years in conference."
However, USF isn't the only team that's become close buds with father time. After a long 3-point rut, BYU shooting guard Brock Zylstra was able to witness from the bench "the ball break the bubble on the basket" from every guard on the team.
After hurting his ankle in the first half of BYU's matchup against Portland, Zylstra spoke to the trainer and decided that even though adrenaline would be the only thing holding back the pain, playing the second half and risking potential swelling was needed for the Cougs to grab a W.
Having to only sit out one game, Zylstra is ready to play against USF.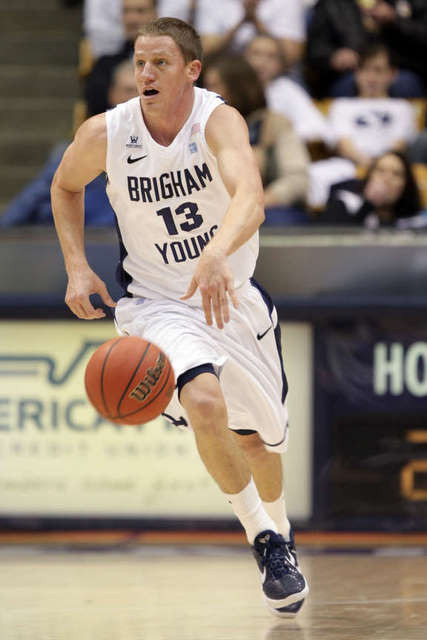 "My ankle, I wouldn't say it's feeling 100 percent like it has been earlier in the season, but it's good enough to play," Zylstra said. "I feel good. I've been able to practice the last couple of days and I'm ready to go."
So where exactly does the bonding time with father time come in for the Cougs? Right after the apparent "bubble" on the three-point shots was popped and right before the player to shoot a perfect 6-6, 3- point percentage against USF last time declared that he was "ready to go."
While Zylstra isn't promising another perfect night in uptown shooting, he was confident enough to not brush it off as completely improbable.
"It'd be nice to do again," Zylstra said. "You always (aim) for never missing a shot. Really we're just going out there to attack. We know the pressure they can bring — that they really try to junk up the defense and put a lot on their opponents."
The Dons' heavy D will need to be matched by the Cougs in order to keep their diverse score chart a little less filled.
"They can really score the ball from a lot of different spots," Rose said. "They really penetrate the ball well and kick it for open shots. And all five guys can shoot the ball well."
Thursday's game holds the potential for assertive shots to be consistently put down by both teams. Having two teams offense resembling moving targets, it remains to be clearly seen whose been putting in the big bucks for the best game prep amo.
Karissa Urry is a Brigham Young University student majoring in public relations and minoring in business management. Follow her on Twitter @KarissaEUrry.
Related Links
Related Stories
0 Pending Comments
Sorry, we are not accepting new comments on this story, but if you have more to contribute please email
newstip@ksl.com
Showing of 0 comments