PROVO -- As BYU embarks on its inaugural trip around the West Coast Conference, its new league comrades are cashing in both on and off the court. From increased television appearances, to a boost in schedule strength, to packed arenas with increased ticket prices, having BYU around is paying immediate dividends for the WCC.
This week BYU heads off to the San Francisco Bay area for a pair of road games. In both cases, Cougar faithful will help fill both the stands and the coffers for the host school.
The Dons normally charge $15 for a general admission ticket, but that price jumps to $35 when BYU, a "Super-Premium" team, visits San Francisco on Thursday. Just an hour south on I-280, Santa Clara is charging $20 for Saturday's match against the Cougars, double its regular price. It has been the same story in every WCC venue this year: BYU is a marquee name, and league ticket offices know it.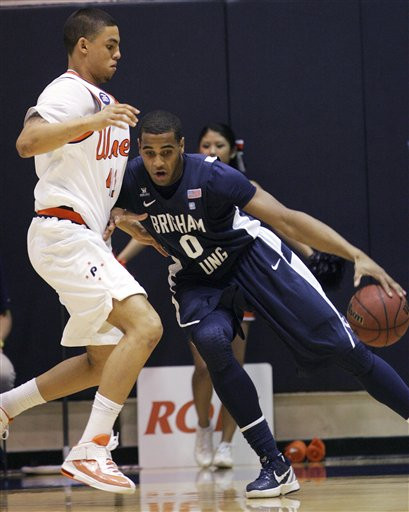 Charging extra for certain games is a common practice nationwide. Even in Utah fans pay a premium whenever BYU and Utah get together – whether in Provo or Salt Lake City. For their part, most BYU fans in WCC territory do not seem to mind the higher prices; they are just happy for the chance to see the Cougars in person.
Jeremy Hoopes, a Corona, Calif., resident, is excited about BYU's repeated visits to California, especially since the football team didn't play in the Golden State this year, and is making the most of it.
Hoopes said he was treated well when he attended the Pepperdine game, but the school was clearly not ready for the influx of fans.
"(WCC) schools will need to make adjustments when BYU comes to town," he said. "The concession line at halftime stretched outside the arena and they ran out of hot dogs."
Pepperdine has been averaging 1,200 fans per game. When the Cougars visited in late January, attendance swelled to 3,100. Half of those, Hoopes estimated, were BYU fans.
Neil Sheridan was one of the thousands of BYU fans in attendance at that game.
"The Pepperdine student section was visibly shocked by the loud response from the crowd when they announced BYU," he said.
Sheridan made the drive from Los Angeles to Malibu and logged more miles traveling to BYU road games against Loyola Marymount and San Diego, something he had never been able to do before.
"I kind of love that part," he said of the Cougars' now frequent trips to the area.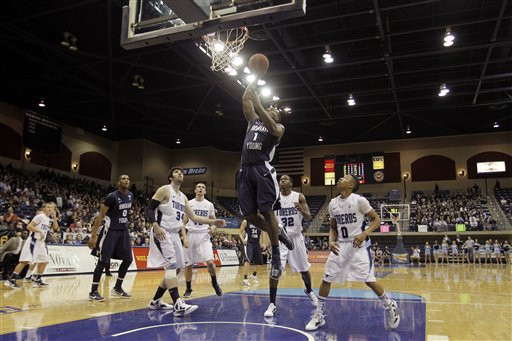 Ron Earl cheered on BYU in a January road game against San Diego. The way Earl described the atmosphere was markedly different from last year, when Jimmer Fredette and company squared off in an epic game against cross-town rival San Diego State.
"The students were still out on break so there wasn't much of a student section, unfortunately." Earl said games are more fun when the home team has a vocal fan base. "There may have been a few more BYU fans than USD fans."
Despite the Torero students' absence, BYU's visit is one of the highest-attended games of the season so far for San Diego. As BYU fans have been filling WCC venues this winter, many have commented about lackluster support for the home crowd. After years of witnessing hostile environments like The Pit in New Mexico, the Thomas & Mack Center in Las Vegas, and "The Show" from SDSU students in Viejas Arena, BYU fans have grown accustomed to cheering against passionate fan bases whenever they see the Cougars on the road.
Saint Mary's and Gonzaga certainly fit that description. Both schools have sold out every home game and enjoy an energetic and enthusiastic following, but they seem to be the exception, rather than the rule.
"My biggest impression of the games was the lack of passion," said Sheridan of his visits to three WCC venues. "With gyms so small, I was expecting the crowds to be louder and more intense, but that wasn't really the case."
Sheridan did offer an explanation: "Perhaps it's just because rivalries haven't formed yet."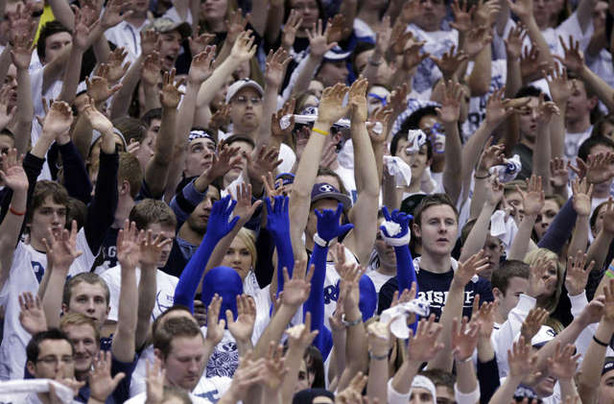 There may be some truth to that. After TCU first joined the MWC, BYU fans began flocking to Daniel-Meyer Coliseum in Fort Worth, Texas. Surprised home team officials rolled out the red carpet for BYU, allowing the Cougars to hold a fan "meet and greet."
That practice continued right up until last year when BYU fans sold out TCU's basketball arena for the first time since 2004. An estimated 70 percent of the crowd was there to cheer on Jimmer one last time and BYU players spent plenty of time afterward signing autographs and thanking their fans.
Yet despite its football prowess, TCU never challenged the Cougars on the court and any passion in the building came from BYU fans. In fact, when BYU fans think of the raucous, packed arenas they left behind in the MWC they are invariably talking about New Mexico, UNLV, and San Diego State. Those schools routinely averaged more than 10,000 in home attendance and challenged BYU for league titles. The rest of the Mountain West Conference routinely had less vocal home crowds that would fit right in with the WCC. Many nights, BYU would play before half-full arenas and any energy in the building came from on the court, not in the stands.
Zealous fan bases are really the result of sustained success, and that is what it will take for WCC schools to match the enthusiasm that BYU generates whenever it comes to town. So when a struggling Portland squad hosted BYU on February 4, it was little surprise the crowd was largely a sea of blue-and-white-clad fans. Portland charged twice as much for the game and still saw attendance double. With more cash in their registers, Portland was happy to give the fans what they wanted – an extended "meet and greet" for the visiting Cougars after they were done dismantling the home team.
"From a purely athletic game day experience standpoint, I think BYU is closer to the Big XII than the WCC, but the WCC is a strong conference and I'm already starting to try and dislike Saint Mary's," Sheridan said.
Which means BYU fans will likely continue to flood WCC campuses whenever the Cougars roll into town, and those schools will continue to reap the rewards of having a large, fervid fan base on hand; even if it is not their own.
David Gale is a BYU graduate, former television news producer, and lifelong Cougar fan. See more of David's thoughts at http://planetbyu.com or follow him on twitter at http://twitter.com/planetbyu
Related Stories
0 Pending Comments
Sorry, we are not accepting new comments on this story, but if you have more to contribute please email
newstip@ksl.com
Showing of 2 comments
Sorry, we are not accepting new comments on this story, but if you have more to contribute please email
newstip@ksl.com