PROVO — Back in the Marriott Center, the Cougars were able to expand their shooting neighborhood a couple blocks, hitting more 3-pointers in Saturday's game than in any other conference game this season. BYU waved goodbye to Pepperdine with an 86-48 win.
Less than a minute into the game, Matt Carlino sunk the first 3-point attempt on the clock, opening a bottle of confidence on the arc that every guard on the team would step up and drink from at one point, or many points, during the game.
"It felt good tonight to come out with a good start. We came out with a lot of energy,"starting wing- guard Charles Abouo said. "That good start helped us get rolling — hit some good shots and get confidence."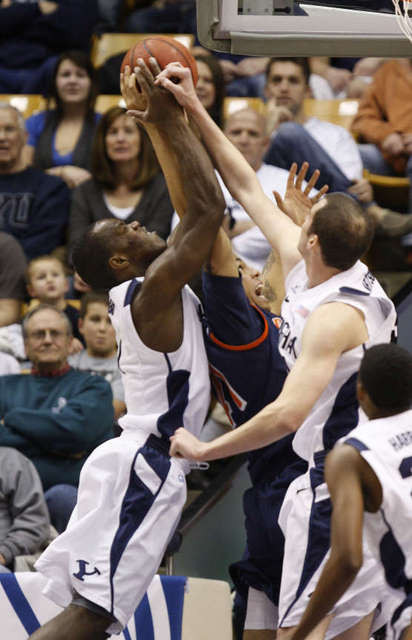 Sinking the team's next 3-pointer, Abouo was glad to see his own first attempt play a string number with his smooth arc shot.
"It's usually a lot easier to get going when the first one goes down," Abouo said. "Big guys got us open, looks on the outside. Everyone was unselfish and those are the shots that they want us to shoot. And we tend to make those at a really highpercentage."
The unselfish passing and open windows from higher stories on the court led BYU to seeing the game from a broader range than normal. According to guard Damarcus Harrison, once the Cougars were able to beat their 3-point slump, they found a rhythm and shot to it.
"When you get in a good rhythm that's when you start making a lot of shots," Harrison said. "We've been focusing on shooting it with confidence – and I think that's the big thing we did today, everyone stepped up and shot it with confidence."
BYU head coach Dave Rose was grateful for the early sunk threes and how it "let everybody breathe a little bit." In his regular style, Rose selected a starting lineup that would press just the right buttons against Pepperdine.
"We talked about it as a coaching staff," Rose said. "We really thought we'd shoot well tonight, with the way things were set up. We looked around and said who are going to be the guys to get this thing started, so everybody can get rolling."
What started as a light roll for all players became the snowball effect for players like Abouo. Able to hit the still rhythm of zero fouls allowed him to play multiple minutes (and not have) his time chopped up," according to Rose. With that time, Abouo put up 17 points, nine rebounds and one steal in the first half alone. He went on to finish the game with a double double — 12 boards and a season-high 23 points (in addition to the career-high five treys).
While everyone — from the coaching staff to the players to the fans — enjoyed seeing the pouring of threes after such a long drought, Rose said that at the end of the day the storm should have looked more like scattered showers.
"We probably shot more (3-pointers) than we should tonight," Rose said. "You don't want half of your shots to be 3-point shots. But the way they were playing our posts (they had the ball getting) … out of their hands, and if it's going to get out of their hands and to an open shooter, we'd rather have a guy shoot a three than a long two."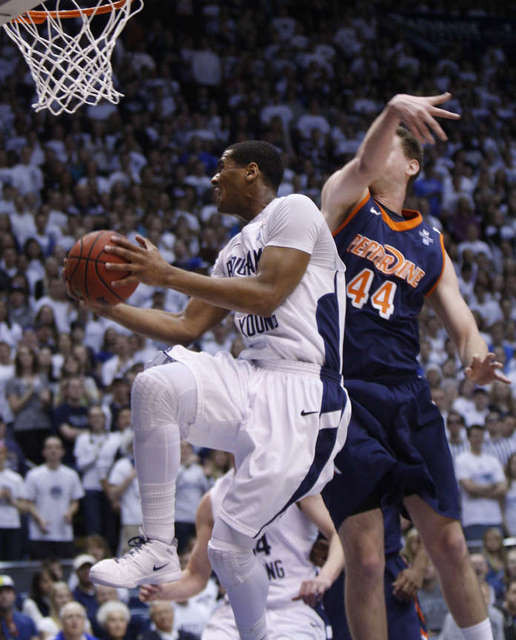 BYU's post players Brandon Davies and Noah Hartsock put up 29 and 20 points, respectively, against Pepperdine last matchup. So with the Cougars shooting only 17-101 from the arc in the last six games, Rose said that there was "no question" that Pepperdine was focused on brushing up against BYU's paint players.
The Pepperdine Waves were taken aback that stopping the Cougars in the paint wasn't enough this time around.
"They shot the ball well, and that is something that they haven't been doing recently," Pepperdine head coach Marty Wilson said. "We wanted to challenge them to shoot well. They hit some early shots, they got the momentum and it became contagious. The crowd got into it and it was hard to stop the bleeding after that."
And while the main bleeding was caused from up top, Hartsock and Davies's games on Saturday didn't exactly help save Pepperdine's skin. Scoring 13 points, Davies reached his 15th straight game in double figures, 22nd game this season. Davies and Hartsock both threatened on the tip of the Waves' shot with, respectively, seven and five rebounds. Slightly less important to Pepperdine but a large commentary on Hartsock's overall ability was his three in the game that put him past Russell Larson for third place (167) at BYU in career blocks.
Between Brock Zylstra not being cleared to play on Saturday and Stephen Rogers out for at least another two weeks from this coming Monday, freshman wing guard Harrison is seeing more definite time in the final stretch of the season, something Rose wish he'd done earlier.
"If there's a couple of things that I could go and redo (I wouldn't have) coached this team for two or three weeks thinking that Stephen was going to come back," Rose said. "The rotations might have been a little better (and) a little bit deeper, if we'd have coached this group knowing that he would be out for three to five weeks."
If the entire team shares the mindset of players like freshman Harrison who has fought for game time, the Cougs may still have a chance at the NCAA Tournament.
"You just got to come out and play hard, play tough, make sure you're doing the right things," Harrison said. "When I get in, I just know that I got to work my tail off and play as hard as I can."
Karissa Urry is a Brigham Young University student majoring in Public Relations and minoring in Business Management. Follow her on Twitter, @KarissaEUrry.
Related Stories
0 Pending Comments
Sorry, we are not accepting new comments on this story, but if you have more to contribute please email
newstip@ksl.com
Showing of 0 comments