PROVO — With the mute button hit after a massive win against the Zags in the Marriott Center 11 days ago, BYU is looking to bring in the noise buildup of seven days off from games back in the Marriott against Pepperdine on Saturday.
Using anyway games against Pepperdine as a therapeutic win, after a home loss against Loyola Marymount University back in January, the Cougars are now looking for another win against the Waves, but this time to contribute to their winning streak.
BYU has not heard a game time buzzer for a week now, last playing away against Portland on Feb. 4. Coach Dave Rose says that between some big win and big break, players are seeing some great improvement.
"I think that this group's made some real progress, especially in the last two weeks. Hopefully we can keep getting better," Rose said.
One of the greatest changes for BYU started at its home game against Gonzaga with freshman Anson Winder starting on wing. While a changing starting lineup is hard to miss, Rose noted that he has made changes with his players recently, not all noticeable.
"We've done a few things philosophically … as well as change the personnel," Rose said. "At the beginning of games defensively, (starting Winder) really gave us some good lifts, especially starting of the games. We get our hands on a lot more balls, deflected, a lot of passes."
Rose's change in startups may have only been fast- forwarding the inevitable, though. Having started every game up until Gonzaga, Winder offered Brock Zylstra a birthday gift of being able to rest on the bench for the first minutes of the game against the Zags.
Now Zylstra suffers from a sprained ankle that may inhibit him from playing against Pepperdine on Saturday. Rose received the news about Zylstra's uncertain availability at Thursday's practice.
"Yeah, that's (Zylstra's availability) what they told me told me today, which is questionable," Rose said. "I don't really know what that means. Sometimes that's just day to day."
And while Rose questions Zylstra's readiness, other players also carry question marks on their jerseys that are more accepted. According to Roger's most recent MRI, still-present bruising will have him out for over two weeks. Chris Collinsworth, who has carried a question mark, all season has recently been on the court during some practices. Rose said that even though he has "made some improvement" it "still remains to be seen" whether or not he will play any games in what's left of this season.
Lately BYU has been more regularly having two point guards out on the court simultaneously, Matt Carlino and Craig Cusick. Rose's reasoning? Increased ball movement to this year's favorite block in the neighborhood, the paint.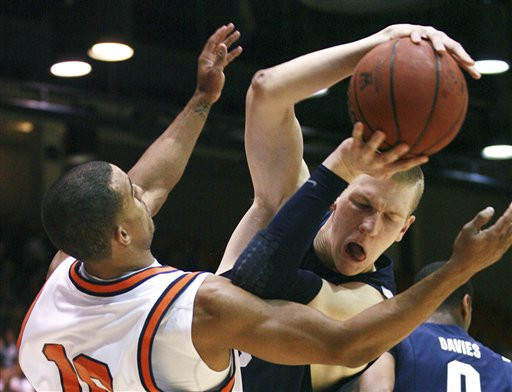 "I'd love to have three point guards out there," Rose said. "You get guys that can handle it, can pass it and can shoot it, make plays in transition. When we're playing Craig and Matt at the same time our ability to enter the post really improves, because they're both post entry passers."
In the BYU basketball family, when the post players are happy scoring, everybody's happy. However, BYU's ability to feed inside on offense will have to be met with an equal ability to backup on defense as the Cougs matchup against Pepperdine's post players Corbin Moore and Taylor Darby (who hit a career-high 21 points at the last BYU matchup).
"They have really good, skilled post guys," Rose said. "We'll have to kind of adjust our zone a little bit, be a little more active. But they passed the ball with confidence, especially in the interior of our defense."
Still suffering with a major rut at the arc — having gone 17-for-101 in the last six games, according to Greg Wrubell's Cougar Tracks — Rose is still confident in his payers' ability to grab a win tonight and inevitably improve at the three.
"I believe that any player who gets himself into a situation where he's not as efficient as he wants to be, you spend more time," Rose said.
Related Links
Related Stories
0 Pending Comments
Sorry, we are not accepting new comments on this story, but if you have more to contribute please email
newstip@ksl.com
Showing of 2 comments
Sorry, we are not accepting new comments on this story, but if you have more to contribute please email
newstip@ksl.com