PORTLAND, Ore. — Away from the comfort of the Marriott Center, BYU validated its home game win against nationally ranked Gonzaga with a 79-60 victory over the Portland Pilots on Saturday.
Holding the lead, with one tie at 8-8, for the entire first half, the Cougs continued to put most of their points in from the charity line and jumpers.
BYU head coach Dave Rose's strategy of having two point guards, Matt Carlino and Craig Cusick, on the court paid off in the first half. Cusick put down two of the only 3-16 3-pointers sunk on Saturday night. And with Carlino still running the offense, Cusick and Abouo were able to execute a scattered storm on BYU's drought at the arc.
With no game until next Saturday, against Pepperdine, Rose said the week may help bring back the points from uptown.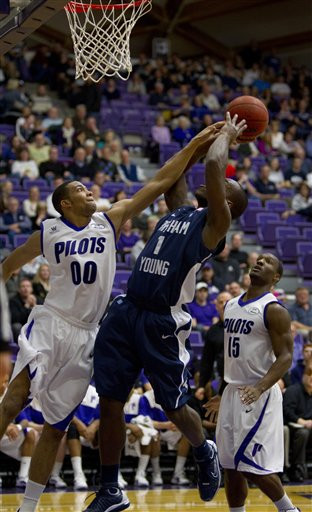 "We can use (our week off) to get some individual work in," Rose said. "We haven't shot the ball extremely well — maybe our legs have been a little tired. It's something that we need to get back."
Adjustments are just a given for any conference- transferring team, and according to Rose, one of BYU's great adjustments has been the frequency of the whistle. Unaccustomed to so many foul calls, Rose has adjusted his seasoned coaching policies.
"One scenario that's hard to prepare for is available personnel," Rose said. "I've gone a little bit away from where it used to be a hard fast where you get two fouls and you don't play in the first half. This year, we've got our guys in that position quite a few times — trying to figure out a little bit about how the games going to be called."
BYU's unusually prominent foul troubles this season — including Brandon Davies receiving a technical against Portland — has led many to seek out a possible correlation between conference referees and number of fouls called.
During the Portland game, Jay Drew, a football and basketball beat writer for the Salt Lake Tribune, tweeted, "A guy who would know told me refs get who work WCC games get $700 less per game than those who do WAC, MWC, Pac-12. Hard not to believe it."
And while the Cougars have felt frustration on fouls called against them on multiple occasions, the whistle seemed to be serving them more than hurting them on Saturday, with BYU having 30 more attempts on the charity stripe than the Pilots. In addition to more time on the line, BYU came ready for the potential conservative foul calls and hit 71.7 percent from the arc (hitting 28.2 percent higher than Portland, 43.5 percent).
Players like Brock Zylstra show that BYU is not completely counting on the WCC refs to act as their chaperones for all physicality, owever. Spraining his ankle early on in the game, Zylstra continued to play through his injury and to the game-ending buzzer (contributing 12 points, five rebounds and one steal).
---
What a tough guy, I love Brock (Zylstra). He's as good of a competitor as we've ever had in our program. He doesn't say much. He's just a guy who goes out there and leaves everything he's got on the floor.
–Dave Rose
---
"What a tough guy, I love Brock," Rose said. "He's as good of a competitor as we've ever had in our program. He doesn't say much. He's just a guy who goes out there and leaves everything he's got on the floor. We needed him tonight. He was gassed pretty good, but fought through that. He didn't sit down in one time out, he just kept standing up and walking through to keep that thing loose. Brock has the respect of all these players because of the effort that he gives every night, and tonight he was terrific for us."
Making 20 wins for seven seasons in a row, the feeling of love and respect between Rose and the players seems to be a two-way street. BYU has played every team in the conference at least once now and is looking at the final stretch of this season as a chance to tweak imperfections and move forward with a Zylstra level of aggression.
"It's the last first preparation that we'll do," Rose said. "Anything else we play, we've already done before. So we'll all kind of get our heads together and see how the game went. We take a lot of notes after games and see what worked for us and what we need to adjust."
Karissa Urry is a Brigham Young University student majoring in public relations and minoring in business management. Follow her on Twitter, @KarissaEUrry.
Related Stories
0 Pending Comments
Sorry, we are not accepting new comments on this story, but if you have more to contribute please email
newstip@ksl.com
Showing of 1 comments
Sorry, we are not accepting new comments on this story, but if you have more to contribute please email
newstip@ksl.com