SALT LAKE CITY -- While shopping in the exchange, Cpl. Weston Gleave received a call to report immediately with a full combat-load packed. Only hours later, he found himself overseas getting shot at by enemy forces.
Gleave, who joined the Marine Corps in 2008, is part of 2nd Fleet Anti-terrorism Security Team, which is a small self-supporting unit primarily tasked with retaking and/or securing important U.S. assets when a threat is present. The highly trained 2nd FAST unit is capable of conducting a number of missions, including counter surveillance, close quarters battle, visit, board, search and seizure of ocean vessels, foreign internal defense and asset protection.
During the aforementioned mission this past year, Gleave was in charge of a team of designated marksmen responsible for securing the perimeter around a foreign embassy and conducting security operations on the embassy grounds. Gleave and his team set up sniper positions and sustained a continuous schedule each day and night to observe the city, prepared to rapidly deliver precision rifle fire on both designated and opportunistic targets.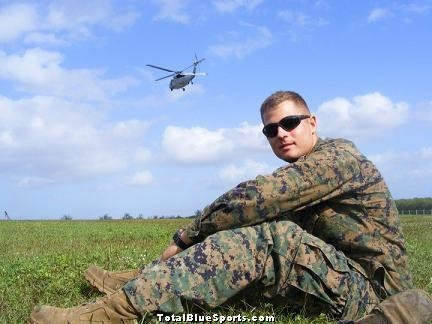 When the soldiers were not at their positions taking gunfire, the living quarters that Gleave and his fellow Marines occupied was also less than comfortable.
"The area we were securing was not designed to support a group of soldiers, so we found ourselves crammed in hallways and sleeping on top of our gear," said Gleave.
As the college football season approached last August, Gleave often found himself thinking of home and the BYU Cougar football team.
"I've been a BYU fan my entire life. My dad, my deceased grandpa and my uncles have all been season-ticket holders with their families as long as I've been alive," Gleave said.
"We also travel to a few away games each year and always make it to any bowl games. It's a fun thing for our family that we've always shared with each other. Being at LaVell Edwards Stadium feels like home to me. I'm always running into family and friends near our seats or under the bleachers," he said.
BYU's starting safety is Daniel Sorensen, Gleave's cousin. Gleave and the rest of the family were thrilled to have a family member on the Cougar football team when Sorensen began his career. Gleave said he has also met kicker Justin Sorensen (Daniel's cousin) at family parties, so that gave him another personal connection to the BYU football team.
"We were all so excited to personally know a face underneath the helmet on that field," said Gleave. "It had to have been overwhelming for him, but every time the family got together we all bombarded him with questions about everything concerning him and BYU football. Having Danny on the team is something the whole family is proud of."
---
Getting to watch the BYU football games was such a relief for so many of us. With the stress that comes from waking up to nearby explosions, unsure if you are being overrun, having something like college football games to watch made things a little bit easier for many of the guys, especially me.
–- Cpl. Weston Gleave
---
One welcome diversion from the dangerous mission came in the form of 2011 BYU football games on DVD this past season. Gleave said the games were a big hit with him and the rest of his platoon.
"Getting to watch the BYU football games was such a relief for so many of us. With the stress that comes from waking up to nearby explosions, unsure if you are being overrun, having something like college football games to watch made things a little bit easier for many of the guys, especially me."
Gleave said none of the other Marines in his platoon had heard of BYU prior to last fall, but they were all BYU fans last season.
"For me personally it was something that would remind me of home very strongly," Gleave said. "I would see the stadium and think about how many family members and friends were sitting in that stadium, safely enjoying their freedoms without much worry, probably all headed to a favorite restaurant afterward.
"It was somewhat of an overwhelming experience as I was getting shot at every day and they were all just enjoying a relaxing Saturday, but it was nice to think about and a great taste of home to have with me."
After his long deployment overseas, Gleave finally returned home in December to see his family for the holidays. He had not received a DVD of the Hawaii game before returning home and figured that was the one game of the 2011 season that he would not see, but then awoke Christmas morning and found that his father had saved the game DVD for him as a Christmas present.
Gleave explained that he also received some exciting news from his cousin Danny upon his return.
"I talked to Danny and he was telling me I might be able to get free tickets to the game since it's the Armed Forces Bowl. So I looked up the bowl's website and sure enough I got four free tickets to the game."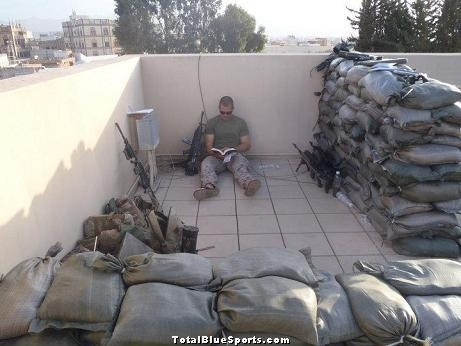 Gleave joined his family members to watch his cousin and the rest of the Cougars defeat Tulsa in the Armed Forces Bowl on Dec. 30.
While preparing for his next deployment, Gleave has been thinking about his future plans once he completes his service in the Marine Corps. Gleave said those plans involve both BYU and the Cougar football team.
"Hopefully I'll be enrolled (at BYU) soon, and if things go well I'll be lucky enough to be selected as a walk-on so I won't miss another game," Gleave said with a chuckle.
"I get out of the Marine Corps in May of 2013, so probably 2014 walk-on tryouts will be my first appearance," he said. "It's a ways away, but I've been dreaming about it for years."
While Gleave faced some scary and extremely challenging times this past football season, he noted that some of his fellow Marines face even tougher trials, highlighting one Marine in particular: Cpl. Michael Fox.
"We were roommates for two-and-a-half years before we departed for our last assignments," Gleave said. "He lost both his legs and had several other serious injuries, but overall he is going to be OK and all things considered he is doing very well.
"I've created a website for him (www.corporalfox.org) and I'm trying to spread the word to as many people as possible to draw attention to the site," Gleave said. "The idea behind it is to share his story, in hopes people will leave comments on the site that Michael can see, which will hopefully help a little with his feeling supported and not alone in this.
"The website will also hopefully raise some money to buy him a nice new bed set. That is something he will see and use every day which will remind him, no matter how briefly, that a large group of friends and strangers came together to gift him personally something nice.
"We hope to have a little extra money after the bed set, with which we will open a Roth IRA in his name, in an attempt to provide financial security through his later years in life. Please check out the site, leave a comment for him if you wish, donate whatever you feel comfortable, and spread the word to as many people as you're able to."
Photos
Related Links
0 Pending Comments
Sorry, we are not accepting new comments on this story, but if you have more to contribute please email
newstip@ksl.com
Showing of 1 comments
Sorry, we are not accepting new comments on this story, but if you have more to contribute please email
newstip@ksl.com