PROVO — Making the first lineup change in 14 games, BYU head coach Dave Rose's choice in a new cast sparked an intense show in the Marriott Center from the very beginning of the game against Gonzaga.
With 18:06 left in the first half, Matt Carlino and Anson Winder grabbed three steals from Gonzaga, putting up five points in a little over one minute. Rose was pleased that Anson fit the bill of his purpose as a starter against the Zags.
"Anson the last three games has been really good defensively," Rose said. "I thought that if we could start Anson, maybe he could get his hands on a couple of steals, get a lay-up or two, get scoring, get the crowd into it and that maybe that would help us early."
Coaches and players across the country emphasize the importance of scoring and defending the full 40 minutes of a game, but on Thursday night Rose attended to the last, and sometimes neglected, member of the 40-minute trifecta —fan involvement.
Cougar Tracks:
With the Marriott Center roaring at the success of the players — rather than at calls by the refs — early on, BYU opened with a drastically different act than was put on in the loss against St. Mary's last Saturday.
"We knew that we wanted to start out strong," BYU forward Noah Hartsock said. "Last time against St. Mary's, they went on that run and we just couldn't catch up. We knew that we couldn't fall in that trap again. So that was one of the things (we focused on) — getting a good start, setting the tone early."
The Cougars' strong start — that would ultimately lead them to a 83-73 win over Gonzaga — propelled BYU into picking up 12 steals in the first half and holding the Zags to three of 20 shooting from 15:40 to halftime.
BYU's fourteen-point gap at the half was not only brought on by the unique starting lineup. Despite having to deal with early foul trouble, BYU pushed up the lead through strong bench players — including Brock Zylstra, a bench foreigner, having started every game this season until Gonzaga.
"The bench played really well for us," Hartsock said. "Damarcus came in, hit some big shots, made big plays. And Brock coming off the bench tonight really helped our bench stand-up. Nate came in and made some good plays as well. When the bench is coming in and helping us, that is a big lift for us."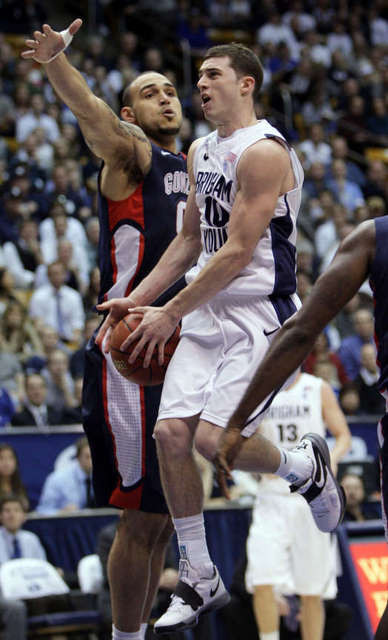 The pace in the second half was also greatly controlled by BYU to which Carlino attributed to be "from the first half (tempo)." Within the consistent pace, individual players were able to progress and improve.
Putting up only three of 10 shots in the first half, Hartsock came out into the second half and improved his shot ratio to seven for nine — making Hartsock's third double-double for the season (24 points and 14 rebounds).
Unofficially labeled as one of the tallest players in the league, Hartsock (6-8) and Brandon Davies (6-9) had their work cut out, all seven feet of it, from Gonzaga's towering center Robert Sacre.
"It's never any fun (going up against a taller guy in the paint)," Hartsock said. "Robert Sacre is a big dude and he's really good and he's really talented. Sometimes it's hard to get away from the block, but fortunately we've played some teams with bigger guys and sometimes we just have to adjust our game and our mindset when we play them."
The majority of Hartsock's adjustment was found on the edges of his comfortable shooting neighborhood. Hartsock's 15-foot fade-aways added to the bold point lead against the Zags.
"I like that 15-foot area," Hartsock said. "I try to get there and work from there."
With 6-9 Davies climbing over 7-0 Sacre with one hand dunks and Hartsock pulling back to drop in necessary shots, Sacre was impressed with shorter, but not lower, opponents.
"(Hartsock)'s skilled," Sacre said. "He can shoot from outside. We knew that going in that he was going to shoot those (15-footers). He's tough. Davies is superathletic. I think that combination right there is a challenge."
In addition to BYU offensively persevering in the paint, the Cougars were able to stick a cork in the Zags' hoop.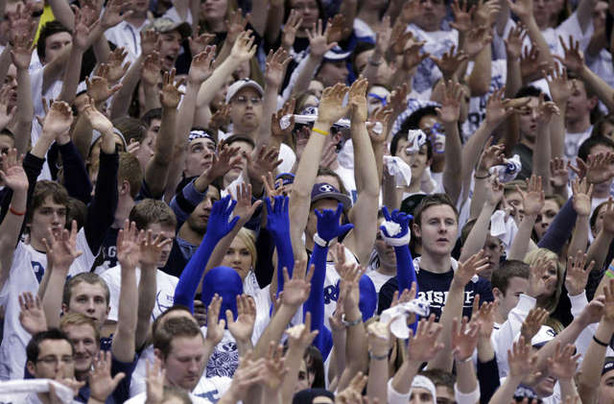 "We really focused on their deep post touches and we wanted to force outside contested shots," Hartsock said. "Just the way we were playing defense — we came out guarding man-to-man, then zone, then sort of like a pressing man —we just tried a combination of defense to try and keep them on their toes. I think that really helped defensively to limit their shots."
Despite BYU still struggling on the perimeter (3-12 against the Zags), Hartsock is confident these holes will be filled and travelled over smoothly as the Cougs continue moving off of the momentum gathered in Thursday's game.
Hartsock also feels a little less pressure from the pressing question of being a potential bubble due to the big win against Gonzaga.
"(BYU's NCAA Tournament position) is a game- by-game type of thing," Hartsock said. "It can change pretty easily, especially right there on the bubble, if you have a good win or not. But we just got to make sure that we take care of business. We're in a tough situation right now, but this is when we start playing our best basketball. I think this game tonight will help us get that confidence and play well."
Karissa Urry is a Brigham Young University student majoring in public relations and minoring in business management. Follow her on Twitter, @KarissaEUrry.
Related Stories
0 Pending Comments
Sorry, we are not accepting new comments on this story, but if you have more to contribute please email
newstip@ksl.com
Showing of 0 comments