PROVO -- In suffering back-to-back home losses for the first time since the pre-Dave Rose era, BYU hit another milestone as well — an apparent end of the honeymoon phase with the West Coast Conference.
First, let's be clear. Both Loyola Marymount and then Saint Mary's both outplayed, out-hustled and most importantly, out-shot BYU en route to decisive victories on the Cougars' home court.
From a fan perspective, these games mark a more important shift than the Cougars' overall record. Especially Saturday, it was really the first time BYU fans became truly passionate during a WCC matchup.
August 2010 was a time comprised of smiles and solidarity after WCC commissioner Jaime Zaninovich pulled off some 11th hour heroics to land BYU in his conference. With BYU in the fold, the WCC boldly proclaimed "a new dawn" and dividends on both sides of the coin were immediate and dramatic.
Related:
Freed from the shackles of the MWC, BYU football declared its independence. In the process, BYU announced a massive new deal with ESPN, a series with Notre Dame, games on BYUtv and the opportunity to play games across the country —all seen on national television.
Cougar Nation reveled in the idea of watching its team play in a conference basketball tournament on a neutral court, not to mention the prospect of replacing wintertime destinations like Laramie, Colorado Springs and Albuquerque with places like Malibu, Los Angeles and Moraga.
For its part, the WCC landed what one sportswriter called, "the most extensive ESPN basketball deal ever signed by a non-BCS league" and in perhaps a good-will gesture for its new league, BYUtv televised some early round games in the 2011 WCC tournament.
Listening to WCC and BYU officials, it seemed the nine, private, faith-based schools were so like-minded that they were destined to happily create one of the premier basketball leagues in the country, singing praises all along the way.
Beneath that current of goodwill were some misgivings. Many wondered whether BYU, with its vastly superior facilities and exponentially larger fan base and student body would really fit in with its new digs. And let's face it, throughout the centuries, religion has been one of the most divisive topics in human existence.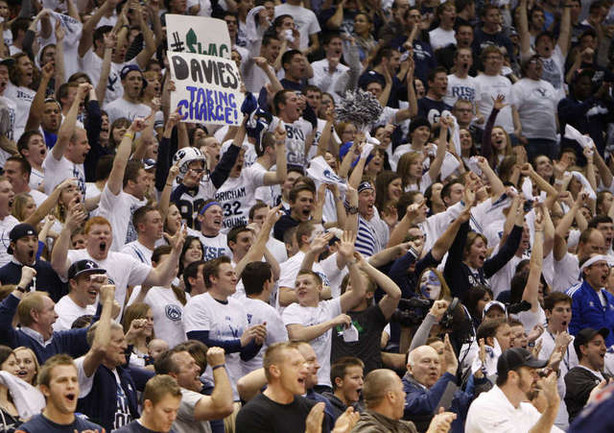 More than that though, many BYU fans felt the WCC was, to put it bluntly, a little beneath them. One needs look no further than the conference realignment fiasco that transfixed so many this fall. First, there was the drama with the on again-off again Big XII; a soap opera that reached a fever pitch before evaporating. Closely on its heels was a BYU flirtation with the Big East. Now, if Internet reports are to be believed (and most of the time they aren't), BYU is once again in talks with the Big XII.
That's why when BYU was picked to finish third in the preseason, many BYU fans (myself included) balked at the assessment. Despite the fact that BYU was to replace Jimmer Fredette and Jackson Emery with a roster composed of just two seniors and nine freshmen, Cougar fans expected BYU to waltz through most of the WCC slate, tangle with Gonzaga and crown themselves champions.
In Saturday's ugly, bitter brawl with Saint Mary's, the passionate, sellout crowd became disgruntled, then angry, then downright hostile. It was a scene that doesn't happen often in the Marriott Center. In fact, through the years only Utah and New Mexico seem to have brought out the worst in the throngs that pack into the cavernous Marriott Center.
Minutes after the crowd's chants of "worst refs ever" faded into the thin mountain air, a cacophony of voices began flooding the Internet. BYU fans filled social media with complaints directed at the officials and at the conference itself. Many indignant fans called for BYU to look for another new home, and a few particularly shortsighted or forgetful fans even petitioned for the Cougars to rejoin the MWC.
Cougar Tracks:
Saturday night wasn't just a BYU loss to Saint Mary's. It was also a painful reality check for many BYU fans. The back-to-back home losses are a jarring reminder that BYU will have to earn everything it gets in the WCC the hard way. This tranquil coastal conference proved it has some teeth.
The reality is Saint Mary's is a top 20 team this year and Gonzaga is not far off. While BYU will easily overwhelm the bottom tier of the league, the competition in "Pool A," as stat legend Ken Pomeroy calls it, is just as fierce as it was in the MWC when UNLV, New Mexico, BYU and sometimes San Diego State waged war annually.
Saturday's unruly antics at least partially stem from the bitter lesson many BYU fans were forced to learn about their new conference. And despite the chaos, BYU fans and players are still among the most well-behaved in the country.
John Adams, the national coordinator of men's basketball officiating, just last week posted a memo stating officials have done a "poor job" dealing with bad sportsmanship among players this year. Disorderly crowds are a growing problem as well.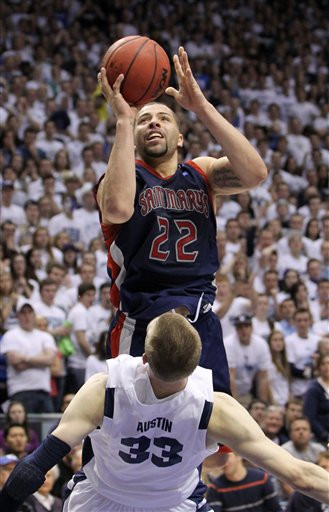 Around the University of Connecticut, the same sportsmanship debate currently playing out in Utah media is raging. In November, UConn's entire student section began to turn their backs to the court and yell, "Sucks!" after each opposing player's name was announced … and that's the tame part of their antics. For most of the season, that community has debated what constitutes acceptable behavior at sporting events.
In another example, following the Dec. 10 brawl between Xavier and Cincinnati, Xavier officials said students contributed to a hostile atmosphere by shouting expletives, unacceptable chanting and throwing objects onto the arena floor. The school announced, "As a Jesuit, Catholic university, the behaviors demonstrated are not becoming of its students and is in conflict with the mission, values and standards of Xavier University." Xavier began drawing up plans to hold mandatory "reflection sessions" for students who attended the game before settling on the less controversial measure of inviting students and student leadership to attend an optional sportsmanship discussion instead.
While BYU athletic director Tom Holmoe issued a call for BYU fans to settle down when things go awry, such calls are largely unneeded. BYU fans for the most part do an excellent job of following legendary football coach Knute Rockne's advice, "One man practicing sportsmanship is better than a hundred teaching it."
Saturday was the perfect convergence of questionable officiating mingled with a top 20 team and a harsh lesson for BYU fans.
For all the negativity that came out of Saturday's game, there was some good that resulted as well. BYU fans, grudgingly perhaps, are coming to realize the WCC plays some tough basketball. At the top are talent-laden teams that will battle ferociously, even in BYU's cavernous home arena. Rivalries can't be arbitrarily thrust upon fan bases. They're the natural result of what happens when two teams fight tooth and nail for the same prize and one is denied. BYU now has what it needed in its new league — a newfound respect for the competition, and a new rival.
Welcome to the WCC.
David Gale is a BYU graduate and former television news producer, and lifelong BYU fan. See more of David's thoughts at http://planetbyu.com or follow him on twitter at http://twitter.com/planetbyu
Related Stories
0 Pending Comments
Sorry, we are not accepting new comments on this story, but if you have more to contribute please email
newstip@ksl.com
Showing of 5 comments
Sorry, we are not accepting new comments on this story, but if you have more to contribute please email
newstip@ksl.com