PROVO — Only about 43 miles from the Marriott Center on Saturday, BYU's all-star Jimmer Fredette suited up in a NBA jersey while his past teammates competed Saturday in an 80-66 loss against the West Coast Conference-undefeated St. Mary's College Gaels.
A year and two days previously, the Cougs had risen to the occasion as they beat one of their greatest conference rivals, San Diego State University, in an away game.
Comparative calendars can't hide the rather different roads that the Cougs have traveled in the past two seasons. And while there's no way around BYU's guaranteed lower spot come March — placed as a three seed last year and currently looking at a possibility of playing at home in the NIT if the team doesn't snatch the WCC tournament championship — the Cougs have not been completely unsuccessful in their conference this season, just in the big games.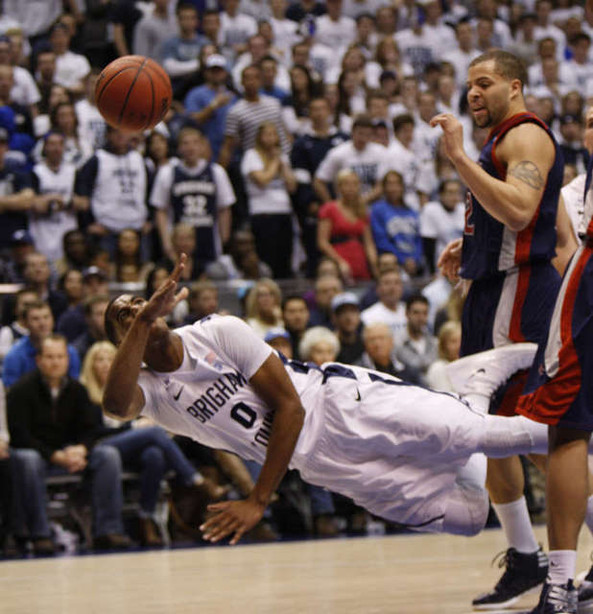 Two of their three WCC losses come from the Gaels — a team that, at the beginning of Saturday's game, the Cougars seemed to stand a chance of revenging. However, a little more than five minutes into the game, St. Mary's grabbed the lead and held it for the remainder.
BYU head coach Dave Rose said that the Gaels immediately optimized on their lead and began forcing BYU to play to their beat.
"They got us where we were rushing everything again just like we did over there (on St. Mary's court)," Rose said. "A lot of that has to do with the fact that we got behind. We got the ball inside quite a bit and turned it over, didn't get shots that we wanted to. It led to where we got in a little bit of a hurry."
While the Cougars were somewhat hectically throwing up shots on offense, they were also forced to move hectically around their defense. Bringing in the points from outside of their two leading scorers, Matthew Dellavedova and Rob Jones, St. Mary's freshman forward Brad Waldow uncomfortably forced BYU's defense to move from zone to man.
With the infamous pockets appearing from man-to-man defense, the Cougars were also forced into opening more shots for first-half leading scorer Clint Steindl.
"He was able to get some real separation in the score — big three in the corner and then a couple of big threes on the wing," Rose said. "Then we went to man and then he hit another big three, when we gave help, so I think he had 12 to 14 points in the first half off the bench. That's a real big lift for them."
Cougar Tracks:
Though BYU was seeking to tighten its own defense on St. Mary's leading scorers, the Cougars were also trying to find a little more room inside the Gaels' constricting defense.
"Their defense is really good," BYU forward Noah Hartsock said. "They really like to pressure. They did a great job of doing that … making it tough to get in the post, so it was just one of those games where we (needed) to be more patient."
St. Mary's Waldow said that the Gaels fully recognized BYU's post-dominant team and knew that a win could be found in stopping their high-scoring forwards Hartsock and Brandon Davies.
"We wanted to stop the inside scoring through Davies and Hartsock," Waldow said. "If we stopped the inside scoring, we could make Carlino try and win the game for them, and that was our goal."
The Gaels' defensive plan could hardly have gone any better for them. In addition to St. Mary's successfully halting BYU in the paint, the team also reaped the benefits from BYU's lowest 3-point field goal percentage of the conference season.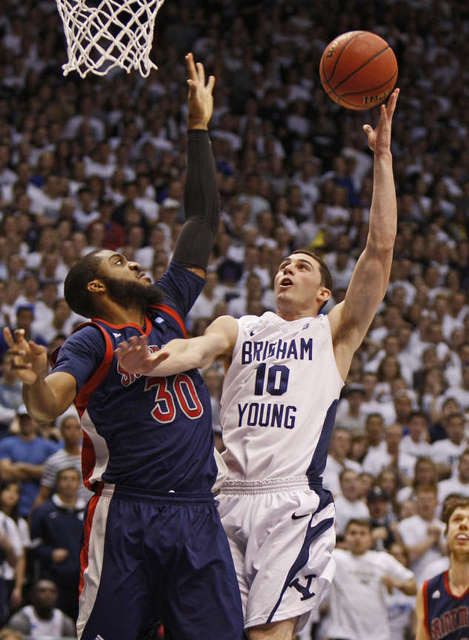 Since the gap between the two teams was ever-widening, the Cougars' need for deep threes became more and more vital. But with a mere 15.4 percentage from behind the arc (BYU hit 53.8 percent during its last matchup against St. Mary's), BYU's shot at catching up seemed rather unlikely.
"We just need to knock (3-pointers) down," BYU point guard Matt Carlino said. "Sometimes teams go through droughts. Ours is kind of coming in a tough spot, but we'll be fine. We have great shooters on our team."
BYU's second most vital win is coming up in a matter of days — Thursday's Marriott Center matchup with Gonzaga. Rose acknowledged the practically overnight improvement that would be necessary for the Cougars' perimeter shooters.
"We need to shoot the ball better from the perimeter," Rose said. "Right now we're not shooting the ball as well as we're capable … in the second half we had to figure out another way to score. It was difficult for us because … we've been pretty consistent through the years at hitting shots."
Particularly low shooting percentages weren't the only unusual low in the Marriott Center on Saturday, though. Receiving only his second technical during his head- coaching career, Rose was irate at the refs in the last few minutes for a foul called on Carlino.
Rose's anger did not erupt randomly. With every person in the sold-out stadium recognizing the need for a win against St. Mary's, extra passion and frustration were expressed over many calls that night, which ultimately led to the chant "worst refs ever" resonating in the Marriott Center in the last few seconds of the game.
The game ended with two technical fouls — one given to the team because the fans (who had been warned) threw towels and other debris onto the court and a second assessed to Rose.
From Left Field:
With the BYU players and coaching staff commonly agreeing with the crowd's disapproval about many of the referees' calls on Saturday, Rose made his comments about the dispute between the view of the fans and the three whistles brief.
After the game Rose stated that "there were … a couple fans that ... reacted negatively … you wouldn't want that to happen" and stated that their actions may have been the result of a shared feeling of being "disappointed in a lot of things, too."
Of course, at the end of the day BYU's greatest frustration came from not being able to grab that vital win against St. Mary's. Even after a 15-5 run in the second half, the Cougars were never quite able to close the gap between themselves and the Gaels.
"It seemed like every time we had a little bit of a chance to make a run or to make a little bit of breakthrough, that St. Mary's made a really big play," Rose said. "We were able to turn them over 24 times, and that's not typical for them; but we weren't able to take that energy and that emotion and then calm down and execute offensively like we needed to."
Karissa Urry is a Brigham Young University student majoring in public relations and minoring in business management. Follow her on Twitter @KarissaEUrry
Related Stories
0 Pending Comments
Sorry, we are not accepting new comments on this story, but if you have more to contribute please email
newstip@ksl.com
Showing of 1 comments
Sorry, we are not accepting new comments on this story, but if you have more to contribute please email
newstip@ksl.com