PROVO — While dedicated student fans stake their spot in line for Saturday's game with tents on some of the cement outside the Marriott Center, an empty square next to the entrance looms — the welcome mat has been removed.
Kicked out of its own home in the last game in the Marriott Center, BYU has thrown away the welcome mat for the Saturday's matchup against undefeated and nationally ranked St. Mary's.
St. Mary's is quite literally the team to beat with a West Coast Conference record of 9-0 and overall standing of 2oth in the nation.
"To win these games, you really don't have a choice," BYU guard Charles Abouo said. "You have to win."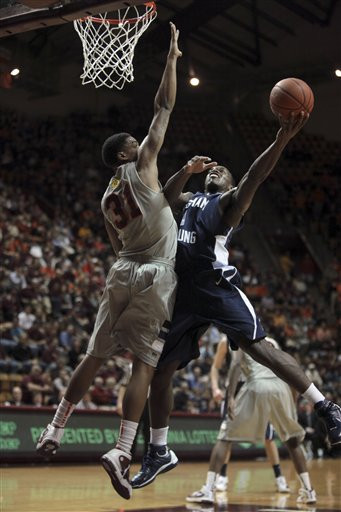 Outside of Loyola Marymount University's recent, last Thursday, vandalism in Provo, BYU's only other conference loss is from the Gaels, on their home turf back in December.
Abouo says that the Cougars still clearly remember the discomfort the Gaels brought them in their 98-82 loss.
"St. Mary's came out really well against us," Abouo said. "They had us on our heels. They gave us a feeling we're not used to feeling. So it's still in our minds, and we're definitely not trying to promote that same feeling. We're ready for more."
With over four weeks to go through the game loss against St. Mary's, BYU head coach Dave Rose has had a chance to thoroughly diagnosis the cause of the ill fall.
"They really sped us up," Rose said. "We got really inpatient offensively; we had a lot of one-pass shots. This team is really tough defensively. They challenge every shot. They rebound really well. They compete really hard at the rim. Hopefully we can be tougher, we can be more patient, we can execute a little bit better and we can play a little better."
Rose's concern at the rim is validated from the stat sheets that shows St. Mary's lead rebounder, Rob Jones, averaging 2.9 more rebounds a game than any Cougar.
The stats sheets aren't too timid about hiding other concerns for the Cougars either. Last week's WCC player of the week, guard Matthew Dellavedova, has shown his ability to perform well in high-pressure situations. Putting up 26 points in the Gaels matchup against previously first-place ranked WCC Gonzaga, Dellavedova will hold a significant spot in BYU's Saturday game plan.
"He's good at what he does," BYU forward Brandon Davies said. "He creates open shots for his teammates, and it's going to be a part of our game plan to get him stopped and not let him get going like he did (last time we played St. Mary's)."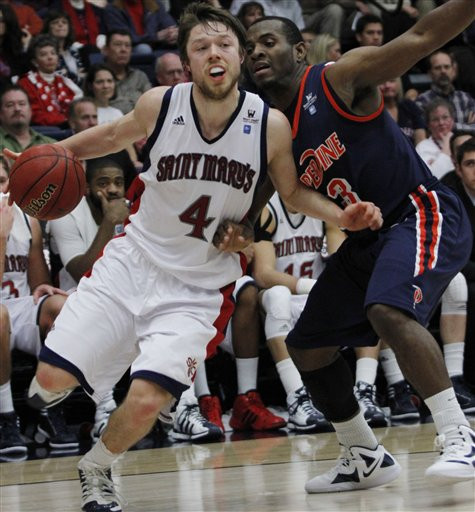 Dellavedova's thriving success at point is unique due to his slower-than-average speed — ironic since the Gaels as a whole are recognized for their quick pace. Rose said that Dellavedova's strength is found in his craftiness.
"I think that he is one of the best point guards in the country," Rose said. "His ability to score the ball is really underrated. He's developed enough range on his jump shot that he can get space by backing up. When he backs you up and then you attack him, he attacks you. He's become really crafty."
A win over the Gaels is about more than just payback for the Cougars. Currently facing the possible infamous residence in the world of bubble teams, a win over WCC first-ranked St. Mary's could help the Cougars distance themselves from being on the bubble.
The relief of possibly — wins over Gonzaga are also vital — not having to rely on a conference title win to be admitted into the NCAA Tournament in March would be rather alleviating for a team that was planted as a three seed on the bracket only last year.
Returning players from last season recognize the vitality of Saturday's win.
"We can't look past St. Mary's at all," Davies said. "It's going to be a dog fight the whole game."
Coach Rose combatively views Saturday as a good challenge to satisfy his ever-hungering competiveness.
"If the players look forward to his challenge as much as the coaches look forward to this challenge, then you're going to have a great night," Rose said. "This is why our players come (to play college ball). They come to play in a full house and they come to play nationally ranked teams."
Related Links
Related Stories
0 Pending Comments
Sorry, we are not accepting new comments on this story, but if you have more to contribute please email
newstip@ksl.com
Showing of 2 comments
Sorry, we are not accepting new comments on this story, but if you have more to contribute please email
newstip@ksl.com