SALT LAKE CITY -- Fans are conflicted about television's growing influence over college spots. College athletics used to be a highly localized affair. Fans could only see the game in their towns, but the game was always on Saturday and always at 1 p.m.
Fans of college sports now have far more access to games nationwide. While that helps national fans, fitting all those game into a TV schedule means local fans everywhere have to make time for weeknight games and other odd start times.
Colleges and conferences from the SEC to the Pac-12 struggle to balance accommodating television partners while being able to still keep the local fans happy. While a school's value used to depend on the number of tickets they could sell, today their value is determined more by the number of cable subscriptions they can command.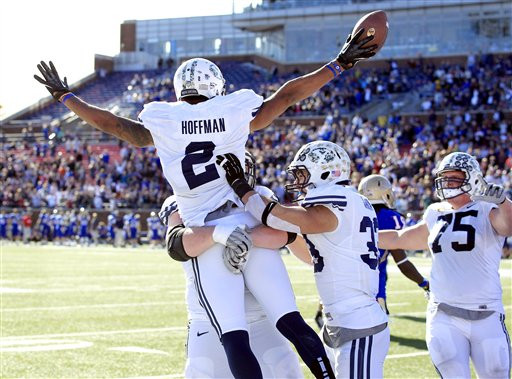 The decisions schools have to make can be tricky. By selling out more control, schools can play in front of more eyeballs on TV or get more revenue, but then they're at the mercy of the national schedule makers.
In the free-for-all world of college football left since the Supreme Court ruled the NCAA couldn't stop Oklahoma from selling its own TV rights, it seems the only rule that applies to all colleges is: Everyone gets exactly what they can negotiate for.
On the plus side for fans, the number of national and semi-national outlets available to cable and satellite subscribers, like the Big 10 Network and soon-to-launch Pac-12 network, are growing. This means fans everywhere can see more games.
On the down side, all consumers' cable bills go up each time a new channel is added. Advertisers love it, as live sports are one of the few DVR-proof forms of entertainment, but at almost a dollar per month per subscriber, how many extra channels will be added before a backlash hits?
When BYU set out for independence one of their stated goals was more exposure for the school and independence has delivered what it promised.
To find out exactly how BYU fared when compared to the rest of the country I used Matt Sarz's comprehensive broadcast listings. BYU tied for the tenth most national broadcasts in the 2011 regular season.
I considered national broadcasts: ABC, CBS, NBC, FOX, ESPN, ESPN2 and FX. They're all broadcast in 100 million homes or more.
Semi-National Broadcasts: FSN, VS (now NBC Sports), CBS College (now CBS Sports), ESPNU, The Big 10 Network, BYUtv and other channels reach 40 to 70 million homes.
Gregory Welch, a contributor on CougarBoard.com, has followed BYU sports from six different states and currently cheers from Iowa. Professionally, he works at an ad agency and can be found at @ArtDirectorBYU on Twitter.
0 Pending Comments
Sorry, we are not accepting new comments on this story, but if you have more to contribute please email
newstip@ksl.com
Showing of 1 comments
Sorry, we are not accepting new comments on this story, but if you have more to contribute please email
newstip@ksl.com