With BYU standing at 0-2 against nationally ranked teams, the Cougars may have a tough battle tonight as they face off against Virginia Tech, which recently knocked off nationally ranked University of Virginia.
BYU's unusual late-season non-conference game isn't completely saturated in intimidation stats, though. Virginia Tech's win on Saturday was the unranked Hokies first conference win of the season, putting them at 1-4 in the Atlantic Coast Conference, while BYU stands third in the West Coast Conference at 6-2.
The Cougs are using their in-conference success to fuel their confidence in their away game against the charged up Hokies.
"It's exciting for us (to play Virginia Tech)," BYU forward Brandon Davies said. "We can't wait to get out there and try to get another win under our belt — especially out there in another hostile environment."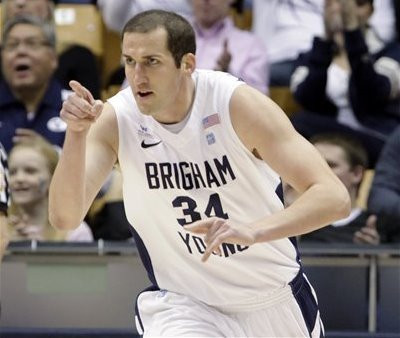 The Hokies aren't the only ones that have been re- charged recently. BYU sought revenge after their home loss against Loyola Marymount University and snatched an away game win against Pepperdine two days later. Only four days after Pepperdine, BYU continues to find joy on the road as they make others' pain their gain.
BYU's leading scorer, forward Noah Hartsock (17.5 ppg), is one of the major drivers for the Cougs' road wins.
"Noah is a great player," Davies said. "He finishes easy baskets when you give him the ball. He's a great scorer, and it's hard to guard him — you're either leaving him or leaving me. We tend to work pretty well together."
Davies importance is blatantly evident as well as his 29- point outing against Pepperdine on Thursday was a career- best single game, but BYU does not rely totally its big players. Davies notes that the Cougars' offensive success up-top is closely tied to the men down low.
"We're a lot better shooting team when passes are coming inside out to those open threes," Davies said.
Having gone through four starting point guards this season, BYU has an exceptionally long line-up of guards. The most experienced at the guard line is senior wing Charles Abouo, according to Davies.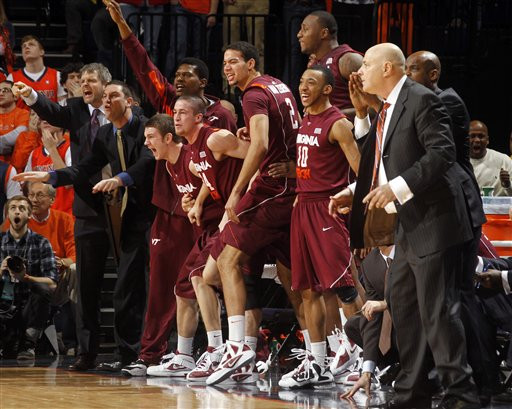 "He's doing his job and holding us together when we need him most," Davies said. "He's always making big plays. He's a threat. Whenever there's a shot going up he's going to go get it (the rebound). It's definitely nice to have him on our side."
In addition to BYU's consistent starters, the Cougars pose a threat to the Hokies with shooters and rebounders coming off the bench.
"In theory I'd love to play more guys (off the bench)," BYU head coach Dave Rose said. "When you look at the conference stats of our guys coming off the bench — Craig (CusicK) and Nate (Austin) are really giving us a great lift."
Due to the absence of injured forward Stephen Rogers, the Hokies are more likely to be matching up against a greater number of players than usual, but that may give them chance to optimize their efforts against a more vulnerable team.
"The other guys are kind of struggling and without Stephen," Rose said. "It's changed everybody's mindset as far as their role is concerned."
Related Links
Related Stories
0 Pending Comments
Sorry, we are not accepting new comments on this story, but if you have more to contribute please email
newstip@ksl.com
Showing of 0 comments