PROVO -- Coaches don't like to talk about make- or-break moments, but that's exactly what BYU is facing in its next three games.
With BYU's surprising home setback to Loyola Marymount last week, the Cougars' best chance to win a conference title and go dancing in March is to sweep their next three games. Otherwise, the Cougars might have to win the WCC's automatic bid to continue their streak of NCAA tournament appearances.
A three-game sweep won't be easy with a non- conference road trip against Virginia Tech followed by home bouts against conference heavyweights Saint Mary's and Gonzaga.
Cougar Tracks:
Heightening the drama, BYU enters this crucial stretch with some glaring issues from 3-point range on both sides of the ball.
BYU followed an anemic 2-for-25 3-point shooting night against Loyola Marymount with a 2-for-11 outing against Pepperdine. The Lions and Waves are a combined 18-20 so far this year, though the Lions are surging of late.
"We learned from the [Loyola Marymount game] when we just keep firing up 3s and we couldn't make them, you have to figure out ways to win games sometimes when you're not making shots like you want to," said BYU coach Dave Rose after the Cougars' victory over the Waves on Saturday. "It turned out to be a different way for us to win as far as not making 3-point shots."
Winning on nights when their shots aren't following is a riddle the Cougars are still trying to solve. In their five losses this year, the Cougars have given up an average of 10 treys a game, while making only four of their own. That's in stark contrast to the Cougars' 17 wins, where BYU is making 8.4 baskets from distance while holding its opponents to 6.
Rushing things seems to be at least part of the problem. "With all the missed shots in the [LMU] game, I thought we were a little impatient and shot a little quicker than we needed to," said Rose.
While they've been attempting nearly 20 3s per game this year, without Jimmer Fredette prowling the perimeter BYU will be hard-pressed to match last year's 3- point tally.
In their 2010-2011 campaign the Cougars scored an average of 8.4 3s per game while giving up 5.9. So far this season, BYU is notching 7.4 treys per game while surrendering 6.8. The combination of fewer made 3s and weaker 3-point defense is a swing of 5.7 points per game in the opponent's favor and illustrates just how deadly the Cougars were from distance last year.
Unfortunately, BYU's next opponent is not likely to make things any easier from distance. Virginia Tech is one of the top defensive teams in the country. So far this year the Hokies have held their opponents to just 3.9 3s per game.
What's more, Virginia Tech is back on a winning track after guard Dorenzo Hudson came off the bench to drain a game-winning 3-pointer and upset No. 15-ranked Virginia on Sunday.
Which is why Rose said he's still encouraging his team to look inside.
"I'm really proud of our players for continuing to go to [Davies]," said Rose following BYU's bounce-back win over Pepperdine, which also resulted in a career-high 29 points for Davies. "Sometimes you get to a point where maybe you feel a player has got enough so let's give someone else his chance but for us we need to just keep throwing it down there where we've found success."
Deseret News:
Coach Rose said when shots aren't falling from the perimeter, BYU needs to do a better job of looking to Davies and Noah Hartsock — the strength of this team. "I can't remember a tandem of two post guys who can score as consistently as these guys."
For BYU to be successful against the top teams it faces, the Cougars need at least three players to make major contributions and limit the opponent's outside shooting.
In the 17-point loss to Wisconsin, Hartsock enjoyed a stellar game but got no help as Wisconsin ravaged the Cougars with 13-of-24 shooting from 3.
BYU's setback against Baylor came despite four Cougars making solid contributions. Baylor's blistering 13-of-25 shooting from distance helped the Top 10-ranked Bears escape with a narrow victory in the Marriott Center.
In the first game against Saint Mary's, BYU got the contributions it needed behind Davies' then-career high 28 points and solid additions by Hartsock and Carlino. But Saint Mary's scorched the nets with 12- of-25 long-range shooting and the Cougars couldn't keep up.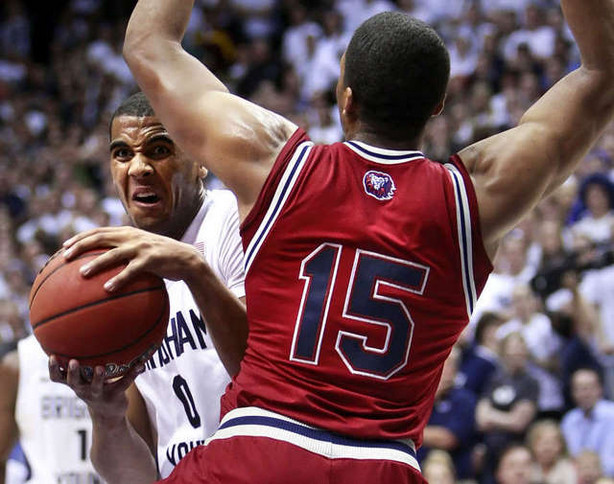 Rose emphasized better defense, getting the ball inside, and more players hitting open shots as keys to Wednesday's game against athletic, defensive-minded Virginia Tech, Saturday's home tilt against Saint Mary's, and Gonzaga's trip to Provo next week.
BYU may get some assistance with its outside shooting as sharpshooter Stephen Rogers is expected to rejoin the BYU lineup against Virginia Tech, although he'll likely only play sparingly. BYU's young guns on the perimeter also seem more willing to feed the post, where Davies and Hartsock have already proven their ability to dominate.
In another hopeful sign, Rose said history is on the Cougars' side, at least for Saint Mary's. "We have a history in our program of when we get put away pretty good by a team, the next time it's a much more competitive game."
David Gale is a BYU graduate, former television news producer, and lifelong Cougar fan. See more of David's thoughts at http://planetbyu.com or follow him on twitter at http://twitter.com/planetbyu
Related Stories
0 Pending Comments
Sorry, we are not accepting new comments on this story, but if you have more to contribute please email
newstip@ksl.com
Showing of 0 comments