MALIBU, Calif. — Coming off of a hard loss in the Marriott Center, BYU has fled its home to find possible comfort in a trip to California against Pepperdine, which is just 1-6 in West Coast Conference play.
BYU had five straight wins before Thursday night before dropping its second league contest, and first league game at home.
Currently ranked third in the WCC the Cougars are used to seeing success. However, BYU head coach Dave Rose said that the way his players choose to respond to their loss will impact the remaining path of the season.
"These have been a couple of really good weeks for us and now we have a sit back and we'll see how we respond to that," Rose said. "I think that there's a lot of basketball still to be played and a lot of really good things can happen for this team, but we're going to have to play better."
And with Pepperdine not having seen a win for six games now, the Waves are eager at the possibility to take on an injured team.
After BYU's loss forward Brandon Davies said that the aggressiveness from even their lower-ranked opponents should be something that they are always prepared for.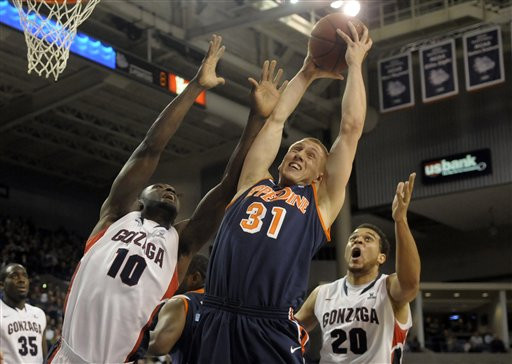 "Everyone wants to beat us because of who we are and we just got to prepare for that mentally and come prepared to play," Davies said.
Any conference win for Pepperdine would be large, but extra confidence and weight for the Waves, who are last in the standings, could be found in a win against the third- ranked team in the WCC in BYU.
The desire of a victory from the underdog could become a reality as the Waves pour over the Cougars in height. Commonly referred to as one of the tallest teams in the league, BYU will be forced to take a little taste of their own medicine as they walk on with only one center, 6-foot- 10 Nate Austin, to match-up against Pepperdine's two centers, 6-10 Corbin Moore and 7-0 Jan Maehlen.
Moore averages more rebounds than any BYU player.
Already struggling with offensive and defensive rebounds in their last game, BYU will have to face added difficulty on the glass as they try to reach above new sky scrapers in the paint.
With Pepperdine fueled by a current pattern of conference looses and BYU fueled by a conference home loss, both teams have great reason to give Saturday's game everything they have to get one thing — a win.
The game tips at 6 p.m. MST.
Related Links
Related Stories
0 Pending Comments
Sorry, we are not accepting new comments on this story, but if you have more to contribute please email
newstip@ksl.com
Showing of 1 comments
Sorry, we are not accepting new comments on this story, but if you have more to contribute please email
newstip@ksl.com