PROVO — With two weeks in between playing on each opponent's home court, Loyola Marymount University and Brigham Young University both found themselves to be excessively welcoming hosts as their guests walked away with the win.
On Jan. 5, BYU travelled to Los Angeles and beat LMU on its home court, Gersten Pavilion, 73-65. On Thursday night LMU mirrored the Cougars in their win on BYU soil, Marriott Center, 82-68.
After BYU missing its first three attempts at the hoop, forward Noah Hartsock put in the first basket of the game, with 17:37 left in the first half. Continuing to lead the scoring path, Hartsock put up ten of BYU's 12 points in the first eight minutes of the game. BYU led at 12 pts against LMU's eight points with 12:13 remaining in the half.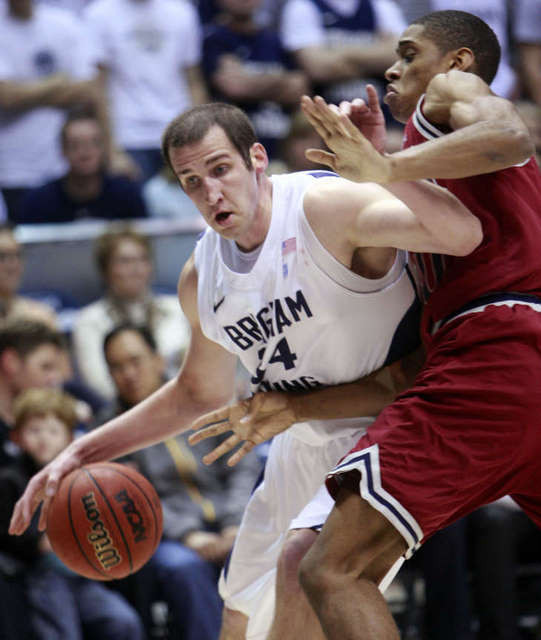 The score at the beginning of the game was close, which made the uncharacteristically early bench sub-ins stands out all the more. BYU head coach Dave Rose explained that the early subbing was due to the extra physicality of LMU.
"I thought that their post guys were really physical and that we were going to need (to sub in) our bench to try to counteract how physical they played to keep our guys fresh," Rose said.
One of the LMU players contributing to the wear and tear of the Marriott Center was LMU's forward Ashley Hamilton.
"(Hamilton) put (forward Drew) Viney in a spot that was pretty difficult for us to guard," Rose said. "They had him on the perimeter more. We zoned early in the game, and he seemed to find spots in that zone where he could catch it and hit shots."
Cougar defense struggled on both ends of the court on Thursday. The Cougars' opportunities for offensive rebounds were rather extensive, hitting 2-25 at the arc (8 percent), the lowest 3-point field goal percentage since 2004 against UNLV (1-15, 6.7 percent).
"We didn't have a lot of offensive rebounds," Rose said. "That's another way that you can overcome a tough shooting night is to offensively rebound the ball. When you miss almost 40 shots and you only get nine offensive rebounds, (LMU was) doing a good job."
Despite many players struggling to place the ball through the hoop, forward Hartsock walked off the court with a career-high 28 points on a career-best 11-15 field goals.
Team captain Hartsock however said that there was an overall void with his fellow team members, and that stillness greatly contributed to BYU's loss.
"I don't think we were moving the ball quite as well as we're used to doing," Hartsock said. "We were a little bit stagnate. We were taking tough, contested shots, so just those kind of factors led to that draw right there."
The attribution line for the Cougs' low shooting percentage (23 of 60 for the game, 38.3 percent) between poor offense and strong defense is sometimes difficult to firmly draw.
LMU head coach Max Goode did comment on BYU's three pointers by saying, "We're leading the league in three-point-field-goal-percent defense, for whatever that's worth."
Standing 4-0 for conference away games this season, LMU came into the Marriott Center ready to revenge the Cougs' win in California.
"Every time you loose a home game, our formula is that you got to win two on the road." Goode said.
With another quick turnaround – playing Pepperdine on Saturday – BYU is leaving its home, in hope of mimicking the team the team just lost to – grabbing an away-game win.
Players such as forward Brandon Davies — who came extremely close to his third double-double of the season, with 14 points and nine rebounds — have learned from LMU of the focus needed away.
"You can't relax," Davies said. "They're a good team. They're well coached – teams like that you can't relax. You got to go like them all game."
Related Stories
0 Pending Comments
Sorry, we are not accepting new comments on this story, but if you have more to contribute please email
newstip@ksl.com
Showing of 0 comments