SALT LAKE CITY -- BYU basketball is nearly halfway through its first season as a member of the West Coast Conference. As reporters and fans follow this inaugural loop, there seems to be theme developing: These gyms sure are small.
BYU playing a road game against the University of San Diego near the UNLV-SDSU game accentuated the difference, and columns and tweets have followed about it. A couple of reporters from Las Vegas wrote, "If BYU plays a game in San Diego and nobody sees it, did it really happen? "
Perhaps "nobody seeing the game" is a bit relative. On Wednesday there were other reports that the UNLV at SDSU game drew a total of 90,000 television viewers. For a national TV broadcast with two ranked teams, that also seems dangerously close to tree-falling- in-the-woods territory.
---
"If BYU plays a game in San Diego and nobody sees it, did it really happen? "
---
I can't disagree that most WCC gyms are small. Many small, private schools have smaller gyms. Most big, state schools have big gyms. Look at North Carolina and Duke. North Carolina is a big state school with a huge gym. Duke is a small private school with a small gym.
Obviously playing in a gym named after a weight loss company isn't close to the same thing as playing at Cameron Indoor, where Duke plays. However, thanks to college basketball's very democratic postseason, everyone has a shot at making the product on their floor something great, big gym or not.
You can't always control what other people say about you, especially the first things they say. Small gyms come up early and often for WCC teams. As a marketing professional, it's my job to present the best possible arguments for my clients. Call it spin or propaganda or whatever, but in nearly everything in life you can find positives and negatives. The first ad agency I worked at had the tagline: "Truth well told".
I'd like to give the sports community some well-told truth about the West Coast Conference. It's true the gyms are small. It's also true the league has a really impressive record of NCAA tournament appearances and NCAA tournament wins.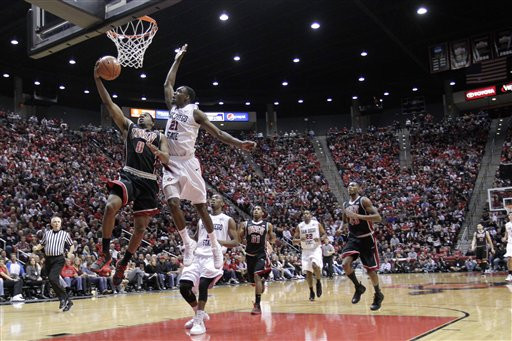 Since the Mountain West's inaugural season in 1999-2000, teams currently in the Mountain West conference have posted a total of seven wins and 23 appearances in the NCAA tournament. During that same period, teams from the WCC have won 20 games and appeared in 47, with Gonzaga alone winning more than every current Mountain West team combined.
Gonzaga has won more than four times the number of NCAA tournament basketball games than any single Mountain West school. They've somehow done this in spite of their annual trips to every one of those small WCC gyms.
While Gonzaga has made up the lion's share of the WCC's national reputation, a majority of WCC teams (five of nine) have won an NCAA game since 1999. Comparatively, four of eight current Mountain West teams have done the same.
Wins in the NCAA tournament have been historically a bit of a sore spot for BYU, but the rest of the Mountain West has also struggled. BYU, UNLV, SDSU and New Mexico all have great home arenas. The also have three, three, two and one NCAA wins each since the founding of the Mountain Wet.
Things can certainly change quickly as they have for BYU the last two years. With SDSU and UNLV currently ranked, they are positioned to do very well this year. Last year was a high point for the MW, with SDSU and BYU reaching the Sweet Sixteen. BYU then left for the WCC and SDSU has recently accepted an invitation to join the Big West for the 2013-2014 season.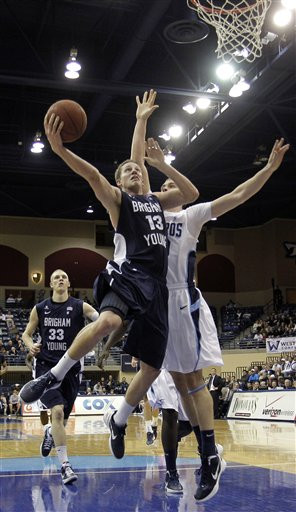 It's also true if you take a top-to-bottom average, the Mountain West currently outranks the WCC. There are more teams ranked from 100-200 in the Mountain West and more 200-300 teams in the WCC. The competition is stiffer top to bottom, but when the country focuses on the 68 teams in the tournament, having the 150th-best team in your league instead of the 250th-best probably helps teams as much as their average season attendance does.
I understand some of the fan reservation about giving up playing in the exciting and competitive environments in the Mountain West. However, as long as Gonzaga can schedule national out-of-conference games, play major games on ESPN and win games in March, all while playing the WCC, I see no reason why BYU can't also do those same things.
BYU is rightly proud of the Marriott Center. Drawing big crowds is one of the things the Cougars do well and they should highlight it. I would love to see BYU add to Gonzaga's and Saint Mary's momentum and build more regular-season support for WCC games. In exchange for that, I also wouldn't mind seeing the WCC's culture of winning in March rub off a bit more on BYU.
I'm hopeful we'll get to see that happen, so as fans and reporters tweet, "Hey, you guys have small gyms," WCC fans can continue to respond with "Yes, and we post NCAA wins."
Records in the NCAA tournament since 2000
WCC: 20-27
Gonzaga: 13-12
BYU: 3-8
Saint Mary's: 2-3
San Diego: 1-2
Pepperdine: 1-2
Loyola Marymount: 0-0
Portland: 0-0
San Francisco: 0-0
Santa Clara: 0-0

MWC: 7-16
UNLV: 3-5
SDSU*: 2-4
New Mexico: 1-2
Wyoming: 1-1
Air Force: 0-2
Colorado State: 0-1
Boise State*: 0-1
TCU: 0-0.
*SDSU and Boise (2-5) are leaving the Mountain West after 2013
Also, the following teams (5-6) are joining the Mountain West after 2012:
Nevada: 4-4
Fresno State: 1-2.
Greg Welch, a contributor on CougarBoard.com, has followed BYU sports from six different states and currently cheers from Iowa. Professionally, he works at an ad agency and can be found at @ArtDirectorBYU on Twitter.
Related Stories
0 Pending Comments
Sorry, we are not accepting new comments on this story, but if you have more to contribute please email
newstip@ksl.com
Showing of 4 comments
Sorry, we are not accepting new comments on this story, but if you have more to contribute please email
newstip@ksl.com