PROVO — Averaging only one three-point attempt a game this season, and making only six of them, 6-8 forward Noah Hartsock decided to take his arc shot early on against Santa Clara University.
Hartsock's shot from behind the arc was the first shot of the game, and with that sunk three-pointer, the Cougars' confidence was clearly displayed to the Broncos who would ultimately loose 95-78.
The aggressive start from BYU sparked a forest fire with the pace of the game vigorously increasing. Both teams took a combined 18 shots in the first five minutes.
At 10:18 in the first half, Brandon Davies hit a free throw to begin his 10-straight points streak for BYU. The last of those 10 points coming from one of Davies' four dunks that night, putting BYU at a lead of 30-26.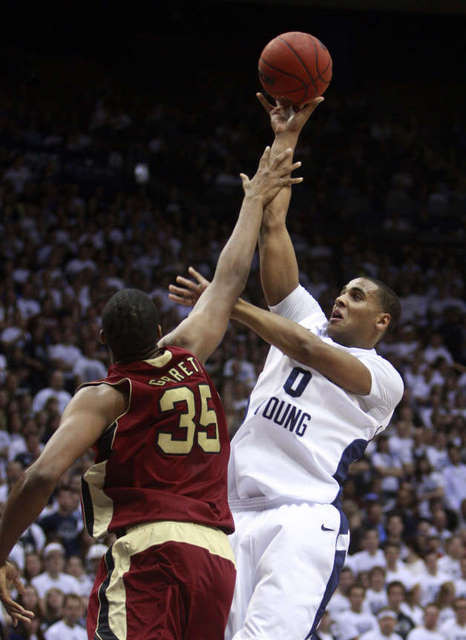 Davies' career-high scoring for the first half, 17 points, helped the Cougars stay in the game against SCU's high-scoring guard line.
"When (Santa Clara's guard line is) shooting well, it causes a lot of problems," BYU head coach Dave Rose said. "I'm really proud of our guys for being able to keep up with them. We had a hard time stopping them, and we had to score to win this game."
BYU had to put up high points particularly because of SCU's highest-scoring player, guard Kevin Foster. Having more career three-pointers than Jimmer Fredette (302 v. 296), the Cougars marked Foster a threat to a scoreboard stampede during game prep.
"It was part of the game plan to pressure him," forward Brandon Davies said. "When you're a great player like he is, you're going to hit tough shots. He hit a lot of deep threes; he created a lot for his teammates. We took it upon ourselves to shape around him defensively, and make sure he wasn't the one that was going to beat us every time."
With an increased-pressured defense up top from the Cougars and down low from the Broncos, the threat of foul trouble seemed to be taunting every inch of the court.
While no player fouled out, the Cougars did face the greatest foul trouble with two of their top four leading scorers — Davies, top scorer, 23 points; and Charles Abouo, 13 points — of the game ending with four personal fouls.
While fouls can lead to extra easy points from the charity line, Rose pointed out that the biggest issue is the direct correlation fouls and subbing have.
"It seems like night in and night out we're making a lot of substitutions based on foul situations — which you don't want to do as a coach," Rose said. "You would hope you could go through the whole game (subbing) as far as strategy is concerned. This was a really aggressive team. Probably the fouls we were most concerned with were the fouls on jump shooters. You don't want to foul on jump shooters."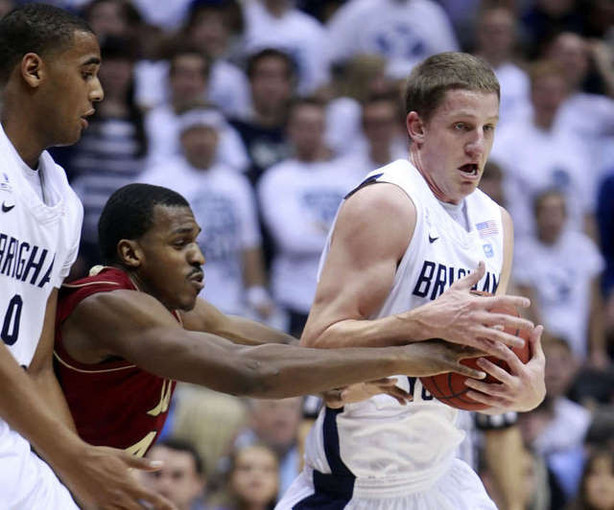 Luckily for the Cougars, their bench subs rose to the occasion. Subbing for Davies, Nate Austin ultimately led the team in rebounds, seven boards, and put in two assists and three points.
BYU's ability to hit a new season-high 56.9 percent from the field and with three players scoring more than 20 points for the first time since March 2010, roots in their ability to smoothly execute plays.
While the university is known for its smooth ice cream, its the basketball team might have found its new cream of the crop with their fourth starting point guard of the season, Matt Carlino.
In addition to personally shooting four of six in the first half, seven of 12 in the second — 21 points total — and making three treys, Carlino also dished out a game-high eight assists (his second highest in career).
Carlino's personal confidence, and more importantly, the players' trust in Carlino, was blatantly visible.
"I think we've all been getting more comfortable with each other," Carlino said. "People who've watched us can see that. We're just getting a lot better as a team. I know where these guys are going to be all the time, mostly. So I know where to get them the ball, and they do a great job at knocking everything down and making plays too."
After a successful night of playmaking, the Cougars left an hour later to make a plane for their next game against the University of San Diego on Monday night.
Related Stories
0 Pending Comments
Sorry, we are not accepting new comments on this story, but if you have more to contribute please email
newstip@ksl.com
Showing of 0 comments