PROVO – Inches away from the camera lens Anson Winder dribbles, while teammate Brandon Davies squats on the ground as an expert sports cameraman with his knowledgeable commenter, Charles Abouo, attached by a microphone headset.
The unusual casual play on the Marriott Center court 45 minutes after practice was the finale of a stretch of casual play initiated after the Cougs' Thursday practice — Day 5 of their, also unusual, week long break.
With BYU's SID, Kyle Chilton, untucking his collared shirt from khakis to shoot more easily with players at the arc, Matt Carlino is laughing at Abouo's attempts to imitate his shake and bake, while Davies dancing and singing around players shooting. The Cougars seemed to be enjoying their time of freedom.
And while BYU has undisputedly had more slush with game times, Carlino clarifies that the official schedule is not the only measurer of workload for the players.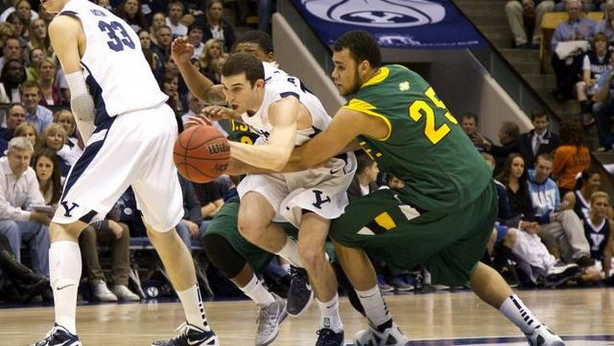 "I wouldn't call it a week off since we started school," Carlino said. "It's tiring getting back on the school schedule … It's been different."
In the three weeks prior to BYU's current break, (University of San Francisco Jan. 7 and Santa Clara University Jan. 14) the Cougars played seven games. While players have had to adjust to school courses, Brock Zylstra notes that the schedule itself was also an adjustment for players. "It feels like we haven't played in a month even though it's been a few days because we've had that routine of playing (often)," Zylstra said. "It'll be good to get back into it. The coaches like to have more practice days and the players like to have more game days."
Luckily for BYU, the silence only came after its big-bang exit. Hitting the third-best single-game assists to shots ratio in program history hitting 27 of 29 field goals (93.1 percent), Carlino says that the high assists have continued to sound in the Cougars' practices.
"We've been moving the ball really well in practice," Carlino said. "I just think we're all getting more comfortable playing together and ball movement is part of that."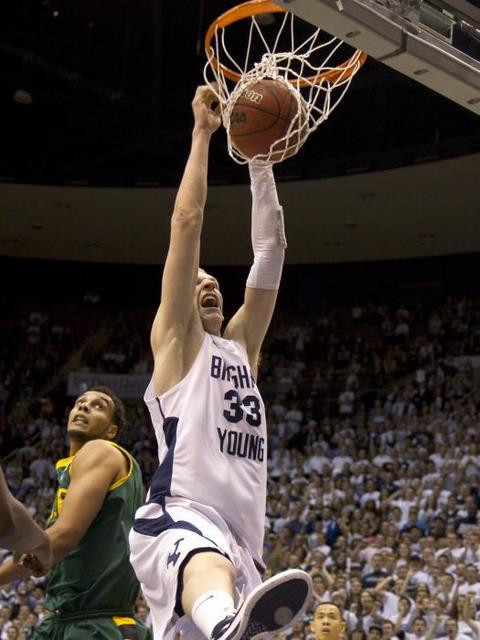 BYU head coach Dave Rose, who is first in program history winning percentage (77.9 percent), explains that a strategy of high assists is not a new thought to him, but rather a concept finally being grasped by his players.
"As a coaching staff we're pleased with the progress that we made in (the assists) area," Rose said. "'One more pass — an extra pass — has been a theme and a motto of our program since we started, and I think this group is catching on."
Being strong on offense won't be enough for BYU to come out with a win on Saturday against SCU on Saturday though. The Cougars must be able to stop SCU's shots up top and then aggressively contest inside.
"They're guard oriented," Zylstra said. "We just got to make sure that we get to the guards, make them run off the line because they're great shooters so we got to run them off the 3-point line and then just try to defend what they put on the ground."
Rose clarifies that between having to stop shots from the arc against "one of the best 3-point shooting teams in the country" and carefully contesting shots inside that will only come after some trick ball movement since "they share the ball with each other really well" the Cougars are their work cut out for them.
Most particularly, BYU will be closely watching SCU's guard Kevin Foster who has made (302) more career threes than past BYU All-American Jimmer Fredette (296).
"We got to pay extra attention to him," Zylstra said. "He's a great scorer. He can score in multiple ways, so we just got to be focused in on him. It's not just that whoever is guarding him needs to be guarding him, it's that every single player on the court has got to be aware of him."
Rose expanded on Zylstra's push for an almost skewed zone defense on Foster. Due to the fact issue that "you can be right where you want, get him to take the shot that you want him to take and he's really capable of making it" there could be a Cougar concentrated defense on Saturday.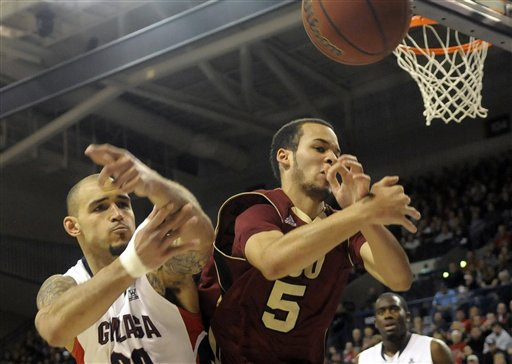 Despite the fact that SCU holds a meager 8-8 season record and 0-3 record in West Coast Conference play, BYU prepares for each game as if it is their most important game of the year, because to them it clearly is.
On Thursday night the top two undefeated teams in the WCC — Gonzaga University and St. Mary's College — played each other.
While most sports fans were watching this heavily anticipated game the next preseason ranked team, BYU was glued to a game with much lower ranked, San Diego and SCU.
So why did Rose say it was "the most important game to me"? One simple reason – "those are our next two opponents."
Even with a strong home-court winning streak the Cougars know that the home can only be protected if the Broncos are kept under their defensive control.
"It's scary because they don't have a win yet in conference," Zylstra said. "So those are some scary teams to play. They're working hard to get their first win."
Looks like with Saturday's game time, the Cougars' playtime is officially over.
Related Links
0 Pending Comments
Sorry, we are not accepting new comments on this story, but if you have more to contribute please email
newstip@ksl.com
Showing of 0 comments