PROVO — Coming off one of its best seasons in several years, the BYU volleyball team is poised for a memorable 2012 campaign. BYU was the No. 1 pick in virtually every pre-season poll and returns a bevy of talented stars from a team that posted a 20-8 record in 2011.
What's more, for the first time in years, a McGown is coaching the Cougars. Chris McGown, the son of volleyball Hall of Famer coach Carl McGown, takes on the challenge of following in his father's footsteps. It's a daunting task — Carl guided BYU to two national titles in 1999 and 2001 — but Chris is excited for the challenge and grateful for the experience his father offers as a volunteer team advisor.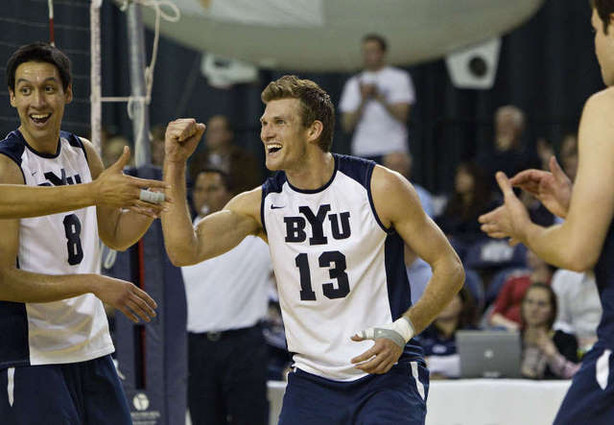 "He won't outright come and tell me in the middle of practice, 'Hey, this is no good,' but if I see him eating his lunch then I know I need to change something," Chris said of his father.
Three All-Americans should make McGown's inaugural season a little easier. Seniors Futi Tavana and Robb Stowell have battled ferociously to recover from serious off-season injuries to compete this season, and sophomore phenom Taylor Sander — the 2011 Mountain Pacific Sports Federation (MPSF) Freshman of the Year — is picking up right where he left off. Joining them are 14 other returnees and four talented newcomers.
Perhaps what drives the Cougars the most is how 2011 ended.
In front of a throng of fans packed into BYU's intimidating Smith Fieldhouse, UC Santa Barbara upset the second-ranked Cougars in the first round of the 2011 MPSF playoffs. The stunning defeat was BYU's first home loss of the season and it brought a promising season to an abrupt end.
Sander spent the off-season playing on the junior national team and said it helped prepare him for the upcoming season.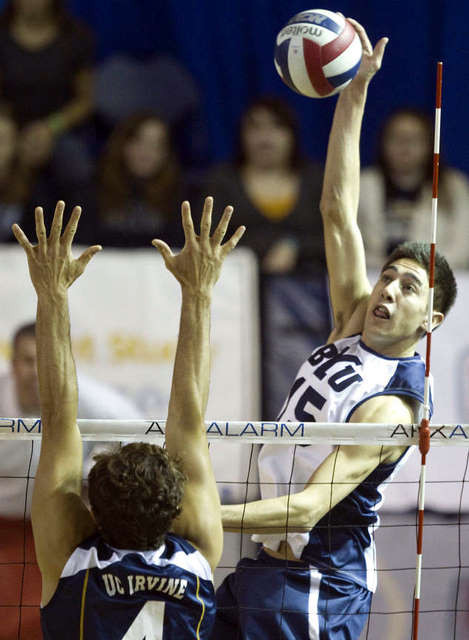 "It helped me clear my mind and set new goals."
Those goals include a conference crown and a run at another national championship. Starting the season at No. 1 helps.
"It validates the amount of work the boys have put in over the course of the last few years," said coach McGown when commenting on BYU's lofty No. 1 pre- season ranking. "And it lets our fans know that this is a good, good program. When you come to the (Smith) Fieldhouse to see matches, it's going to be great volleyball."
After a 2-1 start that included a sweep of hometown UCSB in the UCSB Gaucho Invitational, which also avenged BYU's only home loss in 2011, the Cougars are ranked No. 2 in this week's polls.
"We're a good team right now, but nowhere near how good we will be," McGown said. "It's the process as opposed to the destination."
The Cougars will be tested quickly. Their MPSF debut comes this weekend with a pair of road matches on Friday and Saturday at No. 1 UC Irvine. The Anteaters handed BYU its first loss of the young 2012 season and also took down No. 5 Long Beach State and No. 3-ranked UCLA to claim the USCB tournament title.
David Gale is a BYU graduate, former television news producer, and lifelong Cougar fan. See more of David's thoughts at http://planetbyu.com or follow him on twitter at http://twitter.com/planetbyu
0 Pending Comments
Sorry, we are not accepting new comments on this story, but if you have more to contribute please email
newstip@ksl.com
Showing of 0 comments