PROVO — The boys are back in town.
BYU returned home on Saturday to defend its turf against USF, and while the Y. already had an impressive home court record, the Cougs walked away with several new team and individual records in a 81-56 win over the Dons.
Sinking his first four shots of the game and contributing nine of BYU's first 13 points, WCC Player of the Week forward Brandon Davies honored his throne and reigned over the scoreboard early on.
After the first 13 points, however, the shot chart began to change for BYU — with marks moving from the paint up to the arc.
"The last four or five games we've really got the ball inside," BYU head coach Dave Rose said. "Tonight Brandon scored the ball really well early … but then it became pretty evident that our post guys would probably be more facilitators than scorers tonight."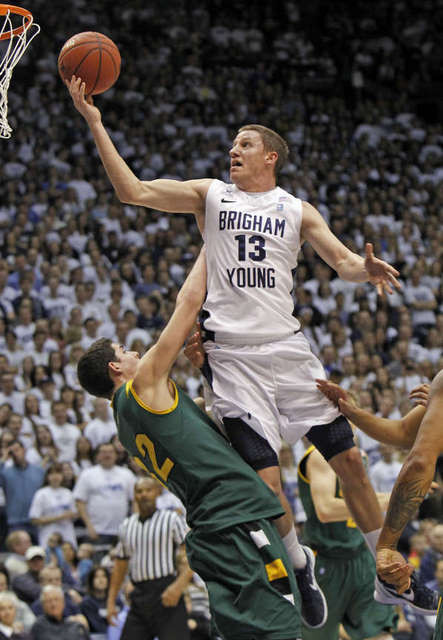 With 14:47 remaining in the first half, wing-guard Brock Zylstra scored the first of his three straight 3-pointers — contributing to the Cougars' 9-0 run ending with 11:39 left in the first half.
Rose attributed some of Zylstra's looks to USF's defensive strategy.
"Every team has a game plan," Rose said. "With this group they really made a commitment to double Brandon and Noah (Hartsock) … and so it freed up our perimeter guys."
Rose's assumption on USF's mindset was confirmed by the Don's head coach Rex Walters after the game. Even after having Zylstra finish the night with a perfect shooting (8-8) Walters still seemed narrowed in on the post players.
"Hartsock is a heck of a player and Davies is a good player too," Walters said. "Carlino gives them an element off the bounce. Their fourth option, and I hope he doesn't take offense to this, was Zylstra. He can make tough ones, fadeaways, he can make them coming off the inbounds."
USF's decision to hone in on the posts was understandable by looking at the resumes of Davies and Hartsock.
Being the leading scorer for the Cougars, one of only three seniors on the team and recently awarded December WCC Player of the Month, Hartsock is a player that requires attention.
Current WCC Player of the Week Davies has also received much attention, especially with his recent career-highs in rebounds and scoring.
While Rose acknowledged that the door of opportunity for perimeter shots was swung open by USF's defense, he noted that success from the perimeter couldn't occur without an ability from the players to execute.
"I thought sometimes in the game on Thursday night (against Loyola Marymount) we were … just shooting the first option shot we got," Rose said. "There were guys open on the backside that we didn't hit and (tonight) I think our players were able to make a nice adjustment and found them."
And when the players found Zylstra, Zylstra in turn found six shots behind the arc and two shots inside — sinking every single one. Such perfection has only been seen two other times in BYU's history. Six consecutive 3-point FGs were previously made by Nathan Call in 1991 against Utah (6-6), and by Jonathan Tavernari in 2007 against TCU (6-7).
---
In practice yesterday we had some shooting competitions, (Coach Rose) was saying, 'Oh you can't go perfect for 20 seconds then but you can go perfect tonight.'
–Brock Zylstra
---
Zylstra said that after he walked off the court in what was the third highest-scoring game in his career, he sat on the bench and Rose teased him a little.
"Coach made a joke," Zylstra said. "In practice yesterday we had some shooting competitions, he was saying, 'Oh you can't go perfect for 20 seconds then but you can go perfect tonight.'"
However, Rose offered sincere praise to the media for Zylstra's performance.
"Brock (Zylstra) was really good tonight," Rose said. "That's a special night for a guy not to miss a shot and hit six 3s. It really helps us. Our posts guys have been so consistent that they're going to get a lot of attention. … It can really help us when our perimeter guys get open shots and knock them in."
Zylstra's 6-for-6 shooting from the arc contributed to the Cougars' season-high conversion rate, hitting 63.2 percent from the 3-point line, making 12 of 19 treys.
Perimeter players, Matt Carlino and Charles Abouo, also had notable nights.
Abouo helped distribute many of Zylstra's shots leading to a of career-high seven assists, to lead the team. He also finished with two points, two rebounds and two steals.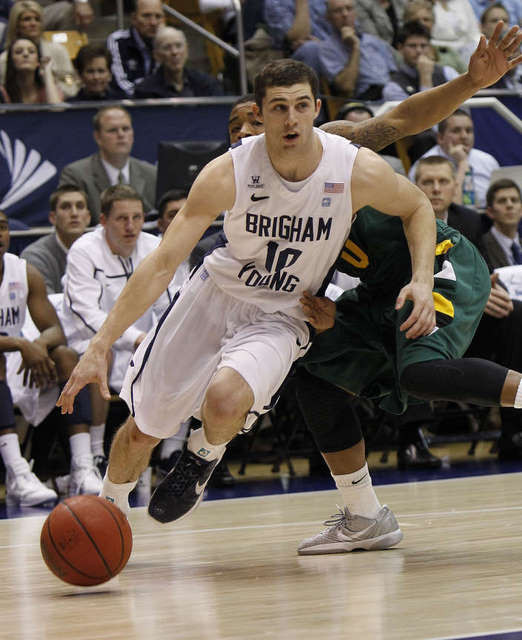 Carlino shot 3 of 3 in the first half while collecting two assists, and he ended with 12 points, four assists, three steals and one rebound.
BYU also had an impressive night with its helpers-to-makes ratio. After assisting on all 16 first-half field goals, the Cougs finally had their streak stopped, ironically from the team's leading assister, with a turnaround jumper from Abouo at the 15:56 mark in the second half.
With less than four minutes left in the game BYU lead by 25 points, 71-46. Despite the rather significant lead USF coach Walters called four timeouts — two with a little over a minute to play and a Cougar lead of 28 points.
Walters explained afterward why he continued to call timeouts.
"I want to coach my team," Walters said. "Even those guys in the bottom five — I want to coach those guys. Quite honestly we scored off of the timeouts. Unfortunately we only get four — maybe if we'd had 50 it would have been a closer game. … I can care less what fans think, especially ones in Utah."
With the unusual timeouts up to the finish line from USF, and some visible looks of disbelief from the Cougars' bench, BYU decided to not dribble out the clock and uncharacteristically kept scoring to the very end of the game.
With four seconds left in the game Nick Martineau put up a jumper, and for only the second unassisted shot of the game Nate Austin grabbed the rebound and threw down a monster two-handed dunk with only two seconds left in the game.
Austin's dunk brought the Cougs' score just high enough (80 or above) for everyone in the Marriott Center to receive the advertising gimmick of free yogurt. The moment was filled with irony as Austin's Twitter handle — @RexosaurusRex —includes the very first name of Walters, who pushed the Cougs towards playing the last seconds of the game.
Perhaps largest of all, it slammed down the Cougars' win, 81-56, with a statement that could not be matched.
Related Stories
0 Pending Comments
Sorry, we are not accepting new comments on this story, but if you have more to contribute please email
newstip@ksl.com
Showing of 0 comments