PROVO -- Spring is here; well actually BYU Spring Football is here. Practices are underway and the Cougars are taking full advantage of the time they have. With so many players looking to have big seasons, I wanted to take a look at the three Cougars I am personally most interested in watching over the next few weeks.
1. Taysom Hill, quarterback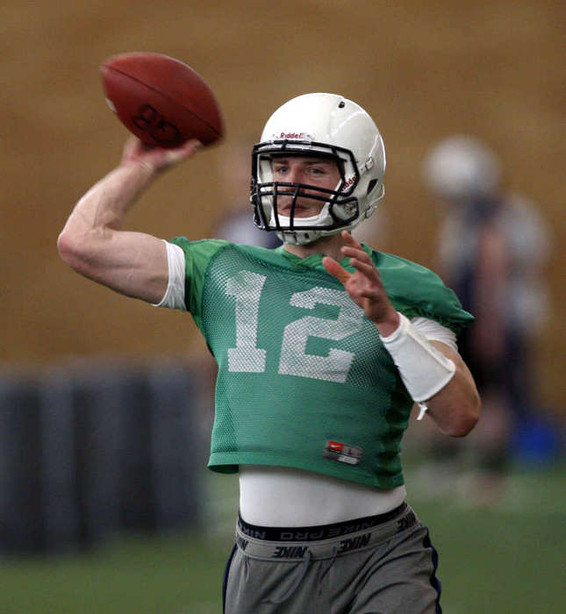 Some may be wondering why I would be excited to watch the team's 3rd string quarterback. It's because I truthfully don't view him as the 3rd string. All indications are that Hill will be the heir apparent to Riley Nelson after this season. The former Stanford commit comes to BYU with a very impressive resume in high school plus he is exactly the type of quarterback that Bronco Mendenhall and Brandon Doman have said they want to see in Provo.
He's mobile, fast and an accurate passer. If Hill is the starting quarterback in 2013, I can't imagine that the coaching staff won't try and get him some game action this season so he isn't starting next year having never taken a D-1 snap. Because of that, I wouldn't be surprised to see BYU play Hill if Nelson were to go down and miss some time. With all that said, Spring Ball will be a great opportunity to show the coaches that he deserves minutes this season. In the practices I've seen so far, Hill has shown why everyone seems excited about his potential. He has great footwork and a cannon for an arm. He's also one of the fastest players on the team. Not a bad combination in your quarterback.
2. Adam Hine, running back
For the record, Adam's last name is pronounced Hee-Nay. There always seems to be a guy on the scout team that impresses everyone. Teammates rave about his skills and how hard he works. That guy right now is Adam Hine. The redshirt freshman out of Snow Canyon High School has had fans salivating for a while. At 6' 1", 193 pounds, Hine has the ability to be a speed guy with some pop as well. From what I've seen in practice so far, Hine has good vision and seems to have good hands out of the backfield.
Based off of his emergence last season, Michael Alisa will be the team's lead back. The only thing that could change that is if Josh "Juice" Quezada reaches his potential and forces the coach's hand by his play. Hine will be given every opportunity to be the 3rd guy in the running back rotation.
3. O'Neill Chambers, wide receiver turned defensive back
When I first saw O'Neill in the spring's first practice I hardly recognized him. It wasn't just because he was wearing #62 (still haven't heard why he's wearing that number), it was because he looks much bulkier. He's listed at 211 on the roster but he looks bigger than that to me. When I say he's bulkier, I don't mean that as a negative. I've watched him run and he still has very good speed. It doesn't hurt to have a defensive back that's fast enough to keep up with receivers and big enough to lay them out without hurting himself.
The fact that Chambers has stuck around the program after being dismissed from the team speaks volumes about his commitment. Bronco has obviously brought him back slowly, which was by design. The coaches needed to see that he was serious about changing his attitude and willing to do whatever it took to get back on the field. It looks like he has done that so far. A strong spring will go a long way in determining how much, if any playing time he'll get this upcoming season.
Spring Football will run through March 30th with the team's open scrimmage being held on March 24th at LaVell Edwards Stadium. In case you're wondering, KSL Newsradio will once again broadcast the scrimmage and Cougar Sports Saturday will do their show live from the stadium.
Related Stories
0 Pending Comments
Sorry, we are not accepting new comments on this story, but if you have more to contribute please email
newstip@ksl.com
Showing of 6 comments
Sorry, we are not accepting new comments on this story, but if you have more to contribute please email
newstip@ksl.com