PROVO -- My first memories of BYU basketball are of my brother Devin's freshman year. Our entire family would pile into the station wagon and make the trip from Salt Lake to the Marriott Center in Provo. Our seats were located a few rows up and directly across from the visiting team.
What a great way for a kid to be introduced to BYU basketball.
Those first few years I got to be up close and personal with the likes of Ainge, Taylor, Trumbo, Craig, Runia, the Roberts brothers, Kite, Ballif and Furniss, not to mention my brother Devin who was pretty good. I'd bring my basketball and after the game I'd go on the court and shoot until they took the baskets down, all the while dreaming about one day playing for the Cougars.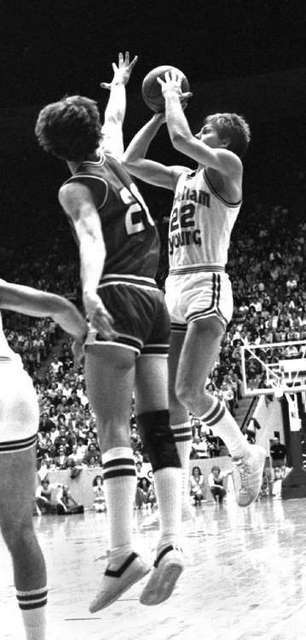 Because my brother was on the team, I got to hang out with all my heroes. Danny Ainge even knew my name. I went to team parties at Coach Arnold's home. I was in heaven. If that wasn't enough to get a young boy hooked on BYU basketball, I don't know what is.
I've seen almost every BYU basketball game since that '78-'79 season, with the exception of two years off for an LDS mission. I even played in a few.
I spent much of my teenage years living and dying with the wins and losses of Chatman, Usevitch, Gneiting, Saarelainen, Taylor, Sinek, Nikchevich, Smith, Applegate, Capener, Maxwell, Webb, and Call. As I got closer to college age myself, I even got to play in pick-up games during the summer with many of my idols. I remember the great Mike Smith taking me under his wing and making sure I got to play on his team. He couldn't have been nicer and more supportive if I was his own brother.
There was never any question that I wanted to play for BYU, the only question was if BYU wanted me. Finally the day came when I officially became a Cougar. Imagine the sense of joy and fulfillment as I donned the Cougar uniform for the first time and ran out on to the floor.
Literally, a dream realized.
As a player, I got to experience everything that goes along with being a part of the BYU basketball team. I was able to travel to such exotic locations as Rome, Paris and Laramie. I walked the tight rope of maintaining good grades with missed classes and big games. I suffered through the thousands of hours of practice to enjoy the few thrilling moments playing in front of 22,000 people.
I got to play with some of the all-time greats at BYU like Toolson, Haws, Trost, Miller, Larson and Roberts. I smile when I think of my many teammates over the years and the lifelong friendships we built: Moon, Heslop, Santiago, Schreiner, Frampton, Reeves, Gentry, Andrus, Astle, the Reid brothers, Fish, Nixon, Sanderson, the Christensen brothers, Knight, Wilcox, Reader, Berges, Lindquist, Thompson, Campbell, Cooper, Jepsen, Hofheins, Weidauer and many others.
I suppose I think and talk too much about the "olden days," but I can't help but feel nostalgic about such a wonderful time in my life. It makes me sad that most of the players nowadays have never heard of most of the people I mentioned above. Not that I blame them, most of them weren't even born when we all played. I feel sorry for them though. As someone that watched almost every minute of BYU basketball for over thirty years, I can testify that they missed some amazing players, teams and moments.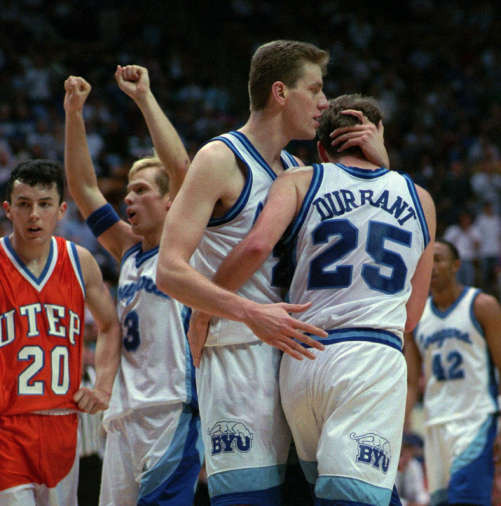 I feel sorry for myself too. I didn't get a chance to see the great Kresimir Cosic in person. I love to listen to those that saw him play describe his carefree, unique and spectacular abilities. I only know the names of Cougar greats from before my time: Minson, Nemelka, Christensen, Richards, Richey, Brinley, Nelson, Liimo, Romney, Howard, Hutchins, Fairchild, Earnest, Handy, Burton, Fryer, Eastis and hundreds more.
Even though I never saw them play, I feel a bond with them. I know what it meant for them to play basketball for BYU because I know what it meant for me. I am part of the BYU basketball brotherhood. I feel in awe just writing those words.
Well, enough reminiscing about the past. Next week I'll get back to talking about this current group of Cougars. I'm excited about these next few weeks. I think the best is yet to come for this year's team. But before the excitement of this year's conference tournament and the madness of March, maybe we could all take just a moment and remember some of the exciting moments and great player's from BYU's past.
After all, Hartsock, Davies, Carlino, Abouo, Winder, Zylstra, Cusick, Harrison, Austin, Sharp, Collinsworth, Rogers, Martineau and Harward are standing on some pretty tall shoulders.
0 Pending Comments
Sorry, we are not accepting new comments on this story, but if you have more to contribute please email
newstip@ksl.com
Showing of 5 comments
Sorry, we are not accepting new comments on this story, but if you have more to contribute please email
newstip@ksl.com