PROVO -- The numbers for BYU Coach Dave Rose speak for themselves:
Seven consecutive 20-win seasons, including this season. He is the only coach in BYU history to begin his career with seven-straight 20-win seasons and the only coach with a total of seven 20-win seasons.
Five 25-win seasons, a program record. BYU is one of only four teams to have 25+ wins in the last five seasons.
Two consecutive 30-win seasons.
114 wins from 2007 to 2011 — most wins in a four-year stretch in program history.
BYU advanced to the Sweet 16 in 2011 for the first time since 1981
BYU has won four conference titles and finished second his other two years as head coach.
BYU basketball has 10 25-win seasons in its 110-year history and Rose has been the head coach of five of those teams.
180-51 overall record, .779 winning percentage (third-best among active D1 head coaches).
With 159 victories in his first six seasons he is tied for third all-time for best career starts (through six seasons) by wins in NCAA history.
Three-time MWC Coach of the Year (2006, 2007, 2011).
Two-time USBWA District VIII Coach of the Year (2006, 2011).
Five-consecutive trips to the NCAA Tournament, a BYU record.
Naismith Coach of the Year Finalist in 2011.
So what makes Coach Rose so successful? I humbly offer a few observations on why I think BYU is enjoying this age of unparalleled success.
From the Stands:
Style of Play
Coach Rose puts an exciting, fast-paced, offensive-minded team on the floor. BYU is always near the top of the country in points per game. This approach makes the game more entertaining to watch for fans and more fun to play in for players. A fast-paced offensive style requires a relinquishment of a certain amount of control as well as great trust in your players to make correct decisions.
That is often not easy for a coach to do.
There are no red lights given to any BYU players, even the big men. Every player is encouraged to take the shot if they are open. This coaching approach instills confidence in players. There is no fear that one missed shot or mistake will result in a player being pulled from a game. An itchy trigger finger from a coach to pull a player after a mistake can wreak havoc on a kid's confidence. His style of play, along with the discipline and unselfishness that Coach Rose instills in his players, has created a fun, entertaining and successful product on the floor.
Recruiting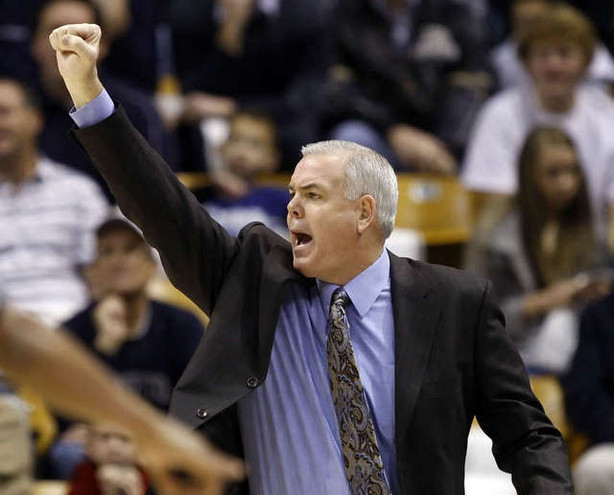 Critical to the success of any college coach is the ability to recruit well and to have a consistent flow of talent into the program. Dave Rose's style is particularly attractive to young men in the recruitment process. Scorers like to go to schools where they can put their skills on full display.
He is also able to maintain a good balance of local talent with players from across the country, as well as bringing in kids as freshmen and supplementing that base with JC transfers when necessary. Dave Rose rarely misses out on the best local recruits, a credit to the salesmanship and hard work of he and his staff. No matter how good a coach is, he must have the talent. Without diligence in the recruitment process, a successful program can fall apart in only one or two years.
Not only has Dave Rose built the pipeline, but he keeps the pipeline full of exciting new talent, thereby ensuring success for many years to come.
Relationships with players
Perhaps the most difficult aspect of coaching is managing the players' psyches along with the expectations of their parents. With 13 or 14 players, it is difficult, if not impossible, to keep everyone happy. Typically, only one or two players on any team will be completely satisfied that the coach is utilizing their talents properly. A school at BYU's level will only recruit players that have been extremely successful in high school. Incidental to such success is that the player becomes ensconced in an environment where they are the star; where they are special.
Those around them often enforce this mindset.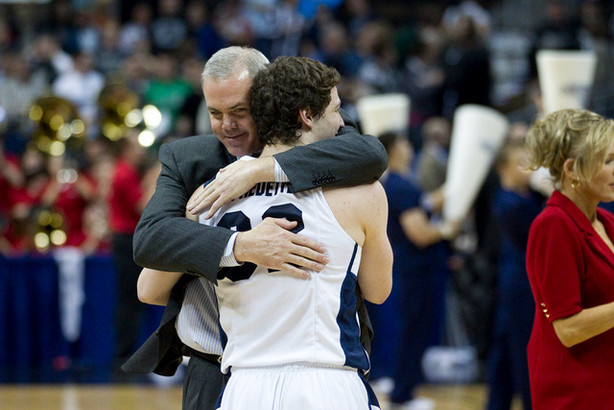 So it can be a rude awakening to go from this atmosphere to one where minutes may be scarce, particularly in their freshmen year, and where a young man is no longer the star of the team.
Often, this perceived demotion is more difficult on the parents than on the player. As any parent knows, it is very difficult to be objective when it comes to your own child. This can often result in bad mouthing the coach and his decision making. Constant disparagement of a coach from family and friends can infect a players psyche and can lead to that player being unhappy, even leading to a transfer to greener pastures.
It is a sad situation for everyone involved when a player transfers. Rarely does it work out well for the player and it does not look good for the program. Ironically, if the player stayed, he would likely realize the success he desires eventually.
These are dangerous issues in relation to the success of a team. Coach Rose does a wonderful job walking the tight rope of expectations of players and parents. He develops friendships with players, but maintains sufficient distance to maintain his authority as coach. He keeps the line of communication open between both players and parents. He clearly and effectively conveys his expectations and does not sugar coat or over promise. As a result, his players are devoted and loyal.
That's not to say that players do not get unhappy or even leave the program, but rarely do they ever claim that Coach Rose treated them unfairly or did not live up to his promises.
Of course there are many other qualities and characteristics that make Coach Rose and his staff successful. Success doesn't happen by accident, not in college basketball anyway. Whatever the reasons, I hope fans realize how lucky we are to have Coach Rose.
These are truly the "Salad Days" of BYU basketball and with Dave Rose at the helm, I believe the best is yet to come.
Related Stories
0 Pending Comments
Sorry, we are not accepting new comments on this story, but if you have more to contribute please email
newstip@ksl.com
Showing of 6 comments
Sorry, we are not accepting new comments on this story, but if you have more to contribute please email
newstip@ksl.com