SALT LAKE CITY -- The BYU Cougars went east and took care of business against the Virginia Tech Hokies in a 70-68 victory. Although it was precarious at times it was a win that should go a long way when March rolls around. It was the first time the Cougars have beaten an ACC team on their home floor.
The keys to the win were Noah Hartsock and Brandon Davies. The pair combined for 39 of BYU's 70 points, with Hartsock scoring a game high 22 points, adding seven rebounds and three blocks. 18 of the 39 came from the free throw line as Davies went 11-12 and Hartsock was 7-8. The free throw stripe and turnovers were huge for BYU as the team went 21-24 good for 87.5 % and scored 23 points off of 15 Hokies turnovers.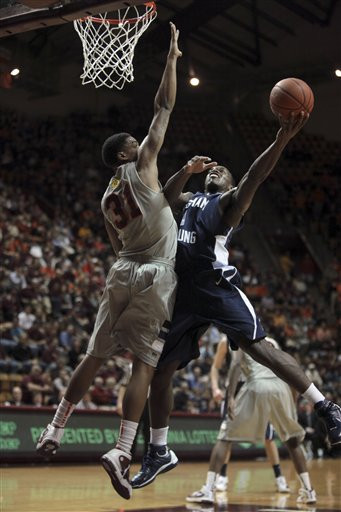 The Cougars are now off until Saturday when they will play a gigantic game in Provo against Conference leader St. Mary's. The Gaels are 8-0, in league and 19-2 overall, good for a No. 21 national ranking, with a game at Loyola Marymount Thursday before they come to Provo. With BYU at 6-2 in WCC play they need a win Saturday to have a shot at winning the regular season title and position themselves for a top seed at the Conference tournament in Las Vegas. After Saturday, BYU gets another huge test with Gonzaga coming to Provo, Thursday Feb. 2.
Listen to both games on KSL Newsradio 1160 AM & 102.7 FM and the BYU Radio Sports Network. The Pre-game Saturday against St. Mary's will start at 6:00 p.m.
Best Division-1 teams in the State of Utah
BYU (18-5), 6-2 in the WCC. Loss to Loyola Marymount, but bigger win at Virginia Tech.
Weber State (15-3), 7-0 in the Big Sky and looking like an NCAA tourney team.
Utah State (10-10), a complete enigma after losses at Seattle and Idaho, losers of four of five.
UVU (11-10), have won four straight. Next up, two at home and then four straight on the road.
Southern Utah (10-10), 5-5 in the Summit League.
Utah (5-14), Looked like a completely different team in win over Arizona State. UCLA and USC are next.
Names to watch in the West Coast Conference
This week's Player of the Week, a guy BYU is very familiar with, from the West Coast Conference, "LMU sophomore Anthony Ireland is the WCC Player of the Week. He led the Lions to an 82-68 road win at BYU…, finishing with a career-high 27 points, adding five assists and five steals, also a career-high. Ireland finished 7-for-9 from the field and a career-best 12-for-14 from the free throw line. All of his free throw attempts came in the final 3:40 of the game as part of an 11-0 run that extended the Lions lead from two to 13. Ireland helped the Lions win their fourth straight road game, the most since 1990-91. The Lions have won their first four road conference games for the first time since 1987-88 when they went 14-0 in WCC play."

Ireland kept things rolling earlier this week when he dropped 25 on Santa Clara in the Lions 74-62 win at Santa Clara on Monday. Loyola is 5-0 in WCC road games.

We all know about Matthew Dellavedova, WCC Player of the Year right now in my mind, and Rob Jones from St. Mary's, but who will be the third wheel on Saturday when the Gaels come to Provo? When the Cougars went to Moraga and got whooped 98-82 it was Stephen Holt who scored 21 points, including 4-6 from beyond the arch. Watch early on Saturday to see who will step up behind the big two Dellavedova and Jones.
Games to watch in the WCC
No. 21 St. Mary's will have the toughest week of play of all WCC teams. The Gaels will head to Los Angeles to play Loyola Marymount and then head to Provo to play BYU Saturday. The Lions have not won at home, but have only played there twice against BYU and Gonzaga.
Saturday's games will have teams in the 5-9 spots jockeying for position and seeding for the WCC tournament in Las Vegas. No. 5 San Francisco plays No. 9 Santa Clara, No. 8 Pepperdine is at No. 6 San Diego and No. 7 Portland hosts Gonzaga.
National Noise
The National Rankings continue to be turned upside down….
The undefeated seasons of Syracuse and Baylor came to an end. Former No. 1 Syracuse went to South Bend and lost 67-58 to the Irish. The Orange are ranked No/ 3 this week. The Bears lost twice at Kansas and home to Missouri. The Tigers promptly climbed from No. 5 to No. 2 with the win and then lost at 10-10 Oklahoma State Wednesday night.

The last undefeated at 20-0 is No. 11 Murray State. The Racers out of the Ohio Valley Conference have their doubters because of the weak schedule they have played. There is some validation in that, but not as much as many would think. USA Today's Jeff Sagarin has them rated 33rd. They are 25th in the RPI and 3-0 against the RPI top 50. The problem is they are 6-0 against the RPI 151 -200 and 7-0 against the RPI 200 +. That being said undefeated is undefeated and this is a very good basketball team.

Sagarin's ratings have the following for the top 3 WCC teams.

St. Mary's, No. 21
Gonzaga, No. 27
BYU, No. 29

Top games of the week. From the Big 10: No. 16 Indiana in Madison to play No. 25 Wisconsin Thursday night. In the BIG East watch for West Virginia to give No. 3 Syracuse a tough, tough test Saturday at the Carrier Dome. The BIG 12 has a very interesting game in relation to Selection Sunday. No. 7 Kansas travels to Ames to play Iowa State (10-2 at home). Lots of experts have the Cyclones in the tournament already. Joe Lunardi has them in his ESPN Bracketology as a 12 seed.

Huge win Wednesday night for Oklahoma State. The Cowboys knocked of newly ranked No. 2 Missouri in Stillwater 79-72. Wednesday night also gave us a great MWC game when Boise State pushed No. 12 UNLV to overtime at Taco Bell Arena in Boise. UCLA transfer Mike Mosher had 18 points, 21 rebounds and a block late in the game to send it to overtime.
Related Stories
0 Pending Comments
Sorry, we are not accepting new comments on this story, but if you have more to contribute please email
newstip@ksl.com
Showing of 1 comments
Sorry, we are not accepting new comments on this story, but if you have more to contribute please email
newstip@ksl.com