PROVO -- The same week that future Cougar QB Tanner Mangum had his official recruiting visit to BYU's campus, former Cougar QB Jake Heaps was introduced to the Kansas Jayhawk media.
Kansas Announces The Signing of Crist, Heaps and McCay
"Kansas football officially added three highly touted transfers to its roster Monday, announcing the signings of quarterbacks Dayne Crist and Jake Heaps and wide receiver Justin McCay. Heaps, who completed his sophomore season at Brigham Young in November, will have to sit out one season per NCAA transfer rules and will have two years of eligibility remaining starting with the 2013 season."
Media are already commenting that Heaps will do well to sit out a year and learn by observing.
Heaps' year off will serve him well (Topeka Capital-Journal)
"Weis and Heaps will have plenty of time for...exchanges next season, when Heaps must sit out a year after transferring from BYU. That gives him the chance to learn Weis' offense before taking over for Dayne Crist. "Nothing's for sure," Heaps said. "I could be the future, I could not be the future. I'm going to make sure to work as hard as I can to solidify my spot.""
Meanwhile, back at the BYU campus Heaps left just weeks ago, the future of BYU football was visiting. Among all the recruits were two solid commits that are very excited to join the Cougar program.
Mangum has a blast on official visit (Total Blue Sports)
"Elite 11 quarterback MVP Tanner Mangum flew down to Provo, Utah last Saturday for his official recruiting trip to BYU. He met with all the other recruits for a day of fun activities, and watched many of the recruits try their hand at a sport of a different kind during a group activity."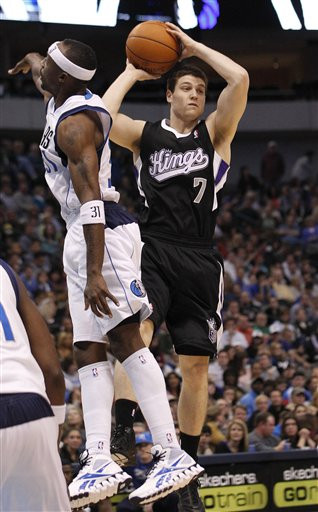 WR Dylan Collie enjoys BYU recruiting trip (Sacramento Bee)
"I was so excited to be there, it got me juiced," Collie said tonight. "It was fun to go when I was younger and went with a brother, but I was always Austin or Zac's younger brother. This time, it was me, and that made it special." Collie said the entire weekend was memorable, right on down the pizza slices and the talk of faith and football."
Turning to basketball, Jimmer Fredette's coaches and teammates are trying to help him overcome his rookie year struggles by suggesting he play more like he did in college.
Fredette advised to think less, shoot more (Sacramento Bee)
"The Kings have yet to see Fredette play the way he did as a senior at BYU, where he was a prolific scorer and the consensus national Player of the Year last season.Fredette has been asked to facilitate, but the Kings don't want him to forget what makes his game special."
Cougar fans are hoping the "next Jimmer" is a Junior from Chicago Simeon High School named Jabari Parker. Landing Parker is considered a long shot, but BYU may be rising on his list.
Recruiting Update: Jabari Parker, Simeon (Mass Live)
"Parker already has offers from 10 schools but has no intention of cutting that list down any time soon. Topping the list are Northwestern, Brigham Young, and Washington, while Kansas, North Carolina, Duke, Kentucky, Illinois, Michigan State, and Missouri are also considered in the mix."
----
CougarFan.com is the only site with all BYU sports news links in one location. Visit CougarFan.com to keep up on all BYU football and basketball news.
0 Pending Comments
Sorry, we are not accepting new comments on this story, but if you have more to contribute please email
newstip@ksl.com
Showing of 3 comments
Sorry, we are not accepting new comments on this story, but if you have more to contribute please email
newstip@ksl.com