From Mark Durrant:With a column titled "In the Paint," it only seemed right to let all-time BYU great big man Russell Larson step in for a week to give his insights. Besides, after all the assists I gave him over four years, it's about time he returned the favor. I'll be back next week.
PROVO -- On December 3, 2011, BYU beat Oregon 79-65 at Energy Solutions Arena. Doing some game prep a day or two previous, I discovered a surprising yet little-known connection between the Cougars and the Ducks: Oregon's starting center Tony Woods Jr. is the son of former BYU Cougar Tony Woods Sr. Way back in 1992 Tony Woods Sr. had actually signed with and played for BYU, only to voluntarily part ways with the program after less than a semester in the Blue and White. I bet you've never heard the name Tony Woods in connection with BYU. He left the team before he and most Cougar fans had a proper introduction.
His premature exit is not what you might think. No honor- code violations or academic inadequacy. No off-the-court mischief. Word was that, of all things, he was homesick. As teammates we tried feebly to reach out to Tony, but our efforts were in vain because we simply didn't know him very well. Sitting here today, one of the few personal details I can recall about Big T was that he had a young son back home in Georgia.
We felt bad for Tony. His hometown, Rome, Georgia, may as well have been as distant as Rome, Italy for the young freshman. Nobody blamed him for leaving. He was as out of his element as a 7th grader at Senior Prom. It's a shame too. He was a very promising player; Ken Roberts-type legs with Keena Young-type dexterity. Alas, what could have been for Tony Woods as a Cougar forward never was. Speaking Chinese would have been less foreign to him than living in Provo. Once gone he never returned.
I've often wondered what the elder Tony did with his life and I've wondered what became of Little T. Well, that little 3-year old turned out to be the very same Tony Woods Jr. that lined up across the half-court circle from Brandon Davies four weeks ago at ESA where I was sitting at concourse level.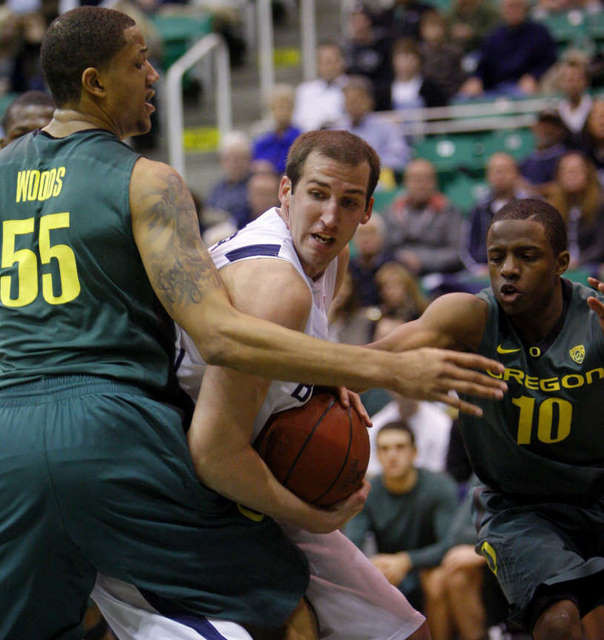 It sure didn't take long after tipoff before Tony Woods Jr. and the Cougars became reacquainted. TW II scored 13 points and collected six boards in just 21 minutes of play against the Cougars. More importantly the junior Oregon center gave Brandon Davies fits all afternoon, holding his BYU counterpart to one of his poorest performances of the year: only six points and five rebounds in a game Davies fouled out of.
If it weren't for Noah Hartsock's 23 points, 12 rebounds, and four blocks, offsetting Davies' dreadful day, Tony Woods Jr. and the Ducks probably would've prevailed. It makes one wish that a big body like that (6'11", 280 lbs) were patrolling BYU's post. Chances are, however, that BYU never got involved in the TW II recruiting sweepstakes.
I doubt Dave Rose's staff recruited the tall, amply proportioned, and very talented Georgian. For starters, like most Cougar loyalists, they might not have even been aware of his remote Provo-ian roots. But more importantly, he was just too good of a prospect (rated the nation's 20th overall high-schooler) for BYU to dedicate any recruiting resources to him, only to end up competing with the top ACC, BIG 12, and SEC schools in hot pursuit of Woods.
TW II chose Wake Forest and began showing great potential. And he probably would've finished his career as a Demon Deacon were it not for an ugly drunken domestic-assault altercation during his sophomore year in which he badly injured his girlfriend right in front of the couples' 8- month old. This horrible episode led to Tony Woods Jr.'s arrest in September 2010. Ultimately he was convicted of a misdemeanor and sentenced to 60 days of community service. Wake Forest (and former Air Force) head coach, Jeff Bzdelik, had no other choice than to dismiss him from the team.
But it wouldn't be long before other powerhouses like Louisville, Texas, and Kentucky came calling. Rough pasts can be remediated, but raw talents with NBA bodies like Tony Jr.'s don't come around every day. Oregon wasn't on his short list of transfer schools, but the Ducks ended up snagging the massive 7-foot brute because its semester- based academic calendar offered him an earlier eligibility date.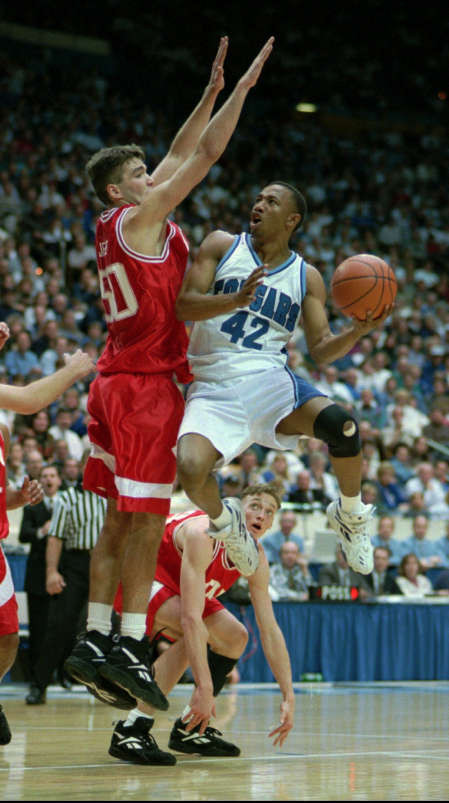 I guarantee that BYU wasn't part of this second round of recruiting. He wasn't exactly what you'd call BYU material.
It makes me wonder. What would have happened to Tony Woods and his son, had the elder Woods stuck it out as a Cougar? For an answer, you could look no further than Craig Wilcox —a terrific BYU shooting guard who played two seasons under Roger Reid in the mid-90's. Craig's and Tony's stories are eerily similar. Both were non-LDS athletes out of Georgia who already had young sons upon enrolling at BYU. Craig's youngster, CJ, was the most adorable little guy I'd ever seen. But there's nothing adorable about him these days to opposing PAC-12 defenses. The former Pleasant Grove Viking is now wreaking havoc as a starting guard for the Washington Huskies.
CJ Wilcox's success is a product of Craig's competitive drive and fatherly devotion. Craig is one of the smartest guys I know and has earned a lot of professional success. I think Craig would have been an equally great success no matter where he attended college. But I'd like to also think that his time at BYU made a difference somehow. I didn't contact Craig for this article but I think I'll ask him about that next time I see him.
Regretfully, I don't know anything about Tony Woods Sr. or what he has made of his life. I haven't spoken to him since that week he left Provo 19 years ago. But I hope he has become as successful a person as Craig Wilcox. What I do know is that Little T is now one heck of a ballplayer on the basketball court that made one heck of a mistake in his family life. Luckily, mistakes can be forgiven and mistakes can be overcome. Prior to signing Tony Jr., Oregon discovered many people at Wake Forest who vouched for his character. Even his girlfriend, Courtney Barbour, said that one incident shouldn't define what you think of a person.
Indeed. Just ask Brandon Davies about the significance of second chances. Maybe Tony Woods Jr.—so far removed from a very regrettable incident—will find Eugene to be just the new beginning he needed. From what I hear, it seems to be working out well so far.
By the way, Tony Woods Jr. does have one other connection to BYU. On Jan 3, 2009, the Wake Forest freshman played exactly 3 minutes against BYU in their 94-87 win over the Cougars. Little T attempted only one field goal that day in Provo. He missed it. But the great thing about college basketball is that as long as you still have eligibility, there's always another day; another game; another try for success.
Russell Larson, a former BYU basketball player, assists on the KSL Newsradio broadcasts of BYU Basketball.
Related Stories
0 Pending Comments
Sorry, we are not accepting new comments on this story, but if you have more to contribute please email
newstip@ksl.com
Showing of 0 comments