SALT LAKE CITY -- Have you ever been to an LDS baptism and one of the people giving a talk says "you can all listen in but this talk is specifically for so and so"? That's what my column this week is like. You can all read along, but this message is specifically for one personů Jimmer Fredette.
Three weeks into his NBA career, there seems to be some concern over Jimmer's play. Through Thursday Jan.19, Jimmer is averaging eight points and two assists in 23 minutes per game. Not necessarily the numbers most of us thought he would be putting up. Having said that, it's way too early to make an evaluation on his NBA career.
I get tweets all the time (@kslshep) asking me what's wrong with Jimmer? I even get tweets, mostly from bitter Ute fans, calling him a bust. Are you serious? The kid has played 16 games! Like I said, his numbers are not what we're used to seeing. That's because he's not playing in college anymore.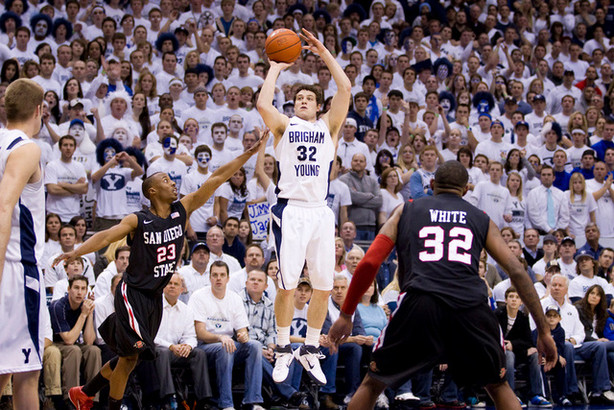 The green light Jimmer had in Provo was so big you could see it from space. To expect he would have the same freedom to shoot and create his own shot in the pros this early is ridiculous. However, it does appear Jimmer has forgotten how to Jimmer.
Jimmer, I'm going to give you the same advice my mom gave me as a teenager before I would go out on a date or hanging out with my friends, "Remember who you are."
You're the guy who led the nation in scoring with 28.5 points a game. You're the guy who led BYU to the Sweet 16. You're the guy who scored over 40 points four times your senior year and over 50 once. You're the guy who was drafted 10th overall. You're the guy who the Kings knew would energize a fan base. Now it's time to show everyone why you deserve to be more a part of the Kings offense.
I've talked with several people in Sacramento about Jimmer plus we've had quite a few insiders from Sac-town on Cougar Sports Saturday. They all have said that the coaches want Fredette to be more aggressive. They want him to be the player that they saw in college. By that I mean they want Jimmer to play and not think. That seems to be a problem with most rookies, not just Jimmer.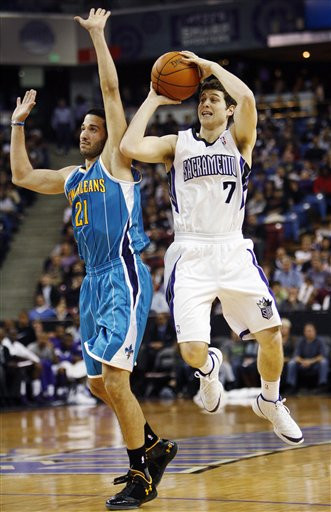 The NBA game takes time to learn and most are still finding their way. If you've watched the Kings play this season, Jimmer seems tentative. Sometimes he looks like he doesn't want to shoot. My own personal opinion is that while the coaches have told him to be aggressive with the ball, he's concerned how his teammates will react to him if he does that.
Do you think Tyreke Evans or Marcus Thornton are concerned what their teammates think of them for jacking up shots?
Of course not, and neither should Jimmer.
He's a scorer.
He's a guy that is deadly from anywhere on the court.
Yes, he can set guys up but he's in the NBA because of what he can do offensively. It's time for Jimmer to be a little more selfish. I don't mean taking bad shots just for the sake of trying to score. I'm talking about taking what's there. Too many times I've seen Fredette come off a screen and think about shooting but instead try to make a pinpoint pass, only to turn the ball over.
If the shot is there, take it. If the better play is to pass it, give it to a teammate. Bottom line is, stop being worried about making everyone happy. People will be happy if you do what you do best, and that's score the basketball.
Jimmer is going to be fine. He's too talented a player to not figure it out eventually. The season is young and so is his NBA career.
I just want to see Jimmer remember how to Jimmer.
Related Stories
0 Pending Comments
Sorry, we are not accepting new comments on this story, but if you have more to contribute please email
newstip@ksl.com
Showing of 15 comments
Sorry, we are not accepting new comments on this story, but if you have more to contribute please email
newstip@ksl.com