SALT LAKE CITY — The latest development phase for one of the valley's largest shopping centers will include a new entertainment center brand new to Utah.
The Shops at South Town and Pacific Retail Capital Partners announced Tuesday the second phase of a multimillion-dollar renovation scheduled for completion in spring 2018.
The announcement follows the completion of phase one renovations that included major digital enhancements and design upgrades to the center. The latest phase will revamp 200,000 square feet on two levels of the mall's northwest side, including an enhanced atrium, additional lounge area seating and an interactive play area.
"Phase two of our renovation will complete the transformation of The Shops at South Town and allow it to become the center of Sandy living with technology, entertainment, great retail and restaurants, as well as beautiful and inviting modern spaces for our community to connect during any season," said marketing manager Heather Nash.
Much of the current renovation will occur on two levels in the former Dillard's anchor location on the center's northwest side, she said.
The project follows the natural inspiration for the main center — the nearby dry creek and Wasatch Mountain State Park, she added. From the parking lot, guests can step into a skylit "cave" that invites exploration of the concourse and paths marked with organic rock shapes to guide them along a trail, she said.
Round 1 Bowling and Amusement
Among the major additions to the center will be the first Round 1 Bowling and Amusement location in Utah. The Japanese-owned venue will occupy nearly 50,000 square feet of retail space on two levels of the center with bowling, billiards, darts, karaoke, Ping-Pong, dining and arcade games for all ages. The company will be hiring approximately 100 local employees prior to its opening next year.
"Our first Utah location, at The Shops at South Town, will offer traditional arcade games, plus unique rhythm arcade games, some distinct machines imported from Japan and an activity called Moonlight Striking," said Round 1 marketing manager Takafumi Mizuno. "We've seen our guests in other markets really gravitate toward 'Moonlight Striking,' where every hour the bowling lane lights are turned down, music turned up and everyone can throw their ball at the same time for a chance to win a prize if they get a strike."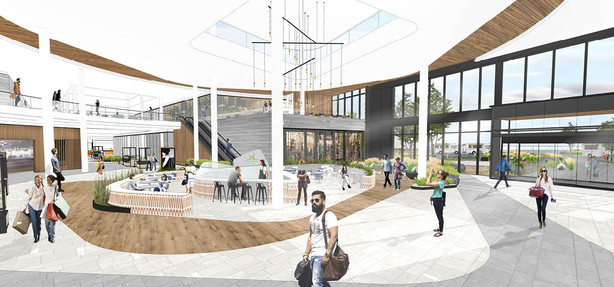 The company has more than 105 locations in Japan and the U.S. In addition to bowling and gaming, Round 1 will offer a full casual food menu and host birthday, social and corporate events.
"The opportunity to be the first location in Utah to launch Round 1 Bowling and Amusement is really special, and we love being able to offer so many different activities for Sandy families," Nash said. "There is really nothing like it in our area, plus we're grateful its opening will create so many new jobs for our community."
She said the renovation will include extension of the concourse for Round 1's bowling alley, arcade and restaurants, plus space for additional boutique shops.
"Our design (plan) is to bring a new experiential opportunity to the center that we haven't seen here before," Nash said. "We really feel its important to create a gathering area for people where they can come and do some shopping, but also dine and be entertained."


Photos
Related Stories
0 Pending Comments
Sorry, we are not accepting new comments on this story, but if you have more to contribute please email
newstip@ksl.com
Showing of 29 comments
Sorry, we are not accepting new comments on this story, but if you have more to contribute please email
newstip@ksl.com