SALT LAKE CITY — A temple of The Church of Jesus Christ of Latter-day Saints in France is a dream come true for French Mormons, who have waited decades for a house of worship in their country.
But to the presiding bishop of the church, the newly completed temple is so much more—it's an answer to his prayers.
"I can't think of one day in our family in 15 years when a prayer hasn't been offered for a temple to the Lord," said Presiding Bishop Gérald Caussé.
Bishop Caussé has a unique connection to the new temple. Born in Bordeaux, France, Bishop Caussé said French Latter-day Saints were told in 1998 by President Gordon B. Hinckley, efforts were being made to build a temple in Paris. Finding a suitable and available location, however, proved difficult.
"We envisioned a lot of beautiful temples in Paris," Bishop Caussé said. "But in the end, the site that was selected, that President Monson selected to be the site of the temple is the best that we could ever find."
Situated in Versailles, the temple does not have a steeple or the traditional angel Moroni. Bishop Caussé says the design was necessary to help the temple to reflect the environment of the existing neighborhood.
"We are close to the Versailles Palace and other monuments and so there are constraints in terms of the height of the building and the quality of the materials that are used," he said.
But even though it won't look like other temples, Bishop Caussé said "it will be the perfect temple environment" and be welcomed by the people in France.
Earlier this month, the presiding bishop took community and government leaders on a tour of the new temple.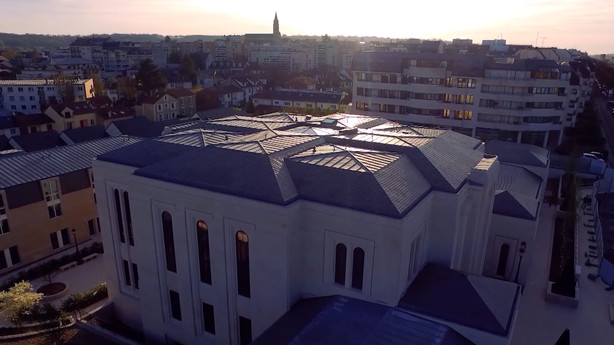 From his role as a local church leader, to now as the presiding bishop of the LDS Church, Bishop Caussé has witnessed what he calls a miraculous process—to see a temple built in one of the world's great cities.
"Watching the Lord use a lot of people has made it happen," he said. "It will be a blessing for the country of France as well as the members around the world."
The new temple will be dedicated on May 21. The public is invited to tour the new building from April 22 to May 13, except for the Sundays of April 23 and 30 and May 7. Reservations can be made here.
Bishop Caussé believes it will be the beginning of a new era in his home country for Latter-day Saints.
Photos
Related Stories
0 Pending Comments
Sorry, we are not accepting new comments on this story, but if you have more to contribute please email
newstip@ksl.com
Showing of 19 comments
Sorry, we are not accepting new comments on this story, but if you have more to contribute please email
newstip@ksl.com