State's economy fueling population growth
April 15, 2017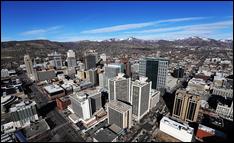 SALT LAKE CITY — After topping 3 million residents in 2016, the Beehive State's population is expected to continue its steady climb for years to come, and researchers predict growth will be driven in large part by Utah's economy — one of the strongest in the nation.
According to data from the University of Utah's Kem C. Gardner Policy Institute, the state's population is projected to increase from 3 million last year to 5.5 million in 2065. In the meantime, the next major population milestone Utah is expected to eclipse is the 4 million mark in 2034 — less than 20 years from now.
"Last year, we had the most rapidly growing state in the nation," explained Pam Perlich, director of demographic research at the institute. While the rate of growth will likely moderate in the coming years, Perlich said a solid rate of population increase is expected for the foreseeable future.
"We are part of a growth region, and Utah is leading the way right now," she said.
The Utah population reached the 3 million mark just 20 years after reaching 2 million in 1995. Current projections have the state achieving 4 million people during 2034 and 5 million people in 2054, just 20 years later, Perlich said.
She described the pace of growth as a "sustainable, more manageable rate of growth." Much of the growth comes from new people moving into the state for employment opportunities, she noted.
"Right now, the state is creating jobs at a pretty rapid rate," she noted. "We've got people moving here from out of state and we have labor shortages."
Currently, Utah's unemployment rate registers at 3.1 percent, according to the Utah Department of Workforce Services. That extremely low level of joblessness has created an attractive situation for prospective job seekers, but also resulted in a significant labor deficit, said Robert Spendlove, senior vice president and economic and public policy officer for Zions Bank.
Over the past five years, annual net in-migration in Utah has increased dramatically, he said. Net in-migration is the amount by which the number of people moving into the state is greater than the number of people leaving the state.
In 2011, net in-migration totaled 2,300 people, he said. By 2014 net in-migration rose to 6,000, and in 2016, net in-migration had increased to 25,000, he noted.
Spendlove said the fact that so many people are choosing to come to Utah is a strong indicator of the state's economic vigor.
"We've had explosive growth in our population because our economy was so strong," he said. "If we have a really good economy, then we're going to have more people moving into the state than moving out."
With projections for the next major population milestone just 17 years away, he said Utah will likely face challenges meeting infrastructure, public education and transportation needs that will be required to accommodate so many more people. Also, housing affordability will be a concern along the Wasatch Front due to labor shortages in the residential construction sector, which is already struggling to meet the demand for new homes and apartments, he said.
"It is not going to be easy, and it is essential for policymakers to be planning for (the growth)," Spendlove said. Despite the concerns, the problems Utah will face are the kinds of issues many other states would love to have rather than the economic strife some Midwest and Rust Belt states are dealing with, he added.
"I'd much rather have Utah's struggles than Michigan's struggles," he said, noting the problems of growth are better than the problems of decline.
"Our employment growth is the second highest in the country, and we've been in the top 10 in employment growth for the past several years," Spendlove said. "Our unemployment rates is one of the lowest in the country, which are signs of a very strong and healthy economy."