SANDY — A group of young women rallied around Erin Norton, a 35 year-old woman with disabilities and showed their love by earning the LDS Young Womanhood Recognition Medallion on her behalf.
She received the medallion on Wednesday at an award ceremony in Sandy.
Each girl participated by spending 10 hours on a project personalized to Norton's interests.
"The idea came about when I taught the Laurels a lesson about service, like a year ago," said Schonie Erickson, the previous Laurel Advisor in the Pinecrest LDS Ward. "I've always had a soft spot for people with disabilities. I have a few friends with disabilities but I'd never heard of anything like this."
Erickson came up with the idea when she saw the video "For Madison" on lds.org featuring a group of girls who earned the Young Womanhood Recognition Award on behalf of a girl in their group who had severe autism.
"Once I started the ball rolling we got approval within two weeks. We presented the idea to the girls and they didn't even hesitate, they were so exited to do it," Erickson said. "It was so amazing because initially they didn't know how to act around Erin so it was great to see them excited about being involved with the project. Some girls had already finished their Personal Progress but others were in the middle or hadn't even started."
Erin has cerebral palsy and relies heavily on her mother for assistance.
"She fully depends on her mom. She can't walk so she's in a wheelchair. She can say little words, she can say 'I want music' and 'I'm hungry'. One of the girls, Chelsea, started working for Erin's mom, taking care of her while Deb goes to work," Erickson said. "She is one of those girls who is shy so it's been great for her. "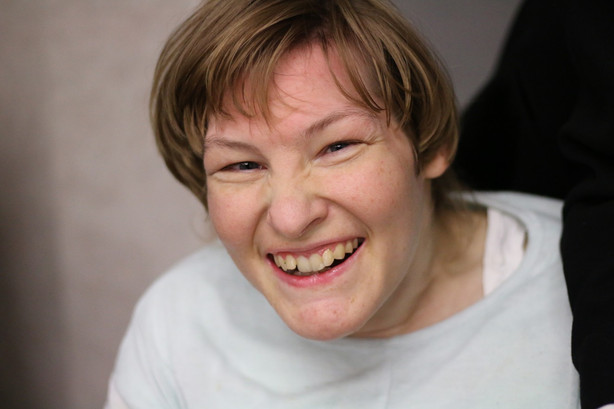 Throughout the process of being involved in the projects to serve Erin the girls have become increasingly comfortable around Erin.
"Now they'll hug her and I saw one girl Wednesday night give her a kiss on the cheek. The girls will hold Erin's hand and talk to her, it's very sweet," Erickson said.
Erin attends her church meetings regularly but missed out on the opportunity of attending a daily gospel class called Seminary geared towards high school students, when she was a teenager. Despite the age difference, Erin has been approved to attend Seminary in addition to participating in mutual, a weekly young women's activity in the LDS church.
One young woman, Beth learned of Erin's love for music and planned a dance party for a mutual activity.
"Beth has always been more on the shy side and she's in the middle of her own Personal Progress. Her project was to throw a dance party, so she talked to Erin and her mother to find out what Erin's favorite songs are. She put together a dance party for one of our mutual activities," Erickson said. "Erin chose three songs; Beth danced with her to one of them and she had Erin actually get up out of her chair and dance and got her mom to get up and dance with her. It was so fun to see her interact with her. Just seeing her light up like that – it was amazing."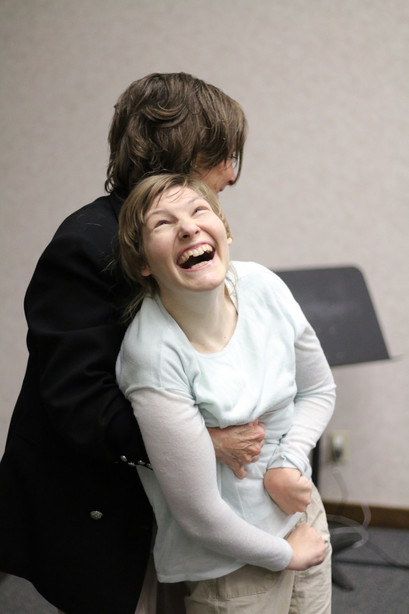 While the girls completed these 10-hour projects they continued to work on their own goals towards completing their own projects.
"Some of the projects were simple but they made sure they made it personal for Erin. Each girl made something for Erin to take home. We wanted to make it so it was a reminder, so she felt a part of it. That's what the girls wanted to giver her," Erickson said. "They put together a scrapbook, where they explained the value they focused on, what they learned, what they did for their project, and included their testimony so Erin could read it."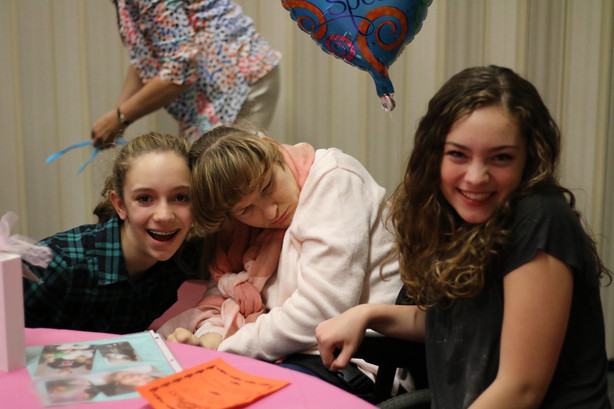 Monique drew a picture, Stephanie made a blanket, Chelsea is doing a cross-stick, Olivia is making a cookbook of family favorite recipes, Kendyl made Erin a scarf, and three girls, Lizzy, Sabrina, and Ally all read the Book of Mormon on Erin's behalf.
The award ceremony Wednesday night was well attended and went according to plan.
"All the parents were there, the bishop was there and Sister Denise Lindberg, of the Young Women's General Board, attended as our surprise guest," Erickson said. "The whole night was just for Erin -- I just couldn't stop crying, it was so special."
---
Photos
0 Pending Comments
Sorry, we are not accepting new comments on this story, but if you have more to contribute please email
newstip@ksl.com
Showing of 9 comments
Sorry, we are not accepting new comments on this story, but if you have more to contribute please email
newstip@ksl.com