STAR VALLEY, Wyoming — The first Church of Jesus Christ of Latter-Day Saints temple in Wyoming was dedicated Sunday in Star Valley.
Elder David A. Bednar of the Quorum of the Twelve Apostles led three dedicatory sessions as tens of thousands of Wyoming Mormons watched via satellite broadcast in their church meeting houses.
Other church leaders joined Bednar and his wife, Susan, who was born and raised in Star Valley. Skies were overcast as Bednar joked about Wyoming's cold temperatures.
"It seems most appropriate that the choir can see its breath as they're singing," he said with a laugh before performing the traditional cornerstone ceremony outside the temple.
"We're going to take some mortar and participate in the ceremony to seal the cornerstone of the temple," Bednar said. "The real craftsmen will come later and make it look the way it's supposed to look but this is a marvelous reminder that Jesus the Christ is the cornerstone of his church restored to the earth in these latter days."
The Bednar's and other church members, including two children, placed mortar around the stone before leaders returned inside the temple for the rest of the dedication sessions.
The Star Valley temple was announced by LDS Church President Thomas S. Monson on Oct. 1, 2011. Members had been attending temples in Idaho Falls, Logan or other locations for worship services.
"The new temple is going to make it possible for us to just run up after work and it cuts the travel time in half," Jan Moody, a Cokeville LDS church member, told EastIdahoNews.com. "I'm so excited for my kids to have the temple here."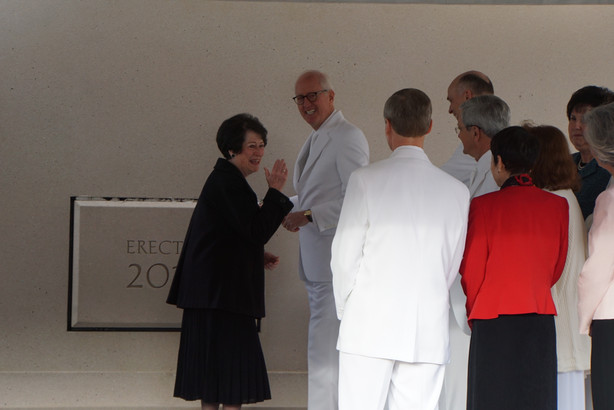 For many longtime church members, the dedication of a temple in Wyoming was something they never thought possible.
Barbara Perry, the widow of the late LDS apostle Elder L. Tom Perry, was born and raised in Cokeville. She traveled from Salt Lake City to attend Sunday's dedication.
"I think of my grandparents and my father, who was a bishop in Cokeville for nearly 23 years," Perry told EastIdahoNews.com. "They were part of building the church and I think of how thrilled they all would be. I don't think we'd ever dreamed we would have a temple so close. It's wonderful."
Nearly 80,000 people toured the temple during a two-week public open house. The 17,000 square foot building will open to members only beginning this week.
Photos
Related Links
0 Pending Comments
Sorry, we are not accepting new comments on this story, but if you have more to contribute please email
newstip@ksl.com
Showing of 8 comments
Sorry, we are not accepting new comments on this story, but if you have more to contribute please email
newstip@ksl.com