MIDVALE — A West Valley man charged with murder turned himself over to police Wednesday hours after officers failed to locate him inside a Midvale home following a SWAT standoff.
Keison Kuykendall, 18, is charged with murder in the May 21 killing of Darrin Jackson, 46, in Holladay. He was seen by Metro Gang officers going into a Midvale home near 7720 South and 700 West early Wednesday morning and was believed to have barricaded himself inside, according to Unified Police Lt. Lex Bell.
But after a four-hour standoff, Kuykendall, one of three people accused in the killing — was not in the home. A woman in the house had told police Kuykendall wasn't inside, but police emphasized throughout the standoff they believed he was there.
Kuykendall turned himself in to police Wednesday afternoon following what investigators called "pressure" from media coverage of the SWAT standoff.
Bell called the 18-year-old an "integral part" to the homicide investigation.
At the time of the shooting, several people were at a party in Jackson's Holladay apartment, 1821 E. Hidden Meadows Dr. (4915 South), when up to nine other people arrived and forced their way inside.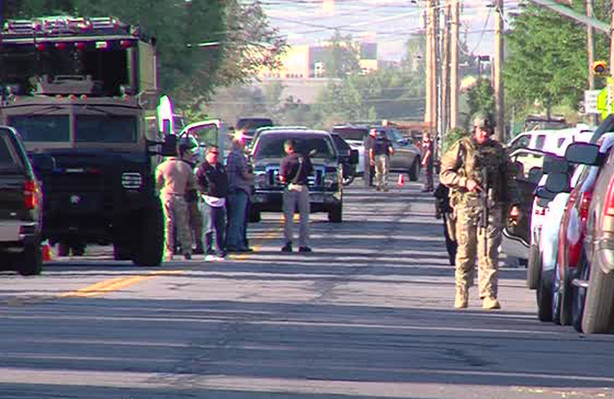 A fight broke out between the two groups, erupting in gunfire. Darrin Jackson died at the scene after being shot in the head and chest while his son, 26-year-old Jonathan Jackson, was shot in the hand, police said.
Kuykendall, who goes by the moniker "Kedders," is charged with murder and aggravated burglary, both first-degree felonies, among other charges. Two others — Damian "Kuddy" Antonio Garcia, 19, and Joshua "Panda" Nguyen, 21 — face identical charges, while Garcia also faces firearm charges.
Charging documents indicate that police believe Garcia was the gunman who shot the men.
The Jacksons and the three defendants were members of rival street gangs, according to the charges.
Nguyen was booked into Salt Lake County Jail on May 22; Garcia was arrested May 24. Bail for all three men is set at $1 million.
At the time of the shooting, Garcia was already facing an aggravated robbery charge from a separate case. He was charged Sept. 30 with being a getaway driver after he and another man robbed a person at gunpoint of $2,200 cash and then fired a shot at him during an ensuing chase, according to charging documents.
Photos
Related Stories
0 Pending Comments
Sorry, we are not accepting new comments on this story, but if you have more to contribute please email
newstip@ksl.com
Showing of 42 comments
Sorry, we are not accepting new comments on this story, but if you have more to contribute please email
newstip@ksl.com