Editor's note: KSL.com does a weekly feature on artists in the community. If you have a painter, sculptor, musician or creative genius in mind, feel free to email your submission to atreasure@ksl.com. Please include a contact email for the artist, if available.
SALT LAKE CITY — Sometimes, it's easy to ignore something great that's right under your nose, right in your town. One such treasure is Jann Haworth.
Drive down 400 West past Pioneer Park and toward the Gateway and the arena and it's hard not to notice the huge mural titled "SLC Pepper" at 250 South. This mural is Haworth's "makeover" of her original artwork for The Beatles' "Sgt. Pepper's Lonely Hearts Club Band," featuring more than 60 portrayals of artists, civil rights leaders and other influencers. Using fine art stenciling and metal, Haworth invites the spectator to become part of the artwork and take a souvenir photo.
In April, Mayor Jackie Biskupski recognized Haworth for this work and for opening "our eyes to a different perspective." She presented Haworth with a key to the city at Modern West Fine Art.
Early years
The daughter of Hollywood art director Ted Haworth and ceramicist Miriam Haworth, Jann Haworth learned early that anything is possible in art.
"In movies you could fly, be Tarzan, wake up in a bath of caviar, become a witch, crash through a window made of sugar," she said. "My mother handled art in the same way. … The atmosphere was always you can do anything. They were supportive when I chose a subject and equally supportive if and when I changed an interest."
With a strong family history of art that spanned generations, Haworth's art education began informally at the sewing machine at age 8 with her mother and working on the set with her father. She also attended UCLA and studied at The Slade School of Fine Art, University College London, and the Courtauld Institute of Art.
What she's up to now
These days, she lives in Utah, making art full time, in addition to being the Creative Director at The Leonardo. In the span of her career, she has also published books with her late husband Richard Severy and her mother, founded Soldier Hollow Charter School in Summit County, and The Looking Glass School in England. Her iconic art has earned her awards including a Grammy in 1968 for Best Album Cover (along with her then-husband Peter Blake) and she exhibits all over the world. She has continued making art — from quilts and her iconic, life-sized "Old Lady" figurines to her Minnie Mouse paintings and more cover art — and giving her community access to art.
Describing her work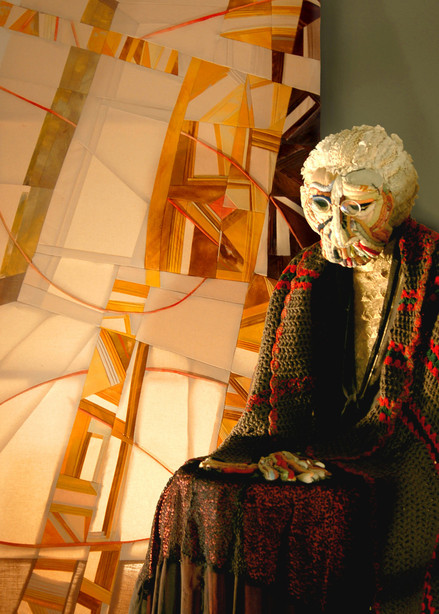 Haworth uses a variety of mediums to express herself and continues to use the skills she began honing at a young age, using textiles and sewing frequently in her art. A pioneer of "soft sculptures," it's no surprise that she said her favorite mediums are "anything soft and warm and yielding to the touch — usually cloth. The pencil, not the pen, for the same reason."
Haworth said she "pursues ideas" and new territories, exploring the contrast between exactness and freedom. She loves SLC Pepper, her cloth doughnuts and her Minnie paintings for that reason.
"I liked making the cloth figures in the '60s because it answered what I wanted to say about the subjects I chose through a medium that wasn't considered fine art," she said. "I really like challenging the status quo."
She can be found looking for inspiration at the City Library or coffee shops. She's motivated by the idea of time and the end of her own time here — something she became aware of at a young age while on the movie set watching moments be repeated again and again.
"(I'm motivated by) looking for and finding a new untried path. Freezing time into art. The frisson of doing something I thought I couldn't," she said. "Making a thing that makes me laugh and the impetus to share 'made things' with my family and friends. My family's presence is core to me. It is their opinions that matter most and they are the pivot point. That is how my parents were with me."
Those moments with her family have been vital to her artwork, she said. When her children were young, she changed gears and became a stay-at-home mother to them, enjoying some of her most memorable moments in art. Along with memories of her own work at The Leonardo, the moment she thought of Degas alive and adding the tulle skirt to Petit Danceur, she recalls times when her children played with art.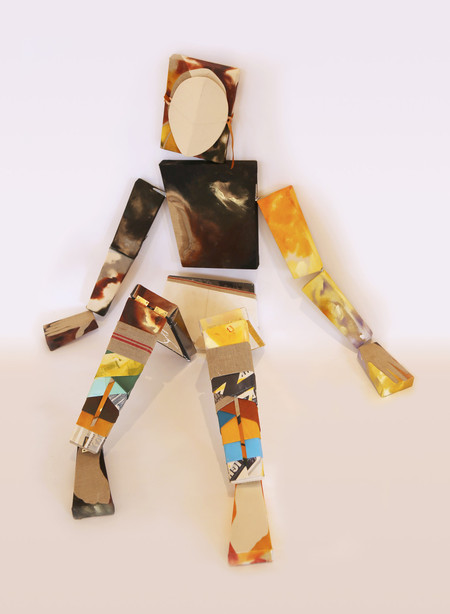 She also recounted working on the Beatles album cover art:
"One thing to picture is that for whatever reason 'cool' at the time was fairly monosyllabic. Most of these people were very young, working class, had accents that the BBC disapproved of," Haworth said. "There were no newscasters, presenters, central narrators with a northerner, Liverpudlian, East-Ender accents. The Brits of the day didn't like questions, didn't like revealing themselves (maybe didn't like revealing their accents) didn't like university types that they characterized as blathering on. So the atmosphere wasn't lively with stimulating interchange. Maybe a low ember of sarcastic jaded humor."
Haworth may have been well-suited to the task though, because she's always felt like her job is to push boundaries instead of just making pretty things.
"But as an artist you are — well I am — bound to push against inequity," she said. "Still 118 years to go on the present trajectory until women have equal pay. But the years since the 40s, 50s, 60s, have opened doors that once were closed. Black Jazz musicians don't have to enter the music venues through the kitchen anymore; both women and people of color can be newscasters, politicians — presidents! LGBT people are out, they have families, and hospital visiting rights. Topics I have tackled really center around the faux, the surreal nature of reality using the lens of Hollywood ... the set, the prop, the fake backdrop, the stand in, the dummy, the time loop."
And maybe that's what made her most famous piece resonate with so many people. The collage of people from a diverse set of backgrounds, all brought together by a bunch of working-class kids in colorful military uniforms, blurring the lines between classes and cultures. Certainly, that idea carries on through her work, including SLC's most famous Haworth piece.
Find more of her work at jannhaworth.com.
---
Photos
Related Links
0 Pending Comments
Sorry, we are not accepting new comments on this story, but if you have more to contribute please email
newstip@ksl.com
Showing of 4 comments
Sorry, we are not accepting new comments on this story, but if you have more to contribute please email
newstip@ksl.com