Voter engagement up through mail-in ballots in Davis County
November 11, 2014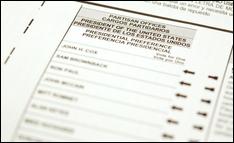 FARMINGTON — Davis County officials say mail-in ballots brought in more voters than expected in an off-year election and cranked up voter engagement to exciting levels.
"We think that the voters this election were more informed and more engaged than they have ever been in any other election," Brian McKenzie, Davis County election manager, said Tuesday.
The county released its official election results Tuesday, finding that a $6 million bond in Farmington for a 43-acre park and sports facility that appeared to be falling short by only two votes on Election Day had actually passed by 25 votes. The bond would raise property taxes $16 annually for a $200,000 home.
Davis County pushed to finalize its results early because of a high number of outstanding ballots and in order to resolve the vote on the bond, McKenzie said. Election results in Salt Lake County won't be finalized until next week.
Final results also revealed that 77 percent of Davis County voters cast a straight Republican Party ticket.
More than 65,000 people voted in Davis County, mostly through ballots that the county had mailed to all registered voters that could either be mailed back or dropped off, McKenzie said.
Once voters had the ballots in their hands, many used it to research candidates and issues they were unfamiliar with and called to ask where to get more information, McKenzie said.
"A number of voters contacted us and said how wonderful it was for them to take their ballot, sit down in front of their computer, research the candidates and issues and mark their choices," McKenzie said. "Some voters let us know they spent more than an hour going over their ballot."
Nearly 12,000 voters arrived at polling places on Election Day, about 5,000 more than officials had expected, leaving some voters waiting in long lines as the polls closed. Officials believe the ballots they sent out to voters raised awareness and encouraged them to get to the polls if they chose not to use the mail-in option.
The nearly 48 percent voter turnout fell below that in the last off-year election, but McKenzie still calls it a success. Many county races went uncontested, and campaigns in the 1st and 2nd congressional districts, which encompass Davis County, weren't as high-profile as Representative-elect Mia Love's photo-finish win in the 4th District.
"As I understand right now, we're still the highest turnout of all the large counties in the state," McKenzie said. "We're excited about that. We think our turnout would have been a lot lower if we hadn't done a by-mail election."
Davis County hopes to repeat its success in the next election, mailing out ballots to inform voters beforehand and working to better estimate how many people will turn out to the polls on Election Day, McKenzie said.
In the future, the county will consider sending out the ballots closer to the election and looking at options to release their results earlier, he said.