LDS missionaries help clear debris from Sandy
October 31, 2012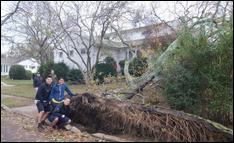 NEW YORK CITY — During natural catastrophes, missionary work often becomes more service and less preaching. That is the case along the East Coast where hundreds of missionaries from the Church of Jesus Christ of Latter-day Saints are assisting in the massive clean-up.
Elder Swede Storey, from Ogden, spent the last day of his mission in Linbrook, Long Island clearing the debris.
"I never thought the last day of my mission I would be in jeans and a t-shirt going around lifting up trees," Storey said.
Wednesday, mission presidents and missionaries worked together to remove trees from houses and cut the trunks and branches into disposable pieces.
"It was like a chain reaction," Storey said. "We helped one guy, we got his house done, his trees taken care of and he jumped with us and we'd go to the next house and start helping, it was cool. … Seeing how thankful these people are, there is nowhere else I'd rather be, especially because I've grown to love New York so much. This is home to me."
Elder Tyler Bartlett, of Sandy, snapped some photos of signs blowing or torn down by the high winds and cars damaged from debris before cleaning up.
"We are on the bottom floor of the building and we got water," Bartlett said. "It was horrible. We saw shop signs flying outside through the windows and baby carriages were going everywhere. ...Big trees uprooted and huge branches ripped off."