Elderly couple's home in ruins in foreclosure mistake
September 7, 2012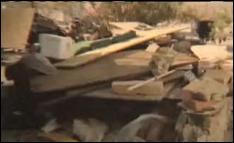 TWENTYNINE PALMS, Calif. — A couple's retirement home is in shambles after a bank foreclosed on the wrong home, sending in subcontractors that reportedly ruined what they could not salvage to sell later on.
Alvin Tjosaas helped his father build a vacation home in Twentynine Palms in 1961, at 14 years old.
"I know every inch, every rock ... my mom mixed all the cement by hand," he told CBSLA.
It was meant to be the retirement home of Tjosaas and his wife, Patricia Tjosaas. Decades' worth of valuables and family heirlooms were stored in the garage until recently, when subcontractors hired by Wells Fargo entered the property with a foreclosure notice meant for someone else.
The couple did not have a mortgage out on the home, and the notice, while including the couple's address, had a different name on it.
"It's the wrong house, simple as that. It's a big mistake, but sort of a simple mistake," Tjosaas told KABC.
Tjosaas said doors were broken, windows were smashed and walls were torn down. Valuables were taken, apparently to be sold later, including three tractor mowers and three golf carts. The couple said their camper trailer was badly damaged, as well, and other valuables were missing.
"We had all of his masonry tools, all of his carpenter tools, all of his plumbing tools, everything that he owned," Patricia Tjosaas said. Her father-in-law's World War I uniform and flag were also missing.
A spokesman for Wells Fargo released a statement of apology.
"We are deeply sorry for the very personal losses the Tjosaas family suffered as a result of their home being mistakenly secured," Alfredo Padilla said. "We are moving quickly to reach out to the family to resolve this unfortunate situation in an attempt to right this wrong."
The couple has hired a lawyer, and met with Wells Fargo representatives on Thursday. The bank offered the Tjosaases $260,000, which the couple has not yet accepted.
Banks have a recent history of high-profile mistaken foreclosures. Wells Fargo was criticized in May after a California man committed suicide during a foreclosure dispute, and again in July for threatening foreclosure on a dying cancer patient.